Two California communities look to their pasts as they try to meet current recreation needs.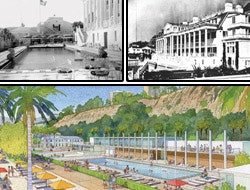 After years of slow decay, the site of silent film star Marion Davies' former home (above) is being transformed into a public beach club.
One is known for its laid-back skateboard culture, movie-star sightings and vast beaches. The other is known for its depressed, heavy-industrial economy, violent crime rate and environmental disasters both natural (earthquakes) and unnatural (illegal refinery emissions). But to characterize Santa Monica and Richmond, respectively, in that way would be to overlook two qualities that give real substance to these apparently disparate California communities - a desire to preserve the past and a belief in the importance of public recreation.
Dig into the capital projects involving the reuse of historically significant recreation facilities currently under way in both communities, and even more similarities are unearthed (the use of creative fundraising and the public's unwavering expectations regarding public land, to name a couple).
In Santa Monica, those qualities are embodied in a state beach site restoration project known as "415," a reference to its address on a stretch of the Pacific Coast Highway that is flanked almost exclusively to the west by private mansions. Construction is under way there for a $34 million public "beach club" that will include a renovated recreational swimming pool designed in the 1920s by famed architect Julia Morgan for William Randolph Hearst and his silent-film star girlfriend, Marion Davies. Also included in the plans are the construction of beach volleyball and beach tennis courts, renovation of a historic guesthouse to be available for community programming, a new locker and shower facility beneath a viewing deck overlooking the Pacific Ocean, and a three-room events building that will be available for rent.
"This is such a fabulous opportunity because it is a magnificently beautiful site," says Callie Hurd, manager of the Santa Monica Open Space Division, one of several city departments responsible for the operation and maintenance of the site under a longtime agreement with the state. "I envision people having a movie-star experience next to that pool."
Despite such apparent opulence and the "club" moniker, Hurd stresses that the project reflects community-driven goals. "This is a state park, and the purpose of the state park system is to provide for the health and inspiration of the people of the state of California by preserving its cultural and natural resources," she says. "This is an opportunity to provide recreation for all of the public on this part of the beach." Indeed, the property's significance as a community-inclusive recreational facility extends back to 1959, when a new owner allowed minorities membership into the club. "There were historically two other beach clubs in the immediate area, and it is my understanding that they did not allow a diversity of members," says Hurd, "so this club has a special place in a lot of people's hearts because it was open to them."
Meanwhile, in Richmond, after a decade-long effort from a citizens group working in tandem with city leaders, bids have finally been solicited to renovate the historic Richmond City Natatorium, known as "The Richmond Plunge." The 1926 building is on the state's register of historic places, and serves as a landmark entering the city's historic district, but was shut down permanently in 2001, "as the city of Richmond has struggled to keep it open and meet the costs of staffing while faced with the almost crushing urban issues of poverty, unemployment and violence," according to a fundraising message by the Richmond Friends of Recreation.
For those close to the project, spending $6 million to $7 million to renovate the Plunge wouldn't just protect a beautiful old building. "The interest in saving this building isn't just because it's historical; it's a necessity," says Ellie Strauss, executive director of the Save the Richmond Plunge Trust. "We have many troubled youth - we have lots of problems in Richmond - and we feel strongly that swimming is one of the most wonderful benefits you can give, not only physically, but mentally."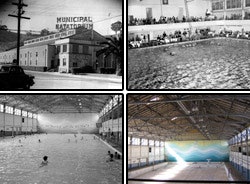 With more than a decade's worth of fundraising led mainly by volunteers, the closed Richmond (Calif.) City Natatorium is finally scheduled for renovation.
Naturally, the challenge in any recreation project - let alone those involving restoration and historic preservation - is fundraising, a function not necessarily of luck, says Strauss, but of "ringing the right bells, and a lot of them." Such projects do have an advantage over either purely historic renovation or new recreation building projects in that they can be appropriate for grants or endowments that appeal to both. For example, though the facilities being built or renovated in Santa Monica and Richmond are designed to meet current recreation-based needs in the community, the largest funding source for each is geared toward cultural preservation or enhancement. In Santa Monica, that means a whopping $27.8 million grant from the Annenberg Foundation, which is now the project's namesake. "It's so much money I can't even get my head around it," says Hurd. Protectors of the Plunge, meanwhile, were nearly at a standstill until word came that they'd be receiving a late-round California Cultural and Historical Endowment of more than $2 million. The award is expected to make the first phase of construction possible. "It was the feather in our cap," says Strauss.
Also, because of the emotional responses that historic recreation projects can elicit, a major part of raising funds for them lies in promotion, in the hope that the right set of ears will hear. "[Annenberg Foundation vice president] Wallis Annenberg just called up one day, said she'd heard about 415, and asked, 'What's it going to take to make this site usable?' " says Hurd. "It's my understanding that she had gone there as a child, and now she wants her grandchildren to be able to go there and have similar experiences. They also had certain donation requirements they had to meet that year, and we just happened to be in the right place at the right time."
In many cases, when the public has been involved in the planning process for the restoration of longstanding public recreation facilities, failure is not an option - even if keeping those facilities open, or just standing, is draining government resources. Just ask California Gov. Arnold Schwarzenegger, who in February was feeling a public backlash from editorial writers and preservationists after his annual budget proposed killing operations at 48 of California's more than 200 state parks in order to help meet an expected shortfall of more than $14 billion this year.
Though a 1994 earthquake devastated the Annenberg Community Beach Club property, leaving its structures red-flagged and far from profitable, Hurd says the state never formally investigated selling the land. "It definitely would not have gone over well if there was serious consideration given to selling the property for private use," she says. Likewise, in Richmond, political leaders have exhibited a certain sensitivity regarding the Plunge property, despite its perennial drain on city finances. "I'm sure there are people within the city government who would have liked to have said, 'Oh, Lord, let's just tear it down and be done with it," says Strauss. "But they never said it out loud.' "
Strauss' own 11-year involvement with the Plunge project - a "long, tiring haul," as she describes it - remains personal, not political. "The first time I went inside, I couldn't believe that a facility like that was sitting there," she says. "It has these beautiful spanning arches and walls. Even now, as it's sitting there closed, waiting for its rehabilitation, it entrances you."
But it is not history or aesthetic appreciation alone that maintains momentum in such projects. "What's really moving this along is the impact the facility and the services it allowed have had on this community since 1926," says Richmond recreation program coordinator Bill Kauppinen, who hopes to bring a "full menu" of programs back to the Plunge, including recreational swimming, lap swimming, water fitness training and even kayak water polo. "Just the fact that it was here, open and operational for that long created a big impact on people when it was closed. That service is part of its history."
Adds Strauss, "This is not some beautiful old shell that will just sit around. This is a pool that will be used by everybody."