Keeping the extended military family fit includes serving those who no longer serve.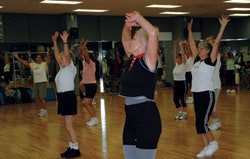 There is no such thing as a typical ex-soldier. Some get discharged from the service at 25 after their initial commitment has been fulfilled, some retire while still in their early 40s, and others retire after 20 years but then continue serving as a contractor for another 20. Their experience out of the military varies as much as their time in it, when some worked as drivers and desk jockeys, and others parachuted from airplanes or toted an M-16.
And so does their health. Many military retirees continue to do the things that kept them in fighting trim, while others wake up to a common fate: Weight gain, decreased muscle mass and a variety of ailments (heart disease, cancer and type II diabetes among them) associated with physical inactivity.
David Outcalt, a 46-year-old former U.S. Marine Corps lieutenant discharged in his 20s, managed to avoid a flabby reflection in his mirror, but says he knows all too well how it can happen.
"When I was in the service, I was more active just because of the nature of the work," he says of his years leading an amphibious assault unit by day and a cadre of partiers by night. "Most of us would run anywhere from three to five miles on the beach during lunch, and we were young and in great shape and had some money in our pocket, so we'd go out looking for ladies at the bars a lot. You get used to a diet that requires a higher level of exercise to keep you in shape, so when you suddenly leave that environment and there's nobody looking to give you a fitness test, you either adapt your food intake and try to stay active, or you're going to put on weight."
The exact requirements vary from branch to branch or base to base, but active-duty personnel in all service branches are expected to maintain a healthy weight and pass regular physical fitness tests (PFTs). Accordingly, fitness center membership across the Armed Forces is offered to all active-duty and former service men and women, their dependents and Department of Defense employees. The most organized response to the (real or perceived) fitness deficit among military personnel remains the Marine Corps' branch-wide Semper Fit program, but fitness professionals at installations in the other branches remain just as committed to keeping military personnel healthy from their 20s all the way into their 90s.
Lori Smith, fitness director at Fort Benning in Georgia, says the majority of Army retirees she sees working out range in age from 55 to 70, but she also has a dedicated 92-year-old retiree who comes in every day.
What's his regimen? "He does a lot of talking," Smith says with a laugh. "I think it's much more of a social environment for him. But he does work out. He goes through a circuit on the selectorized equipment, walks on a treadmill for 10 or 15 minutes, and then spends the majority of his time in the whirlpool. He also worked for a while on balance issues with one of our personal trainers because he'd taken a fall."
Smith says that she doesn't really program differently for the retiree population - an exception is aquatics, in which more classes are geared toward seniors. Similarly, Naomi Parish, assistant director of the Patrick AFB Sports and Fitness Center, calls the U.S. Air Force's response to fitness "less defined" than the USMC's. But, she says, with the USAF's emphasis on teaming base fitness centers with their co-located and more medically focused health and wellness centers, her center's program is much the same as Semper Fit - "We just haven't given it a name," she says. Many retired personnel in the Brevard County, Fla., vicinity (especially the older ones) pair their visits to the exercise physiologists, dieticians and medical technicians in the health and wellness center with a trip downstairs to the fitness center.
"We try to tailor some of our programs to meet their needs," Parish says. "A lot of them are suffering from chronic diseases, so our goal is to carefully get them accustomed to some of the very basic exercise machines that we have in here."
The need for introductory lessons might seem odd, considering that this is a population in which working out is ingrained in the collective mind, from the exercise rituals of readiness to the heavy lifting of combat. But in addition to those whose active-duty physiques have softened, there are many ex-soldiers who, like Outcalt, spent their careers exercising outside the fitness center setting.
"Even in the military we're facing elevated health-care costs, so here at Patrick I'm noticing the retiree population is more concerned now with maintaining their health as a way of decreasing long-term medical costs," Parish says. "Plus, it's really over the past 10 years that a lot of us have become aware of how our lifestyle over the years can sort of catch up with us. It's great to see so many people making a concerted effort to better their health."
Fitness directors say that the sedentary ex-soldier is mainly a stereotype - at least around their particular installation.
"I don't see the people who don't come on post, obviously, " Smith says. "Typically the ones I encounter are the people who are maintaining their health to a certain standard, so my impression is we have a pretty healthy retiree population."
Doug Briggs, director of strength and conditioning at Fort Bliss in west Texas, says the norm in his corner of the U.S. Army assumes the shape of the lifelong exerciser. "A lot of them, because of all those years getting up early and running and doing all those other types of exercises, they actually maintain their level of fitness," Briggs says. "I've got a lady who's 80 years old, walks with a cane - she's a retired colonel, probably back from the days of the Women's Army Corps - and she's in here working out all the time. She's really funny, always complaining about other women in here not being dressed appropriately."
Briggs recites the range of activities available to retirees - aerobics, gravity training, group cycling, selectorized strength training, free weight training, basketball, racquetball, swimming, personal training - and notes that the benefits to retired personnel extend beyond physical fitness to stress relief and camaraderie, among other things. "It's all-encompassing," he says. "We try very hard."
Smith says that, in fact, fitness center directors don't have to work that hard to attract this particular market segment. "They kind of have their routine set," she says. "They got vocal about having an arthritis aqua-aerobics class, so we implemented one, and I didn't have to do any marketing for it. Once it was there, the word spread, and before I could even talk to marketing to get a flier sent out, we had more than enough people to fill out the class."
Reaching out to retirees is something that Parish and others say is part of the military DNA. "One of the Air Force's top priorities is taking care of its people," she says. "That does not stop with active duty."