BlackBerry meets Band-Aid, as today's certified athletic trainers embrace technology.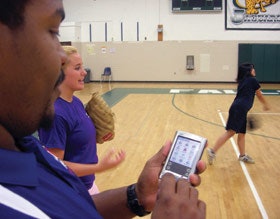 In one corner of the athletic training rooms at the 25 public high schools in Fairfax County, Va., hot- and cold-water hookups and drains sit unused - relics from another era that represent an arguably outdated approach to caring for student-athletes. "Most athletic directors over 45 years old think part of athletic training is having a whirlpool," says Jon Almquist, athletic training administrator for Fairfax County Public Schools and a certified athletic trainer who has racked up 25 years in the business. "It's amazing how, when we do renovations in our schools, the design always includes two whirlpool spots. They take too much time to clean, create a lot of humidity and are noisy. There are some folks who still use them, and they can be effective. But you're better off using that 10 square feet of space for other things, like rehab."
All over the country, forward-thinking athletic trainers at the high school and collegiate levels are finding new ways to do their jobs better - using advances in healthcare and communications technology to redefine their roles while eschewing such longtime athletic training standbys as whirlpools and spine boards. "The job has gone from using a cotton-tip applicator to carrying a BlackBerry®," says National Athletic Trainers Association president Chuck Kimmel, former head certified athletic trainer at Austin Peay University and now an instructor and clinician at Appalachian State University. "It has become much more scientific and technical."
Certainly, athletic trainers still carry the essentials in their bags - first-aid and taping supplies, for example - and there are more options for those than ever on the market today to suit a variety of personal preferences. But the type of storage used to carry those goods has changed from hard-shell kits to backpack-style units (some of them on wheels) and even large carts that can be loaded with hydration systems and sports drinks and pulled behind small utility vehicles.
While an automated external defibrillator may be the most noticeable addition to the athletic trainer's arsenal, the real changes have been happening off the field - which could give the impression to casual observers that the certified athletic trainer's role hasn't changed much over the years. "We work behind the scenes and we don't like a lot of fanfare," Almquist says. "From the public's perspective, we are seen sitting on the sidelines, waiting for something bad to happen."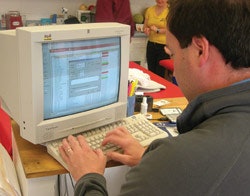 When something bad does happen, many certified athletic trainers are more prepared than ever with personal digital assistants that allow access to student-athlete health records compiled for instant emergency reference. Just like the athletes they care for, certified athletic trainers need to dedicate time for effective preparation in order to meet the unexpected challenges they'll encounter on the field or court. As Chad Kinart - a former assistant athletic trainer at the University of Nebraska at Omaha and now a certified athletic trainer at ESPN Sports Medicine - says, treating athletes is only part of an athletic trainer's job.
That job, for athletic trainers at all levels, is to protect athletes by maintaining a healthy sports culture. "The idea of athletic trainers being tapers and icers and referring kids to other people for other things is not something we support," Almquist says. "We support the concept of the athletic trainer being a healthcare provider who is able to independently deal with 90 percent of the situations that come through the door."
In order to do that, certified athletic trainers require the support of athletic directors, school boards and other administrators who have a say in equipment purchases. One of the best investments an athletic training department can make these days is in hardware and software that can electronically manage student-athlete health information. But believe it or not, some athletic training programs have yet to embrace the computer age.
"When we started putting computers in our schools, we had people leave because we asked them to keep records on computer," Almquist says. "They gave up athletic training because they felt that they were sitting at a desk in front of a computer more often than they were treating kids. But it was a great way to clean house, because the folks who didn't buy into the computer weren't that great at being athletic trainers, either."
Kimmel has seen this scenario many times. Old-school athletic trainers either "are coming around, or they're leaving," he says. "You adapt, or you don't survive."
Kinart learned the art of survival when he helped integrate an electronic record-keeping system at UNO. "Each athletic training room follows its own protocol," he says. "Some record the name of a player and injury date, others record treatment information, and a few collaborate with external medical teams to create a holistic health record."
In the past, information related to training and injuries was usually placed in paper files, or integrated into a hybrid system involving both paper and a makeshift computer-based system using generic applications rather than job-specific software. Often, such approaches failed to provide a way to access participant information quickly and easily. Specialized software systems, however, now provide real-time online and offline access to athlete health information from anywhere, which can help identify injury trends, speed up recordkeeping, reduce data-entry inconsistencies and - most important - potentially save a life in the case of an on-field injury. (A personal-health record accessible via a PDA, for example, could inform the athletic trainer on duty that the injured player has a medicine allergy.)
Kinart says UNO's system improved athletic training workflow and resulted in more comprehensive and accessible health records that bolstered the program's standard of care.
A centralized network also generates reports that include such data as the number of student-athletes treated on a daily, weekly, monthly or yearly basis, the types of injuries they suffered, and how many ice packs were issued, for example. With a little extra effort, dollar figures can be assigned to those treatments. Such data provides athletic trainers with a powerful tool to seek support for their often underfunded departments. "This is what makes a school board say, 'Well, I guess we put our money in a good place,' " Almquist says.
Fairfax County Public Schools has moved a step beyond its centralized computer system by equipping the two certified athletic trainers at each of its high schools with PDAs, which recently replaced cell phones on their belts. That way, during practice downtime, athletic trainers can enter student-athlete health information; e-mail or call physicians, parents and other contacts; or read about the latest industry developments and research via the Internet. Some of the PDAs were budget items (the district spent $13,750 for 50 of them, Almquist says), while 25 others were obtained last year through grant money.
Kimmel welcomes these technological developments, but not without warning that "we have to be cautious not to look at our PDAs more than we look at our athletes."
Having an AED within an athletic trainer's reach during both practices and games is a no-brainer. After all, NATA urges its members to follow guidelines published by the American Heart Association that call for the availability of AEDs in all athletic settings. To that end, some athletic trainers now carry an AED with them to both home and away games, just in case the host venue does not have an easily accessible defibrillator.
Some athletic trainers now pack an AED in a special rolling kit designed for respiratory and cardiac emergencies. The kit also typically contains a bag-valve mask, an epinephrine auto injector to treat anaphylactic shock, a stethoscope and a sphygmometer for measuring blood pressure and pulse rate, along with rolls of tape and wound-care products.
While those "crash kits," as Almquist calls them, haven't replaced the traditional fanny pack loaded with bulk items for quick on-the-field access, other items have fallen out of popularity. A screw used between the teeth of an athlete in the midst of a seizure to keep his or her mouth open disappeared years ago when medical experts realized it was better to not put anything in a seizure victim's mouth, and fewer athletic trainers seem to believe in the healing power of contra-irritants these days, claiming the massaging action of the application process is more effective than the warming sensation and minty scent given off by such substances.
More contentious, however, appears to be the use of spine boards. In some jurisdictions, it is simply illegal for certified athletic trainers to secure an immobile student-athlete before local emergency medical service personnel arrive on the scene. After all, EMS workers are the ones who are responsible for safely transporting the injured participant to a hospital. That's why communication that establishes protocol with local emergency responders prior to every season is critical - and something NATA stresses in its position statement on emergency planning. The determination of whether to use spine boards or even splints is one based often on local policies and local politics, and it's best decided with input from the school, college or university and local EMS administrators, Kimmel says.
"I think that communication and coordination efforts between EMS officials and certified athletic trainers are much better than they used to be. More of these groups are working together now," says Kimmel, who did not use a spine board during his 26-year tenure at Austin Peay and would not do so now. "I think there are a lot of certified athletic trainers across the country who would not agree with that. I'm not saying they're wrong, but if you ask me what I had, I had 911."
As the position of certified athletic trainer continues to evolve, it will become more important for administrators to provide not only the necessary tools for an athletic training department to carry out its mission, but also additional space for an office adjacent to the training and rehab areas. This will allow trainers to have private conversations regarding a student-athlete's health and other touchy topics with doctors, parents, coaches and each other without having to worry about being overheard. Privacy-law concerns today practically demand such a space, according to Almquist. "You can't do that stuff in front of everybody anymore," he says.
Other athletic trainers say they're also now the ones in charge of everything from misting fans to weather-monitoring devices - whether a lightning detection or prediction system, a sling psychrometer or a PDA link to a local weather service. The expectation, Kimmel says, is for certified athletic trainers at all levels of sport to administer their programs using scientifically based equipment and reasoning, and that requires more research, planning, recordkeeping and communication than it did in the past.
It's possible to go overboard on those things, he admits, "but if we say we need something, then hopefully athletic directors trust that we really need it."
Youth Movement A pair of sports-medicine researchers say emergency on-field treatment of athletes with neck injuries should be no different for children than it is for adults, despite the two groups' differences in head and torso proportions.
Gehron Treme, a physician at the Center for Orthopaedics in Lake Charles, La., and David Diduch, a professor and team physician at the University of Virginia, recently evaluated 31 males between the ages of 8 and 14 who participated in youth football. They determined that both helmet and shoulder pads should be left on an injured player for initial treatment and then removed once the youngster is stabilized.
"There was a clear hole," Treme says, in on-the-field guidelines regarding the treatment of young athletes with potential neck injuries. "Skeletal proportions are different in children than adults," he says. "Kids have larger heads than torsos. We looked to see if this disproportion would result in a different recommendation."
For the study, Treme and Diduch took X-rays of each player lying down wearing shoulder pads only, wearing a helmet and shoulder pads, and wearing neither piece of equipment. Next, they measured the alignment of the head, neck and spine to determine if the head tipped back, which could expose the head and spine to further damage. After examining the X-rays, they determined that there was no statistically significant difference in alignment when the children wore no equipment compared to when they wore both helmet and shoulder pads. That said, alignment changes seen with only shoulder pads were considered dangerous and could place the young athlete at risk if the helmet alone were removed, according to Treme and Diduch.
Independent studies and surveys indicate that football players represent about one-third of all children sustaining neck injuries from sports participation.