Through partnerships with local schools, rec departments are gaining access to the fields of their dreams.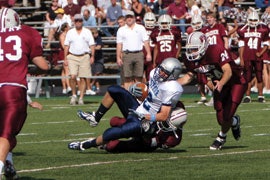 Field maintenance requirements dictate that each of the 12 athletic stadiums that flank Anne Arundel County, Md., public high schools is limited to hosting 50 competitions a year. But beginning later this year, several of those stadiums will host that many games in a span of mere weeks. What's remarkable here isn't just the conversion from natural grass to synthetic turf that's allowing for exponentially greater usage, but also the intergovernmental partnership that has allowed the multimillion-dollar turf project to take root.
Partnerships between municipal recreation agencies and school districts for the joint use and/or construction of athletics fields are arguably underutilized, but evidence of their success can be found. This summer in San Marcos, Calif., a 32-acre public park will open that will include a skate park, multiple softball fields and a soccer field. It will double as a practice facility for the neighboring high school. The city of Broomfield, Colo., enforces an impact fee on new residential construction that has allowed for millions of dollars to be funneled to the school district in the form of a new gymnasium and athletic fields. In turn, city programs are granted access. And in Millbrae, Calif., town and school officials recently hammered out a deal that will lead to $3.5 million in upgrades to sports fields at five schools and at least 15 years of joint use between the schools and the city's rec department.
"Millbrae is totally built out," says Howard Kaplan, the city's recreation services manager, noting that the community of about 20,000 residents fits into the San Francisco Peninsula, which connects to San Jose. "There is really no space at all for us to build new fields, so we have to take a look at existing land, try to fix it up and make it more accessible."
It's that kind of predicament that often sparks school/city partnerships for playable green space, but there's no limit to how creative the arrangements can be.
County officials in Anne Arundel had no template for their ambitious fields renovation and joint use project. On the surface, it appears to be a school plan: Three new synthetic turf fields per year at county high school stadiums over the next four years. But look closer, and three-quarters of the seed money for the $10.7 million in renovations comes from the rec department, which had been banking funds from Program Open Space, a Maryland Department of Natural Resources initiative that gives grants to local agencies for the development of parks, conservation areas and recreation land. "This project is a county recreation and parks project," says Franklin Chaney, Anne Arundel's recreation administrator.
So why would a county municipal agency explore giving its hard-earned money over to school facilities? "If we were working alone, we wouldn't be able to buy a property, build a field and put up these beautiful lights, bleachers, concessions areas and restrooms - there's no way we could do that," says Chaney. But by adding on to the existing school infrastructure and negotiating a long-term usage agreement, "basically, we've got new fields for each of us for a little less than $1 million per field. In my opinion, it's just real smart government."
School officials likewise knew they couldn't tackle such a large-scale stadium facelift alone, though individual school leaders within the county had developed a taste for synthetic turf after it was installed at one of Anne Arundel's high schools. "Once everyone saw how much use it could absorb, people started to get this idea into their minds," says Greg LeGrand, the school district's coordinator of athletics. "The schools then started to have their little mini projects and plans for how they were going to get one. But from the board's standpoint, we don't have the kind of money to do something like that."
The bones of the agreement will give school athletics programs exclusive use of the field on weekdays until about 7 p.m., and later on football Fridays, and until midday on Saturdays. The result for the rec department is three to four hours of access under the lights on weekdays, about 10 hours of access on Saturdays and unfettered usage on Sundays - all of which will help mitigate the scheduling issues presented by bustling youth and adult programs, including no fewer than 400 youth lacrosse teams. "With those 400 teams alone, trying to find space is a big problem," Chaney says, "and trying to find quality fields is a bigger problem."
Clearly, such an arrangement requires compromises, such as the recreation department's surrender of first dibs for concessions operations - even during rec department events - to the schools or affiliated school booster organizations. School officials, meanwhile, had to concede, under the terms of Program Open Space, that the fields would be available to the public at large.
But as LeGrand explains, "They are all kids from our county. There is a lot of trust that's got to happen between our two groups - both groups are going to have to stay focused on the big picture even as we constantly work out all the little snags that are going to go on. Is it a leap of faith? Sure, but both groups are running with the same taxpayer money."
Such a focus on the beneficiaries of the renovation/usage partnership - the end users - is what motivates rec officials, too. Take the concessions example, which could be perceived as a point of contention between the two sides. But Chaney notes that school organizations operating the concessions, even during city-run events, are most often fundraising for equipment and facilities upgrades for the high school athletics programs. "Those kids who are participating in that rec program are going to be playing more on that high school field down the road," says Chaney. "That's another beautiful thing about this project."
As with any close relationship, a joint plan for field usage will present some kinks. Kaplan, who has worked with Millbrae's school officials for years on joint use and renovation plans, warns that recreation officials can't count on existing relationships or verbal agreements when it comes to shared field use and care. "Make sure you know exactly who is going to be using what, or maintaining what, and when," he says. "And with any sort of capital you put into a field, you want to make sure the term of the agreement is long enough. You don't want to pour $3 million into some fields and then only be able to use them for five years." Heed that advice heading into a city/school field partnership, says Kaplan, and good things will result: "Now the city can have access to all these improved playing fields that will allow after-school programs to grow a little bit, keep kids busy and safe, and all that good stuff."