Research reflecting nationwide racial disparities in swimming participation challenges local aquatics providers.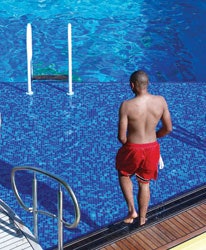 The numbers alone are negative: 60 percent of African-American and 56 percent of Hispanic children between the ages of 6 and 16 can't swim - this according to a first-of-its-kind study sanctioned by USA Swimming and published in May that found those percentages to be nearly twice as high as the rate for Caucasian swimmers of like age. Conducted at YMCAs in six major metropolitan areas by researchers from the University of Memphis, the study also found that African-American and Hispanic children are six times more likely to be part of a family in which neither a parent nor a sibling is able to swim.
But officials at USA Swimming, to whom the numbers were hardly surprising, plan to use them to achieve positive results. "We were very aware that the university's research could validate what we already suspected," says John Cruzat, the organization's diversity specialist (the first job title of its kind among the governing bodies of this country's sports). "It gives us more ammunition to drive our message into communities."
Through its two-year-old Make A Splash initiative, USA Swimming has been devoting resources into supporting aquatics providers on local levels, from a range of nonprofits to parks and recreation departments. Says USA Swimming executive director Chuck Wielgus, "The connection with parks and recreation departments is incredibly important to us because the key to this whole thing is having the service providers that are teaching learn-to-swim programs embrace the challenge of having every kid become water safe."
The overall drowning rates of children in the United States are what inspired Make A Splash, which provides advocacy and resources for local learn-to-swim programs, but it's the consistently disproportional drowning rates between young black and white swimmers (a three-to-one ratio, as tallied by the Centers for Disease Control and Prevention) that have recently been the program's focus.
A glaring issue is the dearth of aquatics facilities and educational programming in many urban locales with large minority populations. The reasons for this are many, and the current lack of adequate parks and recreation funding for many inner-city programs is certainly not least among them. But the divide can also be explained by some historical and social mainsprings that are most recently tackled by historian Jeff Wiltse in 2007's Contested Waters: A Social History of Swimming Pools in America, which comprehensively examines the history of municipal aquatics facilities from the late 19th century to the present through the convergent lenses of race, class, segregation and integration.
Today, says Wielgus, "Swimming is often viewed as a white, suburban sport, much as golf is. It's not that urban kids or African-American kids aren't interested in swimming, it's that so many of them don't have the opportunity."
Thus one goal of Make A Splash is to enlighten local political leaders - or others who may hold the keys to aquatics-related funding - about the "disparities of aquatic activity that we're seeing in communities of color that are perpetuating these drowning rates," says Cruzat. "We try to explain to municipalities and the community that it is imperative to offer quality aquatic programming as part of a full menu of parks and rec activities."
Though the Make A Splash initiative is still young, USA Swimming representatives have found that corporate sponsors are often willing to support a department- or nonprofit-run learn-to-swim program, in part because of the marketing benefits of the association with USA Swimming. Cruzat believes that kind of relationship can also be "a win for the parks and rec department as a broader outreach campaign that also serves as political capital for the bureaucrats."
Cruzat recently gave a Make A Splash pitch to members of the Washington, D.C., department of parks and recreation. D.C. has become a hotbed for minority swimming, in part through the annual Black History Invitational Swim Meet, which in February saw more than 800 swimmers (reflecting a variety of races) from ages 6 to 18 compete over a two-day span. Longstanding city-run teams, such as the Detroit Recreation Swim Club, the Baltimore City Swim Club, the City of Atlanta Dolphins and the Philadelphia Department of Recreation swim team (coached by Jim Ellis and made famous by the 2007 movie Pride), were represented alongside two-dozen club teams.
Cruzat points to other minority-driven swim meets, such as the Black Heritage Swim Meet in Orlando, Fla., and the Cinco de Mayo Swim Meet in San Antonio. These and many more, he says, are grassroots meets ("and fast meets," notes Cruzat) featuring plenty of parks and recreation representation, and providing hope for advocates of minority participation in swimming.
Sean Link, facility manager for D.C.'s Takoma Aquatic Center, which hosts the Black History meet and boasts a 50-meter pool with removable bulkheads, says he can see hope spring for minority participation in swimming every day by simply looking out his office window. "Right now, I've got lap swimmers, mixed white and black; I've got an elementary school program here and its students are predominantly black; and I've got a CPR class going on that is mixed," he says. "It's very diverse. That's what I love about this department."
At a recent aquatics conference in California, Link was surprised to learn that the D.C. DPR's more than 30 outdoor pools and seven indoor pools was a significantly greater number than what's operated by most urban jurisdictions of similar size. The reason for his surprise: "We have to turn people away from some of our learn-to-swim and other programs," he says. "We have quite a lot of demand."
Despite these positive signs, Link also is hardly shocked by the USA Swimming study's findings. "We see the people who are already coming to the pool. We see the parents, minority or otherwise, who are bringing their kids in for swim lessons," he says. But when children don't receive such guidance from a parent, or if aquatics programming isn't mandatory or tied to a school curriculum, says Link, "that's when you see that disconnect."
There are industry factors working against the goal of minorities learning to swim, too - namely, the trend in municipal aquatics over the past decades toward strictly leisure-related pools. "So many of the new aquatics facilities are more entertainment-based, waterpark-type facilities, and those are not the most useful for teaching," says Wielgus. Cruzat says recreation officials often convey to him the demand for leisure pools that provide fun and relief from summer heat. "They might say, 'The kids just want to splash; it's hot,' " he says. "But you have to have a structured learn-to-swim program so that you can ensure their safety when they do go into that water."
Wielgus, for one, firmly believes that more learn-to-swim programs in areas populated largely by people of color will eventually serve to alleviate the disparity in overall participation between races, and perhaps even reverberate to the highest rungs of the sport. "I'd love to see our Olympic team have many more skin tones that it does now," he says. "If we are going to be a national youth sports organization and not just a niche sport, we need to respond to the population of this country."
But Wielgus knows well that you have to learn to swim before you can fly. "The results are not going to be immediate," he says of Make A Splash. "This requires people taking initiative. We know there are financial resources out there, but those people have to be approached. This is a commitment for good."