Research reflecting nationwide racial disparities in swimming participation challenges local aquatics providers.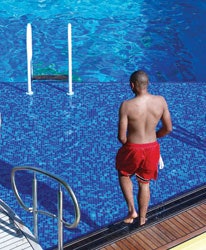 The numbers alone are negative: 60 percent of African-American and 56 percent of Hispanic children between the ages of 6 and 16 can't swim - this according to a first-of-its-kind study sanctioned by USA Swimming and published in May that found those percentages to be nearly twice as high as the rate for Caucasian swimmers of like age. Conducted at YMCAs in six major metropolitan areas by researchers from the University of Memphis, the study also found that African-American and Hispanic children are six times more likely to be part of a family in which neither a parent nor a sibling is able to swim.
But officials at USA Swimming, to whom the numbers were hardly surprising, plan to use them to achieve positive results. "We were very aware that the university's research could validate what we already suspected," says John Cruzat, the organization's diversity specialist (the first job title of its kind among the governing bodies of this country's sports). "It gives us more ammunition to drive our message into communities."
Log in to view the full article