Urbanites pressed for time pause for the quickest of workouts.
The 30-minute express workout was anything but a new concept when it was tabbed as the top fitness trend of 2004 by the American Council on Exercise. Seeing as how the circuit-training concept dates from the 1950s and the Curves phenomenon was by 2004 already eight years old, it was something closer to a return to the industry's roots. The renewed attention did, however, set the stage for an inevitable arms race: 25-minute workouts, 20-minute workouts, 15 - and now four.
H.I.T Fit, which came on line at the beginning of 2007, now has two locations in Toronto and is currently planning an autumn 2008 launch of a corporate health and wellness division, and a franchising rollout by the beginning of 2009. Currently advertised showing a businessman tearing off his starched white shirt to reveal a Superman-style H.I.T-logo T-shirt underneath, paired with a Post-It-Note bearing the tagline, "Gone to work out. Back in five minutes," the clubs promise to do for their members in four minutes what other clubs do in 95. (According to H.I.T's web site, www.hitfit.ca, "Just 4 minutes on our H.I.T ROM Machine is equivalent to approximately 45 minutes of resistance training, 30 minutes of running, plus 20 minutes of stretching.") It's a claim so brazen that it has stirred deep skepticism among people who, perhaps significantly, have never actually tried it.
A Toronto public-relations blogger who critiqued the club's portrayal in a Toronto Star article, for example, generated responses such as this one: "This H.I.T Fit gym cannot be healthy. I'm sorry, but getting the same benefits as you would in 45 minutes in 4 minutes IS NOT HEALTHY!" Or, as an industry observer who prefers to remain anonymous says, "The old saying, 'If it seems too good to be true, it probably is' would be appropriate here."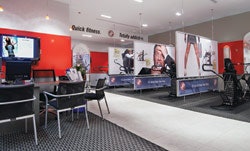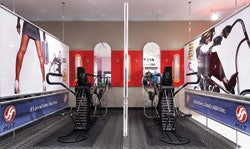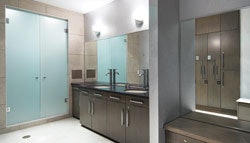 The target of most of the animosity, the ROM Machine (pictured above) - it stands for "range of motion" - is one of two pieces of equipment used in H.I.T Fit (the other is whole-body vibration equipment) and its sole inspiration. Morry Patoka and Bob Daniels, partners in a private equity firm called Rising Wave, came to the fitness business after Daniels, interested in purchasing gym equipment for his home, brought the ROM to the attention of his personal trainer. Resembling what the
Toronto Star
described as "an elliptical trainer welded on to a rowing machine," the resistance machine impressed the two businessmen, who became regular exercisers on it to good result, Patoka says.
A trip to North Hollywood, Calif., to meet with the manufacturer added to the intrigue and, coincidentally, confirmed to them that its inventor wanted no part of any kind of health-club concept. (The ROM web site, www.fastexercise.com, makes a selling point of the unit's high $14,615 price tag and, with its many anti-fitness-industry-expert rants, will give the interested reader ample reasons for the machine's having retained its underground status over the past 18 years.) And so, the two men traveled back to Toronto and started to flesh out a business plan for a club that revolved around the equipment. "We realized this really works," Patoka told the paper. "The club concepts we saw did not."
Since the target market for H.I.T is people who presumably don't have the time to linger, the clubs are set up like small (between 1,200 and 1,800 square feet) specialty retail stores, with "no impediments" to entry, Patoka says - the check-in desk is in the middle of the club, like the Radio Shack cashier down at the mall, rather than at the entry. Large-format posters that are "communications and message oriented" can be swapped out regularly, so that the club "always looks new and relevant," Patoka says - "unlike a regular club where nothing changes, and it gets dingier and dingier, and then five years later they decide to paint." The integration of club with retail is nowhere more apparent than in the actual workout stations - ROM machines (six per club) flanked by poster-adorned partitions, with the front wall of each stall outfitted with a mirror and "a particular kind of lighting in the front that I saw at a hair salon," Patoka says. "I saw that when you sat in that chair, it was all about you. You were the only one there." Of the overall effect, Patoka adds, "We want it to be different from a gym, because we feel like we're offering something different."
Maybe so, but there are more similarities than differences. Members - Patoka, who's "not really sure" of the number, estimates there are 400 between the two locations - pay a $99 initiation fee and are billed $39 every two weeks for the duration of their one-year contract (a six-month membership also is available). The suburban location is a bit larger than the downtown club in order to accommodate an area where kids can occupy themselves (it's child care without the care) for the 14 minutes that mom is occupied (Patoka says about half of H.I.T's members do 10 minutes of vibration to go with the four-minute workout). There's a small shower/changing room, and "coaches" are available on site to help out, and can even be hired as personal trainers for 15-minute sessions rather than the more typical 30- or 45-minute club workout. Members can utilize an online reservation system so that they don't experience the worst-case scenario - waiting for a machine longer than they're on one.
"The competition is any traditional fitness club," Patoka admits, "but for people to join they have to be willing to accept that high-intensity training will work for them. If you've got six hours a week to work out, or if you want to hook up with people, or you want to do group exercise classes or yoga, or you don't believe four minutes a few times a week is going to be effective, it's not going to be for you. Really, people's skepticism is the greatest competitive force that we're dealing with."
Assuming they can overcome it, converts find that, strangely, they're surprised even by the time savings. "The nice thing is, if they start work at 8 a.m. and they're used to getting to the gym at 6 o'clock, when they start with us they realize, 'Oh, man, now I'm at work and it's 7 o'clock,' " Patoka says. "After that they think, 'I've had my workout and my shower - next time I can sleep in.' "
Still, Wayne Westcott, fitness research director at the South Shore YMCA in Quincy, Mass., has his doubts that this will appeal to most exercisers. "I don't know too many people," he says, "who want to spend less time at the gym than they spend getting to the gym."
Westcott is one expert whose skepticism about the four-minute concept would appear to be rant-proof. He has conducted research on the efficacy of high-intensity workout regimens for several different entities, including the United States Navy and Air Force. He has witnessed the benefits that can accrue: The three-a-week, 20-minute workouts he studied for the Navy, for example, found that test subjects added two pounds of lean weight and lost four pounds of fat in eight weeks. Nonetheless, Westcott isn't sure that four minutes is long enough for exercise to be fully effective.
"You can build muscle pretty well since the key to strength is intensity rather than duration, but you're not going to get the most benefit from doing the most abbreviated workout," Westcott says. "The average person who wants to get some cardiovascular benefit or burn some calories would have to go at a lower intensity for a longer period of time, because he or she won't have the aerobic capacity to perform at that high of a level. So it would seem a little improbable that the average person could benefit from that brief of a workout."
Patoka points to the many testimonials on his web site - "They're all real," he's quick to add - and reiterates that he, too, is a client. "It's awesome for guys like me," he says. "We have other companies and I work 70 or 80 hours a week, so I really don't have time to work out traditionally. For me this is the perfect solution, because I can run in, say 'Hi,' hop on the machine, work out, grab a water, say 'Bye,' and I'm done. Most people who use the ROM don't even sweat. They'll have one hell of a workout, but they won't work out long enough to get their temperature up high enough in a sustained manner to get their sweat glands working."