Military athletes will test their mettle this month at the Summer Olympic Games.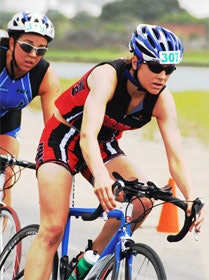 2nd Lt. Justine Whipple of the U.S. Marine Corps finished first in the women's division of the 2007 Armed Forces Triathlon Championship last summer.
When U.S. Army Staff Sgt. Dremiel Byers took up Greco-Roman wrestling in 1996, he knew next to nothing about the sport. But three years later, he won the silver medal in that sport at the Pan-American Games, became the heavyweight world champion in 2002 and will compete for Olympic gold this month in Beijing.
Not bad for a guy who played football in high school and college, and only joined the Army in 1994 to help his family pay some bills.
Byers arrived on the international wrestling scene almost on a whim, entering an Army-sponsored tournament in 1996 as a way to prove that his military career didn't mark the end of his athletic career. He soon caught the attention of his company commander, who saw plenty of potential. Byers was placed in the Army Sports wrestling program, eventually earning a spot in the Army's three-year World Class Athlete Program (WCAP) at Fort Carson in Colorado Springs, where his primary military responsibility has been to train for a berth on the U.S. Olympic wrestling team.
Byers still endures some of the same training required of all active-duty Army personnel two or three times a year, but he is far removed from many of his solider peers, who remain deployed to places of combat far more dangerous than a wrestling mat in China. "There's some guy in Iraq so that I can be here wrestling," Byers told The Christian Science Monitor just weeks before the Games' opening ceremonies. "I say, 'The least I can do is win.' "
Winning is what the Army's WCAP is all about. Otherwise, the country's largest military branch would not enroll between 70 to 100 participants (during wartime, no less) in a program that takes them away from more traditional soldiering responsibilities. "We realize that soldiers who are serving in this unit obviously are not serving in a line unit somewhere," says Willie Wilson, a retired sergeant major who manages the Army's 30-year-old WCAP. "We try to make sure that we are only bringing in soldiers who have realistic chances of making the Olympic team."
The Army was expected to provide more 2008 Olympians (at least eight, including alternates) than any of the other branches of the U.S. Armed Forces. But the Air Force also has its own World Class Athlete Program, which qualified at least two active-duty members for this year's Games. The Marine Corps, Navy and Coast Guard also provide support for their athletes in national and international competition, although Olympic hopefuls and other elite athletes often are expected to train on their own time and dime.
At all levels of sport, from intramurals to the international Military World Games, athletics remain an essential element of the U.S. military's mission - perhaps now more than ever. "With the country at war and multiple deployments, we'll see people who aren't available like they used to be to participate on Armed Forces sports teams or at a higher level because of their operational commitments," says Gary Scheer, director of morale, well-being and recreation for the Coast Guard. "But we all see the value of sports, because they keep our members fit, they instill an esprit de corps, and they contribute to mission readiness and retention."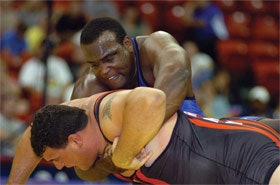 U.S. Army Staff Sgt. Dremiel Byers defeated World Class Athlete Program teammate Spc. Tim Taylor in June to earn a trip to this month's Summer Olympic Games.
The road from basic training to Olympic training is a long one, and most military athletes involved in the Air Force and Army WCAPs have logged years of training in their sport before they even join the service. "They are usually recognized by the national governing body in their particular sport and are usually ranked within the top 10 nationally," says Sgt. Ty Reyes, who is in charge of Air Force Sports and oversees its WCAP. "So they obviously have a great chance to make the Olympic team, and those are the types of athletes we bring to our program. They still are representing the Air Force, yet they can represent their country and sport, as well."
The Air Force's two-year WCAP, established in 1995, is much smaller than the Army's. It averages 25 participants in its summer-sports program and just three in its winter-sports program, and it involves a series of satellite facilities located in various parts of the country. Although the WCAP is headquartered at Randolph Air Force Base in San Antonio, participating athletes are assigned to duty based on the location of both elite coaches and world-class training facilities. Like Army WCAP participants, most members of the Air Force's WCAP train in Colorado Springs, home of Peterson Air Force Base and the Air Force Academy (which Reyes says produces many WCAP participants). He recalls only one Air Force WCAP athlete, a judo competitor, who has trained overseas.
Many athletes in the Army's WCAP - particularly in combative sports such as boxing, wrestling, tae kwon do and judo - train at Fort Carson. As in the Air Force, Army Olympic hopefuls in other sports typically get assigned to a location near a college or club with a proven record in training elite athletes for international competition.
As the U.S. trials for Army and Air Force WCAP athletes' sports came and went this year, the ones who did not make the Olympics returned to active duty. Some soldiers were assigned to U.S. installations, while others landed on the front lines in Afghanistan or Iraq. All are welcome to reapply to the WCAP for the next Olympiad - provided they're not needed elsewhere.
"Every soldier in the WCAP serves at the needs of the Army, and they all understand that and have no problem with that," Wilson says, confirming that the war in Iraq has significantly reduced the program's participation numbers. "There was a time when we had more than 100 soldier-athletes participating. At our peak now, we're probably in the low 70s. There have been soldiers who have been identified for various assignments while assigned to WCAP, and the Army will typically ask what the chances are of those soldiers making the Olympic team. If there's not much of a chance, the Army works with us to get them released to serve whatever assignment they're needed to serve. We're very supportive of that, because we realize that the Army is making a sacrifice to let soldiers be part of this program."
WCAP sports offered in the Army and Air Force are based on the specialties of the athletes involved. The Army, for example, is particularly strong in combative sports, and programs in both branches usually boast several track-and-field hopefuls. Both programs are funded based on the number of participants, the sports involved and the equipment and coaches required. As a result, program officials are hesitant to reveal exact budget figures.
But while the Army's WCAP receives both appropriated and non-appropriated funds, the Air Force's WCAP is supported solely by non-appropriated funds generated by base sales of everything from clothing to fitness center memberships. That's why WCAP participants are asked to help cut costs by taking advantage of deals on lodging, airfare and rental vehicles when competing. Says Reyes, "We don't want to get too crazy with our funding requests and then not get that funding."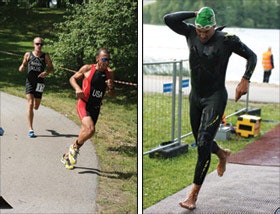 Master Chief Avionics Electrical Technician Michael Ferreira, the Coast Guard's 2006 Elite Athlete of the Year, competed in June's Conseil International du Sport Militaire Triathlon Championships in Estonia.
WCAP participants in the Army and Air Force also usually compete in sports programs offered by their branches, including intramural activities and organized competitions between installations. And they often join their Army and Air Force peers, along with exceptional athletes chosen from the Marine Corps, Navy and Coast Guard, on U.S. Armed Forces teams in the Military World Games, the second largest international athletic event after the Olympics. Held every four years in the year preceding the Summer Olympics, the Military World Games gathers soldiers from around the globe in a show of unity and solidarity through sport.
Hosted by the Conseil International du Sport Militaire, which has close ties to the International Olympic Committee, the Military World Games attracts many participants who also are Olympic hopefuls, making for some stiff competition. In fact, the 132-member Team USA contingent at the 2007 Military World Games last October in Hyderabad, India, did not place among the top three countries in overall medal counts. (Russia, China and Germany took home the most.)
The U.S. delegation included 54 active-duty athletes from the Army and 38 from the Air Force, with the rest coming from the Marines, Navy and Coast Guard. They joined more than 5,000 competitors from 101 countries in such events as swimming, shooting, triathlon, boxing, wrestling, football, handball and volleyball.
The Marines, Navy and Coast Guard prepare their members for Armed Forces competition by offering training opportunities on a much smaller scale than those provided by the Army and Air Force WCAPs. For example, many Marine athletes begin their military sports career by playing intramurals, participating in base sports and trying out for All-Marine teams. As they advance, the Marine Corps Sports Program assists them at the national and international levels, according to Steven Dinote, sports director for the Semper Fit Branch of the USMC's Personal and Family Readiness Division.
"The majority of our Olympic-caliber athletes further develop their skills on their own time, by taking leave for competitions and advanced training," he says. While the USMC boxing and wrestling programs provide year-round competition, Marines who compete in other sports may be invited to train exclusively at the U.S. Olympic Training Center in Colorado Springs, as one triathlete and one pistol shooter did for the 2008 Games. Neither, however, earned an Olympic bid.
The Navy and Coast Guard often work together to field co-op Armed Forces teams. Serious athletes typically train on their own, and both branches provide scheduling flexibility to individuals with realistic chances of making the Olympics. "Based on our current size and the funds available to us, I think we fit nicely within the Navy's program," Scheer says. "And the Navy has been great to us. They've treated our Coast Guard athletes like their own. If we have good athletes, the Navy doesn't hesitate to take us on their teams."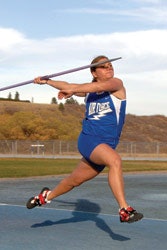 Dana Pounds, a U.S. Air Force Academy grad, was named the 2008 Female Field Event Athlete of the Year for the Mountain Region by the U.S. Track and Field and Cross Country Coaches Association.
United States military officials have not hesitated to keep sports near the core of the Armed Forces mission for decades. (One of America's most famous Army generals, George S. Patton, was a modern pentathlete who finished fifth in the 1912 Olympics.) "While WCAP obviously is not free, in the overall scheme of things, it's pretty much budget dust," says William Bradner, deputy public affairs officer in the Army's Family and MWR Command. "It's such a small figure when you look at the Army's overall budget, but it has such an incredible impact on morale, especially for the units the soldiers come from and the units the soldiers go to after they leave WCAP."
No wonder sports are used as a major recruiting tool, particularly in the Army and Air Force, to show recruits "that military personnel are doing other things than what people see on TV news," the Air Force's Reyes says. And the potential to achieve athletic excellence while serving their country can be enough to convince young men and women to "aim high" - to "be all they can be." "It helps us maintain the all-volunteer force by giving soldiers the opportunity to strive to attain that sports dream they might have had in high school, while still serving their country," Bradner says.
Military Olympians serve their country in two ways, according to the Army's Wilson. "The first is by representing their country," he says. "But the soldiers also are extremely proud to represent all of their fellow soldiers."
"We will have soldiers all over the world in front of the television watching the Olympics, hoping to see a member of their family win gold," Bradner adds. "And that's something very powerful that the Army will hold on to. The participation numbers have been dropping - and they might continue to drop - but it's a very successful, very positive program."