An Oklahoma player's major-college scholarship kicks off renewed consideration of eight-man football.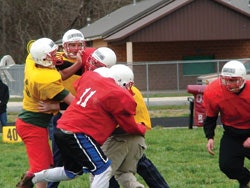 Dewar, Okla., a tiny community 50 miles south of Tulsa that's not been known for much of anything, might now be considered the center of the high school eight-man football universe. That's because Ronnell Lewis - who racked up 40 touchdowns, 11 interceptions and more than 100 tackles last fall for Dewar High - joined the scant ranks of eight-man players in recent history to be offered a scholarship from an NCAA Football Bowl Subdivision institution.
Lewis, currently a senior, is expected to join the Oklahoma Sooners in 2009. And even if he doesn't make the final roster, he's already raised the profile of a sport that most Division I schools - and everybody else, for that matter - overlook.
"People say, 'Oh, well, it's just eight-man football.' Yeah, it is. But it's still blocking, running and tackling, and those kids are out there getting a chance to participate in a great all-American game," says Steve Borer, assistant vice principal and activities director at Seward (Neb.) High School, who spent 18 years coaching eight-man football and has compiled two books on the subject. "I think Ronnell Lewis has the potential to put a really good face on eight-man football. Oklahoma is a very high-profile program, and Coach [Bob] Stoops obviously knows what he's doing."
Stoops also has inadvertently given hope to thousands of eight-man football players in high schools across the country. In 2006-07, a decade-high 725 schools fielded teams, according to the National Federation of State High School Associations. Declining enrollments and reduced budgets are the main reasons schools large and small are opting to transition from traditional 11-man squads to eight-man or even six-man teams.
Last month, Panama City (Fla.) Christian School returned to the football field after a one-year absence - this time with an eight-man team that is expected to help the small school be more competitive than it was with an 11-man program. And several schools in Nebraska, including at least three co-op teams, moved to the smaller game this season. "This is an emotional issue," Randy Hiemstra, activities director for one of those schools, Hemingford High, told the Scottsbluff Star-Herald late last year when the decision came down from the school board. "We have been 11-man for a long time and want to hold onto that, but when talking football, we are dealing with a sport dependent on numbers."
Borer says that some Nebraska schools with large enrollments but low participation in 11-man football also have downsized to become more competitive - despite the fact that their enrollment size makes them ineligible for the eight-man state playoffs. "They just felt it was a way to get participation back up," Borer says. "Football just isn't as popular as it used to be."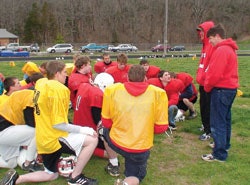 The fundamentals of eight-man football are not much different than those of its more-traditional counterpart, although the game is played on a shorter and narrower field (80 yards by 40 yards). Five players are required on the line of scrimmage, and all of them are eligible receivers. Most play both offense and defense, and some also are on special teams. The game emphasizes speed, passing and scoring, and its proponents say eight-man football in many ways requires greater athleticism than the 11-man version.
"The standout player on an eight-man team has to do a lot of things," Dean Steinkuhler recently told ESPN.com. He should know. The offensive lineman played eight-man football for Sterling (Neb.) High, won the Outland Trophy at the University of Nebraska as the best collegiate lineman in 1983 and was the second pick overall in the 1984 NFL draft before playing eight seasons for the Houston Oilers and retiring in 1991. "I think in some aspects that makes you a better football player. I know I had to help my team wherever it needed it."
"There's no place to put anybody who can't cut the mustard," says Matt Cook, head coach of Steelville (Mo.) Cardinals Community Football, a new privately sponsored eight-man team composed primarily of players from Steelville High School and the local home-schooling community. School district officials have yet to adopt the eight-man program, and are waiting to see results before committing to the sport. "As far as blocking, hitting, tackling and running - this is real football. I've seen every bit as hard of a hit in the eight-man game as I have in the 11-man game."
Although many of the current Cardinals have participated in the nearby Cuba Youth Football League, two of the three high schools in Crawford County (including Steelville) do not offer football. As a result, most players drop the sport after the eighth grade. "Even in eighth grade, you can tell some of them are going to wind up being remarkable players," Cook says. "It's just so sad that they've never gotten that chance."
Until now. It will cost the Cardinals more than $10,000 to independently field its inaugural team this fall, with an estimated 25 players competing mostly against teams from private Christian schools and home-school co-ops in Missouri and Arkansas. Some serious local fundraising has occurred, including donations of helmets and transportation services, and each player was charged a $25 fee. "Part of the pressure," Cook says, "is for us to perform during our first year and get the community behind us."
Several state athletic associations recognize eight-man football and sanction championships, and many states also boast their own eight-man football coaches associations. Players from eight-man programs have made decent inroads at the Division II and III levels, and a few have even walked on at Football Bowl Subdivision schools to eventually earn scholarships. Rashaan Salaam, the 1994 Heisman Trophy winner at the University of Colorado and former NFL running back, played eight-man football at La Jolla (Calif.) Country Day School.
Still, for years, the sport has resided on the fringes of the prep sports universe. "I don't ever remember eight-man football being talked about in my coaching theory classes in college," Borer says. Adds Cook, who previously coached 11-man football, "The main obstacle I had to overcome was getting the material to learn more about eight-man football. I've spent hours on YouTube."
But the eight-man game may be a school's only option when faced with the grim alternative of completely dissolving a longstanding program. "I think it's a very good option," Cook says. "People already see eight-man football on TV in the form of arena football, which is a little bit more showy, and people are taking that sport seriously."
Once 11-man football participation numbers dwindle to 30 or fewer, it may be time to consider downsizing. Surveying the boys currently enrolled in local middle schools about their intentions to play high school football can help coaches and athletic directors determine the long-term viability of an 11-man program and sometimes lend credence to developing an eight-man program.
"Traditions can be pretty strong," Borer says. "But at least a survey gives you something to work with, so if you do have to think about making a change, you've got some numbers to back you up. I know of some schools where it was a pretty big jolt to the community when they finally realized. 'Hey, we don't have enough kids to play 11-man anymore.' "