City officials cry foul after a group of teenagers built a Wiffle ball park on town land.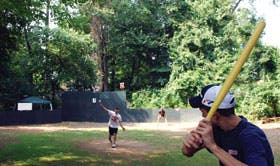 Perhaps the famous movie quote associated with 1989's "Field of Dreams" should have been accompanied by a caveat: If you build it, they will complain.
Recent history has shown that both children and adults attempting to construct their own versions of Kevin Costner's Iowa cornfield ball diamond have been consistently called out by local zoning officials, as well as the courts.
The most recent flare-up involves a group of Greenwich, Conn., teenagers who in May transformed an empty lot into a Wiffle-ball version of Boston's Fenway Park. The problem, however, is that the field was built partly on $1.25 million worth of town property that was landscaped for storm drainage, according to The New York Times reports.
Lighten up, argued the Greenwich Time, which ran an editorial saying that such makeshift fields were commonplace "back before we lost our collective minds and began shrieking at the thought of kids having fun on their own."
But neighbors also have taken issue with the popular field, which reportedly hosted as many as 40 players at a neighborhood tournament.
"I'm all for Wiffle ball and apple pie and baseball and the American flag, but there are plenty of fields in town they can use instead of building something in people's backyard," one neighbor told the Times.
It was neighbors in Danville, Calif., who shone the light on one man's field of dreams - a backyard baseball diamond enclosed by a 14-foot fence that David Lowe built last summer when he became the coach of his son's Little League team. The Danville Planning Commission denied Lowe a permit after neighbors argued that the field sullied their views of a protected ridgeline.
Former Houston Astro Richard Hidalgo's plans to turn his Orange County, Fla., farmland into an 8,000-square-foot baseball diamond for personal and youth league use were scrapped early this year after neighbors cried foul. "It won't be quiet anymore," nearby resident Esther Jones told local ABC affiliate WFTV 9. "This is country out here. We like it that way."
A 2006 www.foxnews.com blog entry about a man who hoped to build a pitchers' mound, base paths and a collapsible backstop on his 10-acre home site in rural New Jersey was followed by a slew of online reader comments blasting the man's neighbors and the local government for thwarting the project.
Alas, none of these stories of baseball dreams have a Hollywood ending. "There's something pretty cool in what these kids did, especially at a time kids grow up in such an incredibly structured and stressful environment," Lin Lavery, one of Greenwich's selectmen, acknowledged to the Times. "But we have a situation that's escalated. Neighbors are upset that it's too close to their property; building has been done on town property; there are issues of traffic and drainage."