New industry-wide efforts encourage patrons and pool operators to work together to create safer environments.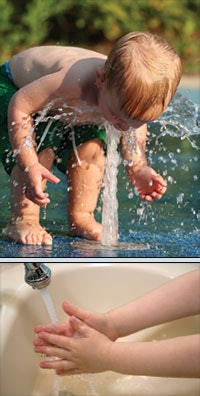 In 1986, the three-tiered indoor aquatic center at City Park Recreation Center in Westminster, Colo., boasted one of the first leisure pools in the state - complete with a bridge, a waterfall and a Tarzan-like rope swing. Still in operation today, it has had to overcome a number of safety obstacles, including an abundance of stairs that lead to the bridge, a waterslide that empties into 4½ feet of water and sets off panic in young children who can't touch the bottom of the pool, and numerous pillars, nooks and obstructions that make lifeguarding duties at the facility particularly challenging.
But all that will change next March, when the aquatic center undergoes a major renovation that could take up to a year to complete and cost more than $4 million. The bridge that connects the middle-tier lap and leisure pool with the bottom-tier shallow pool will be replaced with a stair-free walkway, and a new slide will end in a trough holding six inches of water.
"The original design was more about, 'Wow! This is going to look beautiful,' and I don't know how much thought about safety went into it," says Gina Barton, the center's recreation supervisor, who arrived at the facility a decade ago and immediately began looking for ways to make it safer. As many as 10 lifeguards patrol the pool areas - paying extra attention to danger spots, anticipating patrons' behavior and even giving impromptu swimming tests to kids before they use the slide. (That test requires participants to jump feet-first into three feet of water and swim nonstop for 25 yards.)
"I'm supervisor of the entire facility, but the one place that always sticks in my mind is the aquatics area, because that has the potential for the worst safety issues," Barton says. "We don't want to think about things like drowning, but if we don't think about them and don't plan for how to deal with them, we're opening ourselves up to some pretty bad possibilities. And that is one thing I'm committed to not ever having to deal with."
Through a combination of patron education, staff vigilance and probably a bit of luck, there have been no major incidents in the pools at City Park on Barton's watch - and she's already thinking about major alterations to the facility's lifeguard training program and emergency action plan that should help keep that streak going after next year's renovation.
"We always need to be on top of our game when it comes to safety," she says. "Most people come into our place and just assume it's safe."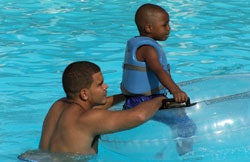 Mom and Dad's responsibilities don't end just because lifeguards are on duty.
That assumption on the part of children, teenagers and adults - some who tend to let down their guard at an aquatic center more than they would at another type of recreation facility, simply because of the presence of lifeguards - has forced aquatics safety organizations to make patrons more aware of their own responsibilities. "There's a mindset among parents, in particular, that people can show up at the pool and, because there is a lifeguard on duty, transfer their responsibilities as a parent to that lifeguard," says Jill White, founder of the Champaign, Ill.-based Starfish Aquatics Institute, an education and training organization, as well as division director for aquatic and emergency care education at publisher Human Kinetics. "They really check out mentally from that supervisory role, and that's a huge mistake."
"No parents knowingly bring their kids to your facility and put them at risk," adds Rick Root, president of the Overland Park, Kan.-based World Waterpark Association. "It's not bad parenting; they just honestly think that if their child is playing in six inches of water, and lifeguards are present, their child is safe. They aren't familiar with the dangers and don't know how quickly something can happen to a child in the water."
As many as 300 drownings occur in guarded pools every year, according to Richard Carroll, senior vice president and chief operating officer at Jeff Ellis & Associates Inc., an aquatic safety and risk management consultancy in Ocoee, Fla.
The safest of all aquatic facilities may be waterparks (the WWA reports an average of three deaths a year) and other commercial pools that feature such water-play elements as elaborate slides and wave pools. "When a facility builds something or adds features, the staff has a tendency to think, 'Okay, we've never done this before, so we'd better find out how to do it properly,' " White says. "They have that mentality that they want to improve their standard of care. Where you run into problems, really, are at outdated facilities where a drowning incident has never happened. Everybody there becomes very complacent. The older facilities that haven't upgraded are at greater risk."
It's not just the facility's standard of care that can be called into question. "We have patrons who think waterparks are entirely safe, and they don't take responsibility for their own actions," Root says. "That's a patron behavior issue for the entire aquatics industry. We're struggling with ways to help educate guests about their responsibilities."
Both the WWA and the Starfish Aquatics Institute soon plan to unveil new programs that target both facility guests and staff members. This month, the WWA will make available to its broad membership public-service announcements featuring current and former U.S. Olympic gold-medal swimmers stressing the importance of parental supervision and reminding patrons that lifeguards are the last line of defense, not the first. Eventually, the PSAs - ideal for playback on monitors in gate, concessions and other high-traffic areas - might be made available to the entire industry, Root says.
The organization also plans to unveil a new feature at www.waterparks.org that will allow members to exchange ideas about better educating guests through more stringent policies, conspicuous signage and other proven methods. An announcement of a major education partnership involving at least two other industry trade organizations also is expected soon. Together, the organizations will promote learn-to-swim programs and join the WWA in celebrating National Water Safety Month every May, beginning next year.
Meanwhile, the Starfish Aquatics Institute's LifeSTAR program, a first-of-its-kind campaign promoting a teamwork approach and stressing the equal importance of patron and staff responsibilities, will go national in early 2009. Short for Life Safety through Teamwork, Accountability and Responsibility, LifeSTAR began in 2007 with limited campaigns using posters, coloring books, brochures and videos to reinforce basic water-safety concepts for both children and adults. Facilities that provide such materials to their guests are essentially saying they want to help keep them safe, says SAI president Leslie Donavan.
"We want people to understand that water safety is a team approach, that they are working with the lifeguards and the rest of the aquatic facility staff as a team," she says. "But they also have responsibilities to teach and watch their children."
Teamwork between lifeguards and patrons can lead to more effective communication and safer facilities.
An estimated 80 percent of cases involving injury or death at aquatic centers are settled out of court, says Marc Rabinoff, a Littleton, Colo.-based sports liability and risk management expert and professor of human performance and sport at Metropolitan State College of Denver. But regardless of who is responsible for an aquatics-related injury, when those situations are played out in the courts, jury sympathies often favor the plaintiff.
Consider the still-pending case of Joel Casson, who late last year filed a personal-injury lawsuit against Midwest Pool Management, which contracts with the Collinsville (Ill.) Area Recreation District to operate Splash City Family Waterpark. The suit claims lifeguards at the facility's wave attraction failed to determine the man's level of experience, provide safe entry to the ride, assist in use of the rider's board, "hold his hand" (according to the complaint) until he got the feel of the ride and have a lifeguard positioned to help him when he fell. He subsequently dislocated his left shoulder and suffered a rotator cuff tear. Casson, who sued for more than $50,000 in damages, stated in his complaint that the attraction "presented an unreasonable risk of harm to riders unless Defendant operated it in accordance with the manual."
"It's great stuff," Rabinoff says of wave rides and other elaborate water-play features. "But the average person who uses them has no clue what can go wrong. There are only two groups of people that have those clues: pool managers and the manufacturer of the product. They have the highest level of knowledge in the industry of how a particular product should be operated safely - not the user. The user must be told what to do and when to do it."
Rabinoff recommends that facility operators follow all manufacturer recommendations when installing new elements and training lifeguards how to supervise patrons who use them. "If you can't do that, then don't install it. Period," he says, adding that each lifeguard station in an aquatic center - whether located at the children's pool, the diving well, water slides, the wave pool, the sprayground or beach areas - requires a different set of safety standards. At a waterslide, for example, lifeguards positioned at the top and bottom need to know how to communicate with each other to avoid rider collisions, and the water flow must be controlled so it's not so slow that people are getting stuck on the slide and not so fast that riders get scared.
Weight and height restrictions, the number of riders that can be accommodated and other factors also vary from element to element. Too often, Rabinoff and Root agree, aquatic facility managers don't take the time to train their lifeguarding staff about the nuances of individual elements. "What they do is hire a kid who just got his water safety instructor certification in lifeguard training, and they say, 'Go manage this pool,' " Rabinoff says.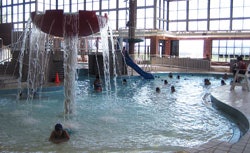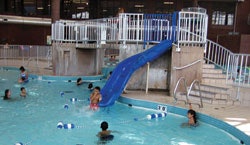 A bridge with stairs and ramps makes lifeguarding at City Park Recreation Center in Westminster, Colo., particularly challenging.
Another commonly overlooked element, especially given the prevalence of more contemporary and exciting features, is diving boards. Researchers at the Center for Injury Research and Policy at Nationwide Children's Hospital in Columbus, Ohio, revealed in August that an estimated 111,000 people under the age of 19 suffered diving-related injuries between 1990 and 2006. Head and neck injuries were the most common result in children between 10 and 14 (the most-injured age group), and collisions with boards or platforms with heights of less than 1 meter were the leading cause of injury. The likelihood of such collisions increased dramatically when the diver attempted a flip, handstand or backward dive.
Obviously, the condition of the board itself also can play a major role in diving mishaps. Shawn Dunn sued the Pennsylvania borough of Doylestown this summer after he slipped on a diving board, the surface of which was degraded after being left exposed during the winter months, and ruptured a tendon in his knee. The suit seeks more than $50,000 in damages and alleges that Dunn's cries for help after he fell into the pool were ignored by lifeguards.
In addition to providing more depth indicators around the pool and ensuring that diving surfaces are properly maintained, improved diver education and staff training are the keys to fewer injuries, according to Lara McKenzie, lead investigator of the study, which culled injury reports from 100 hospital emergency rooms around the country and extrapolated the numbers. But based on her research, she remains skeptical. "Changing behavior is really difficult," she says. "That is a challenge with any health and safety behavior that we want people to adopt, and I don't see anything happening that is going to lead to a big reduction in these numbers."
The message, as City Park's Barton stresses, is blunt: Assume the worst when it comes to patron behavior and safety awareness, and then always be prepared to combat it. Finding quality lifeguards, training them well and holding them accountable to those training standards - all the while encouraging patrons to take responsibility for their own actions and those of their family members and friends - goes a long way toward eradicating the kind of guest and guard complacency that can poison a facility.
"A lot of people don't read the signs and don't pay attention to announcements, but you do what you can," the SAI's Donavan says. "It doesn't mean you can't try."
"It will always be a struggle, because there will always be new patrons to educate," adds the WWA's Root. "Every summer, there are going to be new parents bringing their kids to the pool for the first time, and every summer, there are going to be new groups of teenagers. Each stage of a person's life requires new information from a facility. It's a never-ending cycle."
The Dirt Almost two-thirds of adults who take their children to aquatic facilities say their kids urinate in the pool, nearly half of all patrons do not shower before entering the water, and 12 percent of them think the water spurting out of spray features is safe for drinking.
Those are just some of the findings in a 2007 survey of 1,000 waterpark patrons, published this summer by recreational water treatment systems provider PPG Industries.
"Though these findings may not be viewed as new, quantifying these concerns and practices will help operators to target areas of particular risk and take specific actions to guide patrons toward healthier hygiene practice," says Stanley Pickens, a senior research associate for PPG's Accu-Tab chlorination systems.
The findings also underscore the failed impact of signage, public-address announcements and other methods of communicating patron responsibilities - despite facility users regularly expressing concerns about recreational water illnesses.
PPG's report on the study (available at www.accu-tab.com/rwinews) includes several recommendations for facility operators to help curb their patrons' dirty behavior. Here's a sampling:
Design a shower facility with sufficient privacy to encourage use.
Consistently keep soap available in shower and restroom facilities.
Provide an adequate number of restrooms near aquatic areas designed for children, and make the facilities easy to find and access.
Build periodic restroom breaks into the pool's schedule and encourage kids to take them.
Establish a policy cautioning patrons and employees against swimming during and immediately following a bout with diarrhea, and find out-of-water jobs for those employees.
Prohibit diaper changes on decks and spraypads, and provide well-equipped, clean and attractive diaper-changing stations throughout the facility.
Communicate via signs and symbols that pool water is not drinking water, and train lifeguards to be on the lookout for guests filling water bottles and washing diapers with pool water.
Assume patrons will ignore those messages and drink the water anyway, so treat and disinfect it to minimize health hazards. This requires consistent use of chlorine residuals, supplemental use of clarifiers and UV sanitizers, and one- or two-hour filtration turnover times.