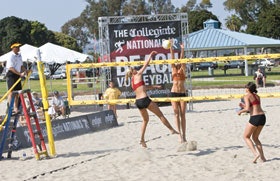 A funny thing happened on the way to The Swamp. As University of Florida football fans trekked toward the Gators' annual spring game April 12, hundreds of them couldn't help but notice dozens of women representing 11 Southeastern Conference volleyball teams paired up and pounding UF's sand courts during the first SEC Coaches Beach Volleyball Championships. Some pedestrians had to be pulled away from the event in favor of football. Others returned from the stadium with tailgate chairs in tow, just to see how it ended. Crowds grew to the point that traffic control personnel on hand for the Blue and Orange Game began focusing their attention on the kinetic activity surrounding the seven sand volleyball courts down the street.
"I ended up watching spectators a lot, because I was trying to see just how interested people were," says Debbie Corum, the SEC's associate commissioner for sports administration. "I was absolutely amazed by how many people stopped. Cars were honking their horns. It was one of those things where you were just excited that you had been part of watching the first one."
No one is suggesting that beach volleyball is ever going to outmuscle college football for fans' attention - certainly not in the SEC. But the sandstorm in Gainesville is nonetheless indicative of beach volleyball's rising popularity at the collegiate level, giving interested onlookers like Corum reason to believe it has a real shot at one day becoming an NCAA championship sport. The soonest that could happen is the spring of 2011, according to Kathy DeBoer, executive director of the American Volleyball Coaches Association, who describes the interest among college coaches and conferences as "viral." Whereas eight teams played in beach events in 2007, more than 50 did so this spring, DeBoer says.
The germination can be traced back 10 years, when John Kessel, director of membership development for USA Volleyball, first began to consider NCAA participation and practice rules, and the adverse effect they were having on America's standing on the world hard-court volleyball stage. "Because American substitution rules are so liberal versus the international rules, our indoor players coming out of college after four years are specialists," Kessel says. "The international game requires all-around ability, and our collegians don't have that."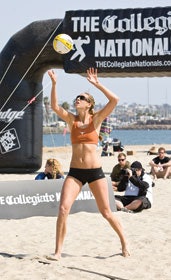 So Kessel began lobbying for a collegiate beach volleyball model that would mimic the synergistic relationship between indoor and outdoor track, allowing NCAA indoor volleyball players already on scholarship to transition seamlessly to the outdoor game. "We thought it would strengthen our Olympic chances at the pipeline end, and be another opportunity for kids to keep playing," Kessel says, adding that the sand game relies less on front-line height advantages than athletic versatility. "It just made sense. Beach volleyball is how you can become a much better indoor player, because you become an all-around player."
Adds Sal Gerbino, manager of Hot Shots Indoor Beach Volleyball Club in Rochester, N.Y., where five teams converged for the nation's first collegiate indoor sand tournament in April, "If you're a sixes hard-court player, you automatically triple the amount of touches you have on the ball when you play beach twos. Every other touch is you." Covering more area in sand that's 12- to 18-inches deep helps in the long run, too. "It's great cross-training," Gerbino says. "We're finding that those kids who are doing both are coming out as stronger hard-court players."
A day will likely come when student-athletes will be recruited to play only "sand volleyball" (preferred by the NCAA over "beach volleyball" for its logistical ambiguity, DeBoer says, and perhaps, as some bloggers have theorized, its lack of Spring Break connotation). Initially, at least, players already in the talent pool will be asked to do double duty for their schools, filling rosters of ranked pairs to compete head-to-head against other schools (much like doubles tennis) or within tournament flights. As it stands, the NCAA limits women's indoor volleyball teams, whose regular season takes place in the fall, to four competition dates in the spring.
Many programs, including such perennial indoor powers as the universities of Southern California and Nebraska, are taking advantage of the growing number of spring beach events to hone their players' skills. "With women, the challenge as coaches that we've always faced is to try to get them to go play on their own," says former beach volleyball player Jerritt Elliot, the head women's coach at the University of Texas, which won the third-annual Collegiate Nationals Beach Volleyball Championship in April in San Diego. "We've found that by investing in beach a little bit, they end up getting enough confidence with it that they play a lot in the summertime. They fall in love with it, and we get a pretty good return on the investment."
According to Elliott, 90 percent of the players on the Longhorns' indoor roster had never played sand volleyball before arriving at Texas, which first competed at The Collegiate Nationals last year. No matter. The instinctive relationship that develops between beach-playing partners quickly takes on a life of its own. Says Kessel, "The game teaches the game."
The NCAA membership will ultimately decide whether the game takes root in campus sand. Divisions I and II will vote on adding it to the list of women's emerging sports at the NCAA's annual convention in January. Once on the list, a sport has 10 years to garner varsity sponsorship interest among at least 40 member schools (or show steady progress in that direction) for the NCAA to host a championship, at which point the sport is removed from the list. In the interim, a school can use the so-called emerging sport to help meet its NCAA-mandated sports-sponsorship and financial-aid requirements.
Nine women's sports rounded out the original list in 1994, and more sports have been added in the years since. Only four - rowing, ice hockey, water polo and bowling (in that order) - have earned championship status. The four sports comprising the current list - archery, badminton, synchronized swimming and team handball - have all reached the 10-year mark and will likely be voted off in January, leaving sand volleyball the lone emerging sport, if adopted as expected.
Several factors feed a belief that it has a real shot at long-term survival. For starters, it's cheap. Many schools already have recreational sand courts that could easily be converted to accommodate spectators, and those wishing to train or compete indoors need only an underutilized gym and $5,000 worth of sand, Corum says. Second, it's hot. Team USA's successful defense of women's Olympic gold in Beijing (where matches were held in a converted tennis stadium) has launched Keri Walsh and Misty May-Treanor into the sports celebrity stratosphere. And finally, it's seen as legit.
"What's really important to me, personally, is having legitimate participation opportunities," says Corum, whose own collegiate playing days - in volleyball and four additional club sports - predated Title IX. "We have a lot of sports out there that, in my opinion, don't create really legitimate participation opportunities, and this is one that really does. That's why I'm so excited about it. Now, all of a sudden, you've got a 5-foot-9 high school girl who's been watching Misty May this summer and in summers past and she says, 'I can play. I'm going to have an opportunity to play.' "