Four-day school weeks are remodeling high school sports in some rural communities.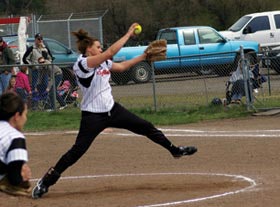 In years past, the halls of Elgin (Ore.) High School were often empty on Fridays, with most of the 145 or so students out of the building to participate in sports or other popular extracurricular activities such as Future Business Leaders of America and Future Farmers of America. That's because, with the majority of schools in this part of eastern Oregon (including Elgin's conference sports rivals) operating on four-day Monday-through-Thursday weeks, day games and out-of-class events were scheduled on Fridays. But even the four-and-a-half-day weekly schedule that Elgin High had kept for more than 15 years resulted in students missing too much learning time. "It was a ghost town around here," recalls Paul Willmarth, athletic director for the Elgin School District.
So this year, district officials dropped Fridays from the academic calendar entirely. Most sporting events and other after-school activities were moved to the weekends in an effort to maximize teaching time and save on operating expenses. The strategy is expected to trim $18,000 from the annual busing budget alone.
Elgin High's school day now runs from 7:45 a.m. to 3:30 p.m., and the nine sports teams practice after school, Monday through Thursday, for no more than two hours each day. As many games as possible are scheduled for Fridays and Saturdays, but a few home baseball and softball games may have to be played on Tuesdays this spring, according to Willmarth, who also teaches fifth grade at Stella Mayfield Elementary School. "We're still getting used to things and have to move some athletic events around," he says. "The main thing for me is trying to keep the kids' seat time in class from being affected. I'm supposed to watch that very carefully."
"We are not reinventing anything," Elgin School Board member Bud Scoubes told The Observer of La Grande, Ore., after the board approved the district-wide four-day week last spring. "It should be an easy transition because of all the lessons learned by other school districts."
Indeed, schools have been experimenting with shorter weeks - usually dropping Mondays or Fridays - since at least the 1980s, when fuel shortages were the main instigator. Now, increased travel, utility and hot-lunch expenses combined with reduced budgets and concerns about too much out-of-class time are forcing many smaller districts to consider modifying their academic and athletic schedules.
"The four-day week is not a new phenomenon," says Dan Domenech, executive director of the Arlington, Va.-based American Association of School Administrators. "It just seems to be rediscovered every time we have an economic situation like the one we're in now."
In an AASA survey of 546 school districts released this summer, only 14 reported currently operating on a four-day week, though 82 (more than 15 percent) reported that the option is under consideration. Domenech estimates that at least 1,000 of the approximately 13,000 school districts in the United States (median size: 1,200 students) are pondering dropping a day.
The typical four-day district includes fewer than 1,000 students, many of whom spend more than two hours traveling to and from school every day on diesel-fueled buses that get no more than five or six miles to the gallon. Several students also live in farming communities or households in which at least one parent is home during the day. (Childcare issues in urban areas are one major reason why Domenech says he knows of no large school districts opting for a shorter week - at least, not yet.)
Rich School District in Randolph, Utah, is in the final year of a three-year, four-day-week pilot program, and Rich High School athletic director Scott Ferguson says things couldn't be better. "It's been nothing but positive for us," says Ferguson, who also coaches girls' basketball and serves as the school's guidance counselor. He cites local surveys that point to a 90 percent public-approval rating for the Monday-through-Thursday schedule. The district saves approximately $1,500 each week by not providing bus service to its 430 students on Fridays, district officials say, and kids aren't leaving class in the middle of the day anymore to travel as far as 150 miles to play volleyball (although teams sometimes play on Thursday nights, as well as Fridays and Saturdays). Plus, despite longer school days and shorter practice sessions that must conclude by 5:30 p.m. - 10 minutes prior to the departure of a district-provided activity bus that takes student-athletes home - the Rebels have remained competitive, playing for the state football and volleyball championships last year.
"Our coaches had to really adjust to the loss of practice time," Ferguson says. "We have to be more prepared and better plan our practices so we don't get stuck doing one drill or some other activity for too long. Sometimes it's kind of hard to move on when something's not clicking with players, but we just have to be more efficient in what we do."
Domenech says that the majority of school districts on four-day weeks cannot point to specific increases in academic achievement, though many observers are satisfied just to see student-athletes spending more time in class.
Besides, going back to the previous five-day schedule (which districts rarely do, according to Domenech) could be even more challenging than making the transition in the first place. Districts considering a shorter week should have open discussions with students, parents and staff - including athletics administrators, Domenech says. "There's no question that the sports program has to be given very strong consideration," he says. "Athletics are a significant part of the school day, and if you don't have the full support of everybody involved, this is not going to work."
In Elgin, school board members asked Willmarth how the change would impact each sport, and they wanted to make sure that schools in competing leagues would cooperate with scheduling issues. Meanwhile, Rich High's Ferguson says his school board stressed the importance of balancing athletics and academics, and when the district's three-year pilot program comes up for review in June, he sees no reason why the four-day week shouldn't become a permanent part of Randolph's culture.
In fact, the success of four-day weeks around the county might wind up serving as "the catalyst for major shifts in the way we do things educationally," Domenech says, suggesting that technology now makes it possible for some schools to adopt four-day weeks with a fifth day of virtual learning via online courses taken from home. That day could coincide with a slow sports day, such as Monday. "The traditional model of education is being tested," Domenech says.
So, too, is the traditional model of high school sports programs. "I wouldn't fight it," Willmarth says. "Some days seem a little long, but the switch really did make some things easier. I've got a whole day that's open for scheduling - just like a Saturday."