As more women take the reins of boys' teams, high schools may be entering a post-gender era.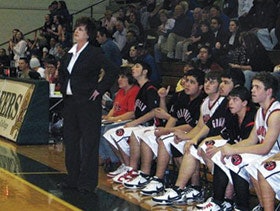 Susan Hamand has brought consistency to the boys' basketball program at Grandfield (Okla.) High School.
Last February, high school basketball referee Michelle Campbell was refused access to the court during a boys' basketball game at St. Mary's Academy, a private Catholic school northwest of Topeka, Kan. Her officiating partner, Darin Putthoff, was reportedly told by a school administrator that allowing Campbell to work the game would have put a woman in a position of authority over boys - which, apparently, runs contrary to the school's philosophy. Putthoff and a substitute referee who was asked to fill in for Campbell walked off the court in protest.
Five months later, another private Catholic institution, the all-boys Salesianum School in Wilmington, Del., hired math teacher Katie Orga Godfrey as its first-ever female coach. She took over the junior-varsity team in November. "We've never had a female coach. But to be perfectly honest with you, we're trying to play it down," says alum Mike Hart, Salesianum's longtime athletic director. "We hired her because she's qualified, not because she's a female."
During the weeks since Barack Obama was elected president of the United States, there has been plenty of discussion about whether, politically, the country has entered a post-racial era. Perhaps - despite the practical concerns of administrators and parents, as well as the pressure felt by female coaches to prove themselves - high school sports is entering a post-gender one.
Katie Orga Godfrey, shown here coaching girls' volleyball at Tower Hill School in Wilmington, Del., took over the junior varsity basketball program at neighboring all-boys Salesianum School this year.
Title IX was meant to, and did, boost women's participation in sports, but it had a well-documented side effect. As funds flowed toward women's collegiate programs and their stature grew, men began to supplant women as coaches of women's teams. As gender-equity experts Linda Jean Carpenter and R. Vivian Acosta have documented, females coached more than 90 percent of NCAA women's teams when Title IX was enacted, whereas today, even though the number of women's teams is at an all-time high, the representation of females among the coaching ranks of women's intercollegiate sports is near an all-time low, at 42.8 percent. (Find the Carpenter and Acosta "Women in Intercollegiate Sport" study at
www.nagws.org
.)
Although the incidence of women coaching males is virtually nonexistent in the collegiate ranks, there are indications that administrators at the high school level are beginning to see past gender.
In addition to Godfrey, other females on the sidelines with their male teams for the first time this school year included Katie Mack, varsity soccer coach at Bellows Free Academy in Fairfax, Vt., and Allison Meyer, varsity basketball coach at Fennimore (Wis.) High School. Elsewhere, women have quietly helmed boys' teams for years, only entering the spotlight when they reach the playoffs. In Tucson, Ariz., two female coaches (Julie Walters of Catalina Foothills High School and 22-year veteran Roxanne Taylor of the combined Rincon/University High Schools) each took their boys' soccer teams deep into the state tournament last winter.
"I think it's perfectly reasonable to have a woman coach, whether it be a boys' or a girls' sport," Catalina Foothills' athletic director Jody Brase told the Tucson Citizen earlier this year. "A talented coach is a talented coach, and that translates regardless of gender."
That's the attitude first-year coaches Orga Godfrey and Meyer plan to bring to the court. "I'm going to coach the way I coach, no matter if it's males or females," says Orga Godfrey, who was an assistant girls' basketball coach at local powerhouse Ursuline Academy for four years and also coaches girls' volleyball at nearby Tower Hill School. "I know that this was a historic decision, and I'm excited to be part of that. But I'm going to treat it like a job in any program. I'm not going to change my style. Basketball is basketball. You go with the fundamentals and prepare players for games, and that's what I'm going to do."
"Nobody thinks twice when guys are coaching girls," adds Meyer, a Fennimore grad who previously coached the school's junior-varsity boys' team. "Nobody's ever come up to me and said, 'I don't think you're ready for this job,' but you hear through the grapevine that people aren't so sure about this. There's a fair share of people out there wondering what Fennimore is doing and maybe thinking that the basketball program is falling into bad hands. So I definitely feel a lot of pressure to win. But all I can do is coach to the best of my ability, and time will tell."
The National Federation of State High School Associations does not officially keep track of the number of women coaching boys' teams. But a recent informal survey conducted by the federation found females coaching boys' basketball teams in at least four other states (Arkansas, Indiana, Michigan and Wyoming).
"It is more difficult to figure out what's happening in the high school ranks than it is in the college ranks," says Pam Noakes, executive director of the Reston, Va.-based National Association of Girls & Women in Sport, noting that fewer than 3 percent of men's college teams were coached by females in 2008, mostly co-ed teams or individual-centered sports such as swimming, tennis or track.
Those low numbers have remained stagnant for years, according to the research. "Younger people coming into the profession have seen fewer possibilities for them to go on to coach - or be in athletic administration or other positions of leadership - because they see men in those positions," she says. "Women need to see themselves in that picture. If the entire administration is male, women may not see many options there. It's like this year's presidential election, where you saw African-Americans saying, 'Well, now I really think there is an opportunity for me, because I see somebody who is already there.' That goes for sports, too."
Indeed, Orga Godfrey sees parallels between her hiring at 105-year-old Salesianum - which didn't even employ female teachers during the first half of its existence - and the evolution of women in the workplace and in society. "I don't know if it's going to be a trend that we'll see continue, although I think there will be more females stepping into these roles," Orga Godfrey says. "But the coaching arena for male teams will always be dominated by male coaches."
Hart says boys' varsity head basketball coach Michael Gallagher asked him for permission to approach Orga Godfrey about the JV post. "I said, 'No problem,' " he says. "There was no hesitation whatsoever. I hired her on the basis of her experience and because she is a teacher in our building. She knows what the school is about, and the kids know her well. Plus, I believe this is something positive for the boys. They'll get a little different perspective. Are the boys going to test her? Absolutely. But if it was me in her position, they would test me, too."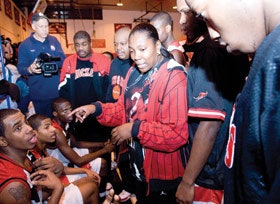 Ruth Lovelace, boys' basketball coach at Brooklyn, N.Y.'s Boys and Girls High School since 1994, is the subject of a new ESPN documentary.
For years, the involvement of women in high school and collegiate sports did not extend much beyond teaching physical education courses. If they coached, women usually stressed the educational mission of sports, rather than the competitive aspects. That has changed over the years, as the focus at all levels of sports has dramatically turned toward wins and losses.
Among the first females to gain prominence as coach of a boys' team was Ruth Lovelace, who in 1994 was named coach of the basketball team at Boys and Girls High School, located in one of Brooklyn, N.Y.'s most dangerous neighborhoods. She's been there ever since, guiding the Kangaroos to state playoff appearances in each of her 14 years at the helm. Lovelace's story is chronicled in "A Woman Among Boys," an ESPN Films' documentary that debuts Dec. 21 on ESPN2.
She requires each player to carry a sheet to classes on which teachers write daily comments about their conduct and schoolwork. She then checks each progress report during a mandatory study hall held prior to every practice. "One thing about this program is it's not all about winning, and it's not all about basketball," Lovelace told New York's Daily News, which named her 2007's "Brooklyn Sports Person of the Year." "I don't know if that comes from the female part of me, because other coaches have morals, too. But with me, it's sincerely a very big picture. These men are going to have to be a husband or father."
"The thing kids are most surprised about me is how assertive I can be and how knowledgeable I am about the game," Fennimore's Meyer says. "A lot of times, they don't see women in that role."
In fact, the stereotypical rap against women has been that they are overly emotional. Susan Hamand, who coaches both boys' and girls' basketball at Grandfield (Okla.) High School, is willing to admit to one sideline breakdown during a boys' game two years ago. "I just cried," she says, referring to a 2006-07 regional tournament game in which the nullification of a half-court shot nearly cost her team a victory. "Not many guy coaches would break down and just cry. That was my one time, and hopefully my only time."
But for the most part, many women who coach high school boys exhibit a brand of tenacity and aggression that often catch their players off guard.
"I'm an intense person, and I'm very passionate about the sports I coach," says Orga Godfrey, who at Ursuline Academy helped coach Elena DelleDonne, once considered the country's most outstanding female prep player and hailed as "the female LeBron James." "I'm there to make the boys better players, and as soon as they buy into that, we can really reach our potential."
That shouldn't be a problem, say Salesianum's Hart and the NAGWS' Noakes, who both think young people are more apt to accept coaches of the opposite gender today than they were a generation ago. After all, they say, men have been coaching girls for decades. "It's a new thing, but to tell you the truth, I don't even look at her as a woman. I just look at her as a coach," Jason Sevilla told the Passaic County (N.J.) Herald News earlier this year, referring to Passaic Tech's Alima Williams, his first-year junior-varsity basketball coach. "She's a really good coach."
Hamand, who also is the athletic director at Grandfield and teaches three classes, thought long and hard before approaching the board of education to request taking over the school's boys' program in 2005. At the time, she was coaching girls' basketball, and the boys' team had undergone several coaching changes. Her son was on that team, which raised some eyebrows among board members. "I was asked if I wanted to coach just because of my son," recalls Hamand, who has 19 years of sideline experience. "I said no, that I had coached many teams and had not had any of my children on them. I just wanted to bring some consistency to the program."
She has done just that, leading the Bearcat boys to more wins than the previous season every year and taking them to Oklahoma's Class B state tournament last season before falling in the first round to the eventual champions. "Before I took this job, before I even went to the board, I asked my son, 'Could you handle your mom coaching this team?' He told me, 'Mom, I want you to coach. I know what kind of coach you are.' Now, sometimes I've been out there on the court and have had to say to my son, 'I am not your mother right now; I am your coach,' and I've benched him."
Allison Meyer's experience as junior-varsity boys' basketball coach made for a natural transition to the Fennimore (Wis.) High School varsity, though she admits to still feeling "a lot of pressure to win."
Many schools with boys' teams coached by females boast small enrollments - Fennimore counts 250 students in grades 9-12, and Grandfield has even fewer in kindergarten through 12th grade. They also tend to have an open-minded administration that can, for example, look beyond concerns arising from the presence of females in boys' locker rooms. Some athletic directors call other schools to find out their policies, while the rest let coaches and players work out the logistics. "With so many men coaching girls' teams, there doesn't seem to be much outcry about what might happen when they go into a locker room," Noakes says. "So it would be interesting if there were outcry about women who coach boys going into their locker rooms."
Meyer and Orga Godfrey each have male assistant coaches or volunteers who have a locker room presence. But during Fennimore's home games, the Golden Eagles only dress in the locker room and adjourn to Meyer's classroom for pregame and postgame team meetings; at away games, she is the last person entering the locker room before tipoff and doesn't stay long after the final buzzer. "I address the entire team before our first away game and say, 'I don't want to put you in a bad position and I hope you don't put me in a bad position, so once I'm out the door and nobody can see me, then it's time to change your clothes,' " she says.
Hamand, on the other hand, does not have a male assistant coach to oversee locker room activities. Thus, she relies on her players to police themselves. Although she knocks on the door before entering to speak with players, her absence is not noticeable. "If there is a situation happening before I can get in there, then I have players who will step up to the plate and take care of that situation for me," Hamand says.
Neither Meyer nor Hamand say the locker-room issue has been a major concern with administrators or parents, and Orga Godfrey does not anticipate problems. In fact, they feel privileged just to have been given an opportunity to prove themselves in a field long dominated by males, and they're striving to make the most of it.
"I do not want my team to be at a disadvantage because I am a female coaching a boys' team," Hamand says. "It is not a traditional role, but I have never let that get in the way. Hopefully, by people seeing me doing this and having success, it opens doors for other women. I know there are women out there who are very capable of coaching boys."
"When I started coaching, I never thought I would be coaching boys," Fennimore's Meyer admits, suggesting that other women should not rule out the possibility as she once did. "When an opportunity arises, don't automatically count yourself out because it's a boys' team. Throw your name into the ring and take a shot at it. You've got just as much of a shot as anybody."