In a year of political change, advocacy groups see the same old racial disparities on the football sidelines.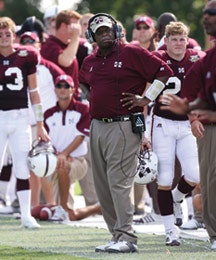 Polling didn't end with the passing of the presidential election. In fact, once Barack Obama had crossed the ultimate color line, pollsters found renewed reason to survey public opinion. The subject? Race in America.
A CNN/Opinion Research Corp. poll taken Nov. 6-9 revealed that 71 percent of African-Americans never thought they'd see a black president in their lifetime, while 59 percent of white respondents said they thought they would. A Nov. 6 Rasmussen poll found that the percentage of black voters who view American society as "fair and decent" jumped 18 points to 42 percent.
But as fall brought unprecedented political change, groups advocating for the hiring of African-American head coaches saw more of the same old racial disparities on the college football sidelines. The 2008 season began with only six African-American head coaches among the 120 teams in the NCAA's Football Bowl Subdivision. By season's end, the number would be four - half of the all-time high set in 1997. The University of Washington fired Tyrone Willingham, the sitting president of the American Football Coaches Association, for failing to take the Huskies to a bowl game in any of his four years in Seattle. Ron Prince, one of six directors of the nonprofit Black Coaches & Administrators (formerly the Black Coaches Association), coached his last game at Kansas State, despite having agreed in August to a new contract that was supposed to keep him in Manhattan through 2012.
Whether Willingham and Prince land elsewhere in the FBS, or are replaced by first-time head coaches of color, remains to be seen. But history tells a lengthy tale of racial inequality in hiring. Since 1982, there have been 466 head coaching vacancies at the FBS level, according to the BCA, with African-American coaches having been selected to fill a mere 21 of those openings. Since 1996, only 12 African-American coaches have been hired.
On Nov. 12, the BCA released its fifth annual hiring report card - a five-point analysis of how FBS schools with head coaching vacancies assembled their search committees and went about their searches. Of 31 openings that emerged during the latest reporting period, just one was filled by an African-American. "In the world of college football, the facts and statistics reflect an unmistakable bias and a systemic problem that has yet to be fixed," says BCA executive director Floyd Keith. "The message in this report is that a process is being followed, but the poor hiring results continue. College football hiring is out of sync with the current landscape and attitude of our country."
Measures taken by the BCA to fix the problem have included the introduction of the hiring report card, intended to lend transparency to the search process, as well as the ongoing maintenance of a list of qualified coaching candidates of color. The NCAA also keeps a list for distribution among search committees, and the Division I-A Athletic Directors Association last year introduced its own "acceptable standards" for hiring practices, encouraging schools to conduct formal interviews with one or more minority candidates during every search. But some claim such measures lack sufficient teeth. The NFL's requirement that teams interview minority candidates or face league sanctions has been credited for boosting to seven the current number of African-American head coaches within the 32-team league.
A study released Nov. 6 by The Institute for Diversity and Ethics in Sport at the University of Central Florida presents a broader analysis of diversity in collegiate athletics, leading its author, TIDES director Richard Lapchick, to conclude that "the general picture is still one of white men running college sport." Lapchick, for one, has encouraged the NCAA to emulate the NFL's aforementioned Rooney Rule, going so far as to name the would-be collegiate version the Eddie Robinson Rule. But even as it circulates candidate lists, the NCAA cannot dictate how member institutions conduct their coaching searches, according to Charlotte Westerhaus, the NCAA's vice president of diversity and inclusion. "Interviewing is not hiring," concedes Westerhuas, a BCA board member. "The true measure of progress and success will be when athletic directors not merely interview candidates of color, but when the athletic directors actually hire head football coaches of color."
For University of Houston athletic director Dave Maggard, who hired Kevin Sumlin last December, the decision was easy. "The way I viewed it, and the way I always viewed it when hiring coaches, is to get the best coach that you possibly can," Maggard told The Houston Chronicle in November, with Sumlin riding a winning record into the final three games of the season. "In this case, I think that's what we were able to do."
A last resort for minority coaches on the outside looking in is Title VII of the 1964 Civil Rights Act, which makes it illegal for employers to discriminate on the basis of race. The BCA has partnered with Everette Scott, a civil rights attorney and professional sports agent, to offer coaches a toll-free connection to legal information regarding their rights in the event they feel they've been wronged. (An 800 number will be posted at www.bcasports.org.) "In order for us to resolve this issue," Keith says, "we're leaving nothing unturned."
That the hiring of African-Americans to coach at college football's highest level, where 50 percent of the student-athletes are black, is still an issue in 2008 surprises some onlookers. "It's counterintuitive," says Dan Lebowitz, executive director of the Center for the Study of Sport in Society at Northeastern University. "It's confusing to me that it's been an issue at the collegiate level, because the academic arena has always been at the forefront of racial justice and tolerance."
Keith remains hopeful that the election of America's first African-American president will influence hiring decisions in college football. But he's been disappointed before. "I thought Super Bowl XLI, and the impact of Tony Dungy and Lovie Smith being the first head coaches of color to participate, would make a difference in college football hiring. To date, it has not," he says. "I was encouraged by the efforts of the Division I-A Athletic Directors, which I thought would also make a difference in collegiate football hiring. To date, it has not."
No one is quite sure, or willing to say, why that is, but Keith is going to continue to ask questions. "What is so unique about NCAA football?" he asks. "It is easier to become a head football coach in the NFL, a head men's basketball coach in the NCAA and a general or a commissioned officer in the United States Army than it is to become a head coach on the FBS or FCS level. And that, America, is just not right."