Northwestern builds industry peer groups -- and a basketball fan base -- during 'Networking Nights.'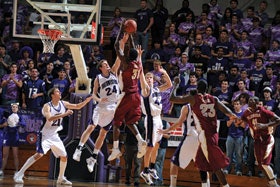 A marketing assistant for Northwestern University athletics, Beth Cunningham has the unenviable task of promoting the Wildcat men's basketball program, which hasn't won more than six Big Ten Conference games in any of the past four seasons. Last year, the team notched exactly one league victory. Unfortunately, that span of futility on the court coincides perfectly with Cunningham's tenure in the department. "I can only control that which I can control," she says.

On the bright side, the seating capacity of Welsh-Ryan Arena is only 8,117 ("I think about that number every day," Cunningham says). But even free admission to games hasn't been enough to sell most of Northwestern's 7,700 undergraduate students on NU hoops, and many of them leave the Chicago area upon graduation. The result is an average home attendance of less than 5,000. Sure, there are the bankable sellouts - when Wisconsin or Michigan State visits on a Saturday or Sunday - but the constant challenge is to keep the turnstiles turning all season long.

Cunningham, herself an NU alum and current MBA candidate, last summer conducted research to try to assess the perceived value of Wildcat basketball. Based on results of surveys and focus groups, she determined that games are seen first and foremost as family-friendly events, where academically sound Northwestern student-athletes make for outstanding role models. That's all well and good for weekend "Take a Kid to the Game" days, in which one adult can actually bring two kids at no extra charge. On other days, Cunningham learned, parents still expect to pay less for their children's admission. "It's not even so much what the initial cost is to adults, it's that kids should cost less than that," she says. "So we created some new ticket prices - adults are $20, kids are $10 - for certain weekend games that wouldn't otherwise sell out."

But weekends only account for half of the home schedule. "What I also learned through my interviews is that a lot of parents just aren't going to bring their kids to a weeknight basketball game," Cunningham says. "It's just not going to happen for them."

Enter "Networking Nights," a Cunningham brainchild that replaces youths with young professionals as the target audience. "What value proposition can we put out there that's going to entice them to come to a basketball game on a weeknight when they may not have any affiliation with Northwestern itself?" she recalls asking herself. "What do people think of when they think of Northwestern? This place is known for it's rather successful alumni base. So we decided that one thing that people - especially Northwestern grads - look for is connections. They understand the importance of networking."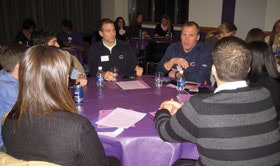 The first of four scheduled Networking Nights, held Dec. 3, focused on "Jobs in Sports." The event drew roughly 50 attendees, as well as invitees from the Chicago-based Big Ten Conference office, sport entertainment and event marketing company Intersport, ESPN Radio and Chicago's White Sox, Bears and Fire. A $35 admission to Welsh-Ryan's N Club provided attendees with food and beverages, and included a ticket in section 213 for the Wildcats' non-conference game against Florida State. The hour-long networking session, sponsored by Infiniti, featured a presentation by sports marketing consultant Dan Migala, director of Northwestern's Master of Arts in Sports Administration program and author of Dugout Wisdom: Life Lessons From Baseball. A speed networking exercise followed, allowing individuals to meet with as many professionals as possible before the game's 8:30 p.m. tip-off. Informal interaction continued in the seats.

"Some people don't feel comfortable at a networking event. It's sort of awkward, and they end up standing by the dip," Cunningham says. "We thought a basketball game following the structured speed networking would provide a nice casual way for people to talk to each other. There's a distraction, so it kind of eliminates some of the awkwardness."

Charlie Taylor returned to his alma mater to, in some ways, reconnect. "I think I just need to get my feet wet a little bit more," says Taylor, a football season-ticket holder and avid basketball fan who parlayed a double major in vocal performance and sociology (not to mention countless volunteer hours in the NU athletic department) into a sales associate position at ABC Radio Networks. "Part of the benefit of going to one of these events is it allows you to see people from all different ends of the industry and what they do. It not only gives you some real perspective on what paths they took, but reassurance that even if I have doubts, these people did too when they were my age, and these are people who are in jobs that would be amazing for me to have some day.' "

Jorie Sax, who serves the White Sox as manager of client development, admits that she doesn't normally have to go out of her way to find individuals willing to work in Major League Baseball. "There's always a long line of people interested and resumes coming in," she says. "But I prefer to be a little more proactive in trying to seek out the best of the best."

That's why Sax, who knows Cunningham through their membership in the Chicago chapter of the advocacy group Women In Sports and Events, "jumped at the chance" to make face-to-face contacts at the inaugural Networking Nights event. "I've learned over the years that body language and presence is very important, especially when you are first introducing yourself to someone," she says. "An event such as this allows you the opportunity to kind of understand somebody fully - not just on paper, but through personality. It's nice to do it at an informal event such as a sporting event, as opposed to a lunch meeting, when you're in your suit."

When asked if anyone she met at the first Networking Night made a lasting impression, Sax says, "Absolutely. I definitely walked away with a handful of business cards and resumes that I have already forwarded both internally and to other people who I know within the industry. That's something that I take very seriously, and I don't do it very often."

Already well connected in Chicago sports circles at age 28, Cunningham will have to tap Northwestern's season-ticket rolls for expertise in the areas of law, business and medicine to round out this season's remaining Networking Nights - all Wednesday night games against Indiana, Chicago State and Ohio State, respectively. Sports made for an ideal ice-breaker, and is, in Cunningham's words, "sexy enough that it can stand on its own next season even if the rest of these flop for one reason or another."

She considers the first effort a success, the true extent of which won't be known until it can be determined how many, if any, networking attendees become repeat NU basketball consumers. "My goal at the end of the day is to sell tickets," Cunningham says. "That's why this promotion was set up - to sell tickets. I would love to be altruistic and say I'm trying to help people form lifelong relationships. If that's a byproduct - awesome! But I want people to come and I want them to keep coming. We got a lot of people in the door who I don't think would have otherwise been at our game."