Some college and university athletic departments are taking a more active role in the administration of sports camps.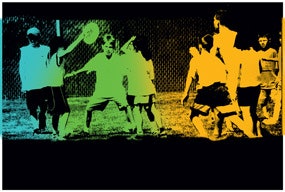 E
ach spring after students wrap up their final exams, the quiet throughout the University of Notre Dame campus is palpable. It is, however, a brief time of repose, as the first of some 10,000 young people will soon descend on South Bend to kick off the summer-long camp season.
"We operate over about nine weeks with 17 different sports and about 50 different sessions," says Sally Derengoski, director of Notre Dame's RecSports. "The folks on campus definitely know when the sports camps are here."
For many people in the athletic department offices, the annual migration marks the successful end of another intense year of administrative duties such as facility scheduling, bookkeeping, staffing, marketing, purchasing and policy creation and implementation.
The degree to which athletics administrators are involved with any of these sports camp duties can vary greatly campus to campus. Not all schools host camps, and many choose to essentially outsource their camps to private operators. More still leave camp planning and operations almost entirely up to individual camp directors, who most often happen to be head coaches or their assistants. However, other schools, including Notre Dame, are finding success by creating administrative models that give more oversight of sports camps to the athletic department administrators rather than camp directors.
"We have a fairly unique arrangement because we have one office at the university dedicated to supporting all our sports camps," says Derengoski. "It keeps 19 different camps from all asking the same questions and having to go all over campus to find the answers. We want our coaches to be focusing a little more on what the camp experience will be like for the children, and focusing less on paperwork."
That said, the paperwork must be done by someone. The following are some administrative areas in which athletic departments can wield more power over sports camps in order to streamline accounting, maximize revenue, reduce risk and create the best possible experience for campers:
Staffing.
At Cornell University, sports camps director Gene Nighman screens and hires a core group of about 20 camp counselors to work part-time throughout the summer, moving from camp to camp. Larger camps - those with, say, 100 or more participants - will often hire their own part-time help, but the employment process goes through Nighman's office.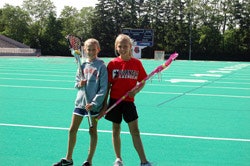 "One of the reasons we don't let the coaches do their own payroll and administrative things like that is because we want to make sure everyone we hire is under the umbrella of our policies and the procedures mandated by the state of New York," says Nighman.
Derengoski's office doesn't select new camp employees, but every hire made by the camp directors is processed through it. "The employment process has gotten a lot more complicated, much more in-depth, in recent years," she says. "Each counselor is essentially hired as an employee of the university and they need to go through the regular employment process - background checks, drug testing and all that. That helps our coaching staffs and it also provides the university with a measure of accountability."
Problems arise when coaches or other camp directors - those who may not be aware of the cumbersome employment process dictated by many schools, especially state schools - wait until just before camp to begin their independent staffing efforts. "We have to have a lot of lead time to make sure that gets done," says Trisha Benson, summer camps and clinics coordinator for the University of Texas at Austin. "The athletic department administers the release form for the background check, but then the university's human resources department conducts the actual background check. There's a lot of paperwork that needs to be done."
Scheduling.
Camp operators, facility operators and maintenance personnel all have heavily vested and often competing interests in how campus athletics and recreation venues are used in the summer months. Thus, a central athletic department administrative person or office can be helpful in coordinating a single summer-long schedule that can appease all parties.
"You only have 'x' amount of time in 'x' amount of days during the summer, so somebody has to establish the priorities and the criteria for facility usage," says Kevin Hurley, associate athletic director for facilities and construction at Texas A&M University. "If you're going to put baseball, softball, lacrosse and soccer on the same field, you have to consider when that field is going to get a chance to recover and grow."
Nighman says Cornell's summer program is so large that it would be impossible to leave field scheduling up to individual coaches and facility operators. "Fields are the most difficult part of scheduling because obviously everyone can't use them at once," he says. Nighman recommends scheduling men's and women's sessions of a given sport concurrently to minimize the need to continually restripe fields and change goal types.
Many athletic departments will keep a kind of annual master calendar in which field usage is a primary consideration. Fixed usage schedules can be helpful, says Hurley, but he also warns that "issues always come up - a guy slides in the outfield, kicks a sprinkler head, and now all of a sudden you have a 10-foot version of Old Faithful on your field."
Hurley also recommends strictly adhering to maintenance schedules. "We let the camps have as much time as possible, but we do need to reserve time for planting and painting and all of that. Don't give away every single day of your facility - otherwise you will run it into the ground."
Accounting.
Coaches or other camp directors almost always direct the overall financial operations of their camps and, in doing so, they reap the profits for themselves, their coaching colleagues and their individual sports programs.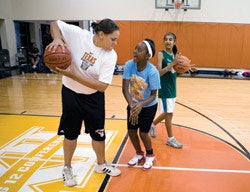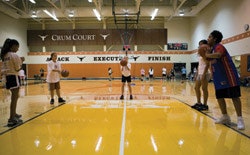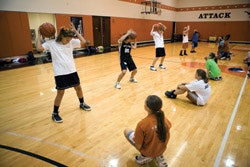 "Camps are a very important part of the revenue model at Cornell," explains Nighman. "By running the camps, it certainly ensures that four or five people have jobs here who might not otherwise. Without these camps, I know we wouldn't be able to hire some of our teams' assistant coaches." Adds Hurley, "Most schools that I'm aware of use summer camps as a way to increase revenue for their coaches."
But as evidenced by some high-profile cases (the 2005 IRS probe of former University of Colorado football coach Gary Barnett's camp operations comes to mind), when firm processes for financial administration aren't in place, universities can, at the very least, be subject to significant public embarrassment. Thus, it may behoove them to maintain some oversight of each camp's financial processes.
The Notre Dame sports camps office goes so far as to do much of the price-finding legwork for the camp directors. "Before each camp sets their prices, they get information from us on what the housing costs will be, what the dining hall costs might be and what the usual cost is for the work of our office," says Derengoski. "We're actually the coaches' best friends because we will comb through those estimates for them and make sure that they're accurate and reflect our understandings." Derengoski adds that her office often acts as a helpful buffer between camp directors and other campus groups. "It's not uncommon for a residence hall to charge a fee for something like trash not being removed," she says. "If a coach disputes that or has questions about it, we can help facilitate the conversations."
Naturally, colleges and universities have an interest in maintaining an easily accessible trail for both internal audits and those from outside campus. UT's Benson says that all camp-related transactions ultimately go through the general university accounting office, but that the tracking process has been made even easier with the implementation of online camp registrations run through the athletic department. Twelve of the 16 UT sports camps share the use of the same online credit-card registration software.
"The customer can register quickly and easily, but it also provides a really good audit record for us," says Benson. "Everybody is concerned these days and nobody wants to see any university financial information go astray."
Policy.
What should happen when a camper gets dangerously ill in the middle of the night? What prescription medications are allowed and when are exceptions made? How are injuries treated? These and countless other questions should help make the case that an athletic department should at least have some general oversight of camp policies and procedures, according to Derengoski.
"We set the policies for things like supervision and injury treatment," she says. "We're the conduit between the camps and general counsel, risk-management, dining services, residence halls, security, medical care and so on. Even things like refund policies are consistent. We help coordinate all of that; the coaches don't have to do it all themselves."
Benson recommends the practice of holding an annual meeting with all camp directors to update them simultaneously on changes in university, athletic department and camp policies and procedures. "At that meeting, we'll go over all the new forms," she says. "We may have updated forms from the payroll department or the human resources department that we need to keep up with."
T
hough paperwork is a major part of centrally administering multiple sports camps, Texas A&M's Hurley says it is, thankfully, not the most important part. "You can make the job as difficult as you want, but what it's really about is people - everybody from the coaches and administrators to the facility managers, the custodial staff and the camp participants," he says. "There's time for everybody - you just have to learn how to manage it."
Time-management issues aside, Derengoski believes the hard work athletic administrators devote to the coordination of multiple camps is rewarded in the end by delivering the best possible experience for each camper. "From the university's perspective, this system allows our coaches to do what they do best - to teach and to work with children," she says. "In a way, we're just aligning our resources to allow them to do their best."
Setting Up Camp
Boy Scouts
While there's been some debate over the efficacy of the details, most everyone familiar with NCAA Division I Legislative Council Proposal 2008-76 can agree on one thing - it's kind of depressing.
The rule, which took effect in January, is designed to prevent men's D-I coaches from attending or running elite camps for the purposes of recruiting children as young as 11 years old.
Giving the "emergency legislation" its teeth is a clause that defines anyone who has begun seventh grade and beyond as a "prospective student-athlete." Thus, it applies NCAA regulations to how coaches can contact those prospects. (The previous cutoff point at which the NCAA had oversight of the recruitment process was ninth grade.)
Schools such as USC, UCLA and Kentucky have in recent years gotten verbal commitments from children who had yet to enter high school; multiple recruiting sites have begun ranking middle-school kids as prospects; and the sports camp landscape has widened to target younger athletes and give them the promise that they may one day be a part of March Madness.
Consider the following marketing message from the Jr. Phenom Camp, which targets 100 elite players per grade level right down to the high school class of 2016 (current fifth-graders): "The Jr. Phenom Camp, sponsored by adidas, brings a 20-year tradition of high school all-star camps to the grassroots level, providing valuable instruction, and a platform for many college and WNBA players of tomorrow."
A second new rule prevents other individuals associated with men's basketball prospects - such as hired recruiters - from speaking or presenting at non-institutional camps.
According to Associated Press reports, Joe D'Antonio, chair of the council and associate commissioner of the Big East Conference, said at the time that the rules changes reflected an ongoing concern for the welfare of young athletes in the recruiting process, adding, "It's a little scary only because - we talked about this - where does it stop?"