Volleyball participation opportunities continue to lag for boys and men.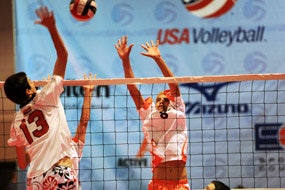 FRONTLINE
For USA Volleyball, fostering male interest in the sport remains a top priority.
N
o more compelling story emerged from the 2008 Summer Olympics than the gritty performance of the U.S. men's volleyball team. Playing three of their matches without head coach Hugh McCutcheon, whose father-in-law was fatally stabbed while on a sightseeing tour of Beijing, Team USA finished the tournament undefeated to garner America's third gold medal in the sport since 1984. A day earlier, the U.S. women had secured a silver medal, matching their highest finish ever in Olympic competition.
Yet, despite that disparity of success on the game's biggest stage, America, more than any country in the world, continues to view volleyball primarily as a female sport. A comparison of participation numbers is staggering. According to the most recent annual report compiled by the Sporting Goods Manufacturers Association, 73 percent of all hard-court volleyball players age 17 and younger in 2007 were female, a gender breakdown rivaling that found in gymnastics (75 percent female). Girls comprised 89 percent of all high school volleyball players in 2007-08, says SGMA, citing National Federation of State High School Associations data.
The collegiate level is no different. While 332 NCAA member institutions currently sponsor Division I women's volleyball, only 22 do so for men. Should the University of Buffalo add men's volleyball in the coming years, as expected, it will represent the first program to join Division I in nearly two decades. As it stands, the odds of an individual making a Division I men's volleyball roster are - at 1 in 111 - the longest of any NCAA men's sport, save men's basketball (also 1 in 111), according to data supplied by USA Volleyball. Moreover, NCAA women's teams are afforded 12 full scholarships, enough to cover an entire roster, while men's teams can appropriate the equivalent of 4.5 scholarships among their players. In other words, women have access to nearly 4,000 Division I scholarships nationwide; men get to share fewer than 100.
T
he numbers begin to separate at the junior-high level, according to USA Volleyball membership development director John Kessel, whose daughter's middle school sponsors A, B and C teams in two separate girls' leagues, while his son has no interscholastic competition outlet. Instead, Cody Kessel plays in USAV-sponsored club events. "The number-one fall sport for girls is volleyball, and for boys it's football," says the elder Kessel, who wasn't afforded the chance to play high school volleyball but nonetheless enjoyed collegiate and professional careers. "There are 80 to 100 boys playing football" at any one school, he says, "but even if you count varsity, JV and freshman teams, you've only got about 36 girls playing volleyball. Boys' volleyball is not offered as a school sport, because then you're out of sync with Title IX. It's pretty much a numbers thing."
At the college level, it's also a cost thing, says NCAA assistant director of championships Russ Yurk. "From a facilities standpoint, if you have a gym and nets, it's not that expensive," Yurk says. "When you start talking about travel, scholarships, coaches - you're adding a salary or two - that's where it adds up rather quickly."
That may begin to explain one of America's true bright spots in male volleyball participation - the NCAA's scholarship-free Division III. "The general student population is skewing more female than male," says Yurk, who played club volleyball in college for lack of a varsity program. "Without athletic scholarships, sponsoring volleyball is a great way for a school to add male student-athletes who are paying full tuition." Adds Kessel, "What's average tuition and board right now? Forty thousand dollars, times four years? So the school is getting $160,000 per kid times 12 kids, and that's if they're just doing varsity. They're getting about $2 million that otherwise wouldn't have come if they didn't have a varsity program."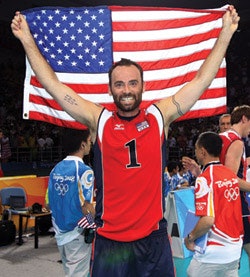 OLD GLORY
A gold medalist at age 36, Lloy Ball is living evidence of the gradual maturation of elite men's volleyball talent in America.
While Division I numbers have fluctuated between 20 and 24 teams since the 1986-87 season - which fell smack dab between back-to-back Olympic gold medals for the U.S. men - Division III sponsorship has climbed steadily. And sponsorship incentive is building. The 48 teams that competed in Division III this past season not only outnumbered by 14 the other two divisions combined, they stand on the cusp of achieving full NCAA championship status. With as many as five more Division III schools indicating their intention to field teams this year or next, the 50-team requirement for NCAA sponsorship of a division championship will be reached.
Once it is, Division III volleyball could double in size, according to Kessel, whose organization has for years helped to stage the Molten Division III Men's Invitational Volleyball Championship. The NCAA could take over as soon as 2011. "When it hits the NCAA level, with the funding and the official title and everything, I wouldn't be surprised if we jumped up to 100 D-III schools," Kessel says.
"I would love to see it, but that might be ambitious," cautions Yurk, adding, "I think some athletic directors are reluctant to spend money on a sport for which there's not a championship opportunity. But once that's met and it becomes a bona fide championship sport, I definitely see more folks jumping on board. I expect a nice influx of schools when we do get that championship off the ground."
In the meantime, USA Volleyball continues to advocate for greater overall participation in the sport. A dedicated staff member, Jeff Mosher, serves as coordinator of boys' and men's development, and "Men's and Boys' Grassroots" gets it own link on the "Resources" menu at usavolleyball.org. Mosher administers the organization's grant program, in place since 1991, for schools looking to launch varsity teams. Up to $6,000 in seed money spread over three years is available to colleges, and as much as $1,500 can be earmarked for high schools. Extra grant money may be available at the college level to multisport conferences that add men's volleyball as a conference sport.
In addition, manufacturers have helped promote the sport by producing specialized equipment such as softer, lighter balls that facilitate the introduction of volleyball fundamentals to children as young as five. Coaches, too, are taking responsibility for building male participation numbers, says Kessel, who conducts clinics that promote hitting ahead of digging and setting. "The vast majority of coaches say, 'Let's pass. Let's set.' And by then you've lost the boys, because they've been totally unsuccessful at trying to make a ball bounce off their arms to where it's supposed to go. The same boys who like to shoot basketballs love to spike volleyballs. They love it, and they want to play."
Mosher believes exposure afforded by the gold medal performance of Team USA, as well as cable television coverage of collegiate matches and a first-ever webcast of the Division III tournament scheduled for this month, can only help shape American attitudes about volleyball and gender, and lead to sustained growth in male interest. "The more men's volleyball can be presented to the general population, the greater the demand will be to provide opportunities for boys to play," Mosher says. "Once boys see men play volleyball at the elite level and see the power and athleticism involved, they no longer view it as a women's sport."