Despite financial concerns of its own, Tennessee athletics continues to support the university's academic efforts.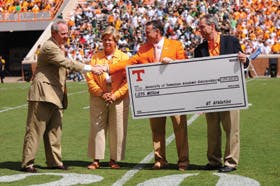 FINANCIAL HANDOFF
Check presentations like the one last September involving (from left) University of Tennessee men's athletic director Mike Hamilton, women's athletic director Joan Cronan, UT president John Petersen and then-interim chancellor Jan Simek are an annual tradition in Knoxville.
When the University of Tennessee stages its annual spring football scrimmage April 18 at Neyland Stadium, the general public will be charged a $5 admission fee. Based on last year's attendance figure and the buzz surrounding a new coaching staff, ticket sales are likely to top $150,000, which is $150,000 more than was generated by the 2008 Orange and White game. Fans got into that one free.
In a recession, every bit of extra revenue helps. But these new monies won't help Tennessee athletics. All spring game gate receipts will be used to directly assist academic initiatives on the Knoxville campus, which is currently dealing with a 13 percent drop in state funding. "When it makes sense, we want to try to do what we can," UT athletic director Mike Hamilton says of the financial handoff. "Right now our institution is suffering, as most schools are, through some tough economic times."
"It's not a great amount of money, but it will be beneficial," adds UT faculty senate president John Nolt. "If you think in terms of what we could pay for with that, you're talking maybe four lecturers, each teaching 300 or 400 students a year. It's not insignificant."
Relatively few Division I athletic departments actually turn a profit - 19 out of 119, according to the most recent study commissioned by the NCAA - and fewer still provide any direct financial support to their institutions. Within the past 15 years, there have been multimillion-dollar athletics donations to library construction projects at the University of Kentucky and Ohio State. Last August, Florida athletics donated $6 million to fund academic scholarships threatened by state budget cuts. Louisiana State athletics annually donates a dollar from the sale of every football and basketball ticket toward a campus beautification fund.
Elsewhere, the support pipeline appears to run only in the opposite direction. At the University of North Carolina, the athletic department received more than $6.2 million from student fees during the 2007-08 fiscal year. While students were admitted free to all athletic events, none of the non-athletes among them could lay claim to direct academic scholarships funded by UNC athletics. When the idea of athletics helping underwrite academics was broached at a UNC faculty council budget brainstorm in January, hearty laughter ensued, according to Raleigh News & Observer higher education reporter Eric Ferreri.
By comparison, Tennessee annually receives $1 million in student-fee support - all of which benefits women's athletics - but the UT athletic department claims it provided approximately $4.5 million in direct cash support to the university community last year alone. Of that support, $1.375 million provided financial aid to some 2,400 non-student-athletes. And as a beneficiary of the $2.25 billion television rights agreement reached last August between the Southeastern Conference and ESPN, the athletic department wants to give more, according to Hamilton.
"To some extent, this business is recession proof," says Transylvania University economics professor and UT alum Dan Fulks, who compiles financial data from all institutions for the NCAA. "Ninety percent of NCAA money comes from the men's post-season basketball contract, and that contract is in place for another five years. The SEC now has a TV contract. The revenue numbers are pretty solid. And Tennessee is going to sell out its stadium seven weekends a year, regardless of what's happening with the economy."
Hamilton isn't so sure. Individual football game ticket sales were down already last fall, before the economic collapse. He points to one week earlier this year in which 2,400 Knoxville residents lost their jobs. "We're talking about discretionary spending," he says, "and we just don't know what the effect of that will be."
Donations to athletics pose more uncertainty for Hamilton, who says priority giving for season-ticket purchases accounts for 25 percent of Tennessee's $79 million annual operating budget. Athletics administrators have discussed whether it would make sense to leverage the department's seat-licensing sales apparatus by taking control of the 16,000 football tickets, 4,000 basketball tickets and 35 percent of all parking passes currently made available for academic fundraising (the university pays the athletic department face-value for the tickets). By opening those seats to the license-paying public, athletics could guarantee the university a greater, albeit fixed, financial gift. "They're banking on the belief that their fundraisers are better than our fundraisers," Nolt says. "They'll bring in more money this way, and so in the long run they're going to profit. We will be doing better initially for the first couple of years, given the projections. I remain skeptical about whether this works out in the long run. One of the things that I've been trying to find out is what the long-term trend in donations that depend on tickets has been, and I have not been able to get a straight answer on that."
Faculty senate representatives have been asking a lot of questions at athletic department budget hearings lately. At some point this spring, Nolt intends to have accountants comb through the athletic department budget in search of wasteful spending. "We'll be looking at it a little bit more carefully this year," he says.
UT president John Petersen has already instructed Hamilton and women's athletic director Joan Cronan to seek greater operating efficiencies. (Tennessee is one of only two remaining Division I institutions that employ separate staffs to serve men's and women's sports programs.) Athletics now adheres to a zero-base budgeting model, and Hamilton credits buy-in among coaches and senior staff members for helping trim $2.5 million from the department's overall operating budget this year. Whether Tennessee will fully consolidate, as the previously separate departments at Arkansas and Brigham Young have recently, Hamilton can't say. "We already have some units that are consolidated within the two athletic programs - marketing, tickets, academics, business office - and we will consolidate four or five more units effective July 1, 2010," he says. "The directive from the president was to make sure that we're operating more efficiently while protecting the Lady Vol brand."
Nolt, too, sees value in that. He points to the national attention surrounding Lady Vols basketball coach Pat Summitt and her 1,000th career victory in February (followed six days later by a Sports Illustrated feature on first-year football coach Lane Kiffin) as evidence that the status quo structure remains a powerful public-relations force. Says Nolt, "Given the stature of both men's and women's programs here, I'd be hesitant to attack that, because - damn - it's successful."
For the first time, Tennessee athletics is circulating evidence of its fiscal standing in a "2009 Fact Book," encouraging coaches, administrators and even trustees to keep it handy so all are on the same page when fielding public and media inquiries. "With the university having to cut budgets, questions will arise about how athletics is funded and what it is doing for the university," says Tiffany Carpenter, the athletic department's PR director. "We thought this would be a good way to educate our frontline people so they can answer those questions if asked."
"We're all in this together," Hamilton says. "We're not a separate athletic association. From my perspective, the stronger the university is, the stronger the athletic program can be. Now, we can't give to the extent that we're affecting our ability to be successful, but as long as we have the resources to be able to do things for the institution, we should try to find a way to do them."