As districts slash expenses, some athletic directors find themselves in either the classroom or the unemployment line.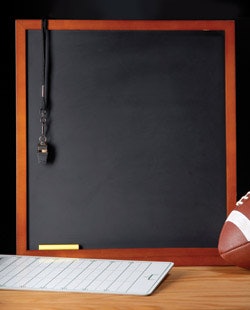 Dave Turner is getting out of Eau Claire (Wis.) North High School just in time. If he weren't planning to retire in June after 18 years as North's dean of athletics, he would be looking for a new job right about now.

Turner's position - and that of his counterpart at Eau Claire Memorial, the city's other public high school - will be eliminated this fall. The Eau Claire Area School District, facing a projected budget deficit of at least $5.1 million for the 2009-10 school year, recently decided to transfer athletic director duties to assistant principals at each school. "These are dire times, and we're looking at every possible option to scale back our operations," superintendent Ron Heilmann told the Eau Claire Leader-Telegram in January, after the cuts were announced.

Just as bad as the news in Eau Claire is what's happening in Florida's Volusia County. As part of $45.7 million in program and personnel cuts last summer, certain sports teams were eliminated, travel distances for others were restricted, game schedules were shortened and coaches' pay was slashed at nine public high schools. On top of that, athletic director positions have been reduced to part-time, meaning that ADs now spend half of their working hours in the classroom. "For me, it's been easier than for others," says Jose Fernandez, who is in his first year as athletic director at New Smyrna Beach High School, which boasts 1,900 students and 21 varsity sports. "The past two years, I've been head baseball coach and a teacher, so for me to be in the classroom is not that big of a deal. But the one part that is difficult for everyone is that the district made our jobs half-time, and none of the responsibilities got taken off our plates."

In recent months, school districts from Hawaii to Connecticut have considered eliminating or reducing their athletic director positions. Some have already followed through.

"I'm sorry, but I cannot provide you with any insight into how they can make this work," says Mike Blackburn, a high school AD for 28 years and now the associate executive director of the Indianapolis-based National Interscholastic Athletic Administrators Association. "It's ludicrous. I don't know of anyone who would have an answer as to how this is going to be effective."

Many athletic directors - 45 percent of them, in fact, according to a 2005 NIAAA survey - are responsible for tasks outside of a school's sports program. Blackburn, who also was in charge of physical-, health- and driver-education programming and expulsion hearings at his school, admits even that's not an ideal situation because athletic directors' responsibilities today typically are far greater than they were even five years ago. That's why he fears that athletic departments in which a full-time administrator is given part-time status will revert to the way they were run in the 1950s, with coaches scheduling their own games and officials, as well as overseeing most of the internal and external communications with parents, teachers and other staff members, booster clubs and alumni - activities that are now typically taken care of by an athletic director. Meanwhile, the athletic director may become little more than a figurehead who locks and unlocks the doors and handles paperwork - simply because he or she doesn't have time for much else.

"When you cut an athletic director's position in half or eliminate it, that may send up a red flag that people in the district don't understand the responsibilities of an athletic director," says Blackburn, adding that the NIAAA offers a document titled "A Profile of Athletic Administration" that provides a detailed description of the role. "The athletic director is the most unique position in a school district; it compares to nothing else. In most cases, it is beyond a full-time job in itself."

Of course, some academic administrators realize that. When the more than $3 million that was previously reserved for the salaries of athletic directors at Hawaii public schools got lumped in with schools' general funds in 2008 - fueling fears that some athletic director jobs would be cut - Catherine Payne, principal of Farrington High School in Honolulu, claimed that getting rid of ADs would have serious repercussions. "There are certain things that just have to happen in a school," she told The Honolulu Advertiser last fall. "I can't imagine that you can administer an athletics program without an athletics director."

Neither can Turner. "Almost all of it will be new territory," he says, referring to the workload of the assistant principal who will take over his duties in the fall. "There are some comparable, transferable types of jobs related to budgeting, evaluating staff and scheduling, but basically that person will be starting from scratch."

Adding to Turner's concerns for the future of Eau Claire's sports programs (beyond potentially raising pay-to-play fees higher than the current $100 per sport) is his uncertainty about how eager a front-office administrator may be to take over athletic administration duties. "This is a job that requires a person to have passion for it, and it's something that person should want to do. It's not a job you take because there isn't any other position available," says Turner, who taught social studies at North for nine years while also serving as AD. "When I was teaching and being an athletic director, I felt like I was mediocre - if not bad - at both jobs, because there wasn't enough time in the day to do either one justice."

Two summers ago, the Madison (Wis.) Metropolitan School District eliminated the athletic director positions at four high schools, consolidated the administration and replaced those individuals with two new hires. But that effort, which trimmed $113,000 from the district's annual budget, resulted in the local teachers' union filing a grievance, and an arbitrator reinstated all four ADs (with back pay) less than a year later. "After administrative duties, the true value of an AD is in interactions with student-athletes, parents, principals, teachers, coaches, the Big 8 Conference, booster clubs and the community feeder schools and sports programs," read a Wisconsin State Journal editorial after the positions were cut. "The expected savings is not worth what will be lost. How many kids in our four Madison high schools stay in school and graduate because of athletics? Ask the ADs and coaches - they know."

So does Fernandez. That's why - amid reports that the Volusia County School District could shelve its entire interscholastic sports program by this fall - he has been developing promotions to get more fans into the stands in the hopes that the community will develop a greater affinity for New Smyrna Beach's teams. When middle and elementary school students were admitted free to a varsity basketball game with every paid adult, an extra 500 people showed up, and he hopes to generate additional support with Military Appreciation Night at a spring baseball game. "There are rumors swirling around, things I have no control over," Fernandez says. "I may be going from half-time to no time. But we just have to focus on the things we can control. We need to get more people in the community out to athletic events and make them see the positive things that are happening, so that they realize, 'Hey, we are really all in this together.' "

Turner says he wishes the Eau Claire School District would have explored other options before altogether eliminating the athletic director positions at both high schools. The AD's job at Seymour (Conn.) High School was recently saved, for example, thanks in part to a $160 increase (from $20 to $180) in the annual parking-pass fee for students. "There is no question that once you lose something, it's very difficult to get it back," Turner says. "The district is going to have to live with however this works. We're looking at another budget deficit after next year, so this is the first step in a very long and painful process."

Blackburn, though, who has survived severe budget crises in the past, holds out hope that things will get better - even though the situation in some communities seems pretty bleak. "In my experience," he says, "schools have always rebounded."
Log in to view the full article