Cal women's basketball is the first program to openly embrace a niche base: gay fans.
COMMUNITY OUTREACH
Unlike most women's basketball programs, Cal celebrates its gay and lesbian fan base.

When Megan Mosness arrived at the University of California Berkeley two years ago, the women's basketball program was not yet, nor had it ever been, Sweet 16 caliber. Like most programs across the country, Cal struggled to put 3,000 spectators into an arena that seats four times as many. It still does, save for when archrival Stanford comes to town. "Women's basketball has never been on the map here, and now we're on the map," says Mosness, Cal's director of game day experience. "Now that we're a top-15 program, we're just trying anything and everything new to build the fan base."
Berkeley's position on the map - both geographic and political - allowed Mosness to try a promotion that no college had yet to try. She decided that the 2007-08 season, her first on campus, would include a GLBT Pride Day. Mosness spread the word via the athletic department's web site and fliers circulated among area gay, lesbian, bisexual and transgender groups. On game day, a San Francisco-based organization of GLBT families set up a festival-like atmosphere outside Haas Pavilion, complete with face-painting, poster-making and games. As has been customary for years on Pac-10 Conference weekends in Berkeley, a GLBT squad of former collegiate cheerleaders joined Cal's dance team during on-court performances. Once the game began, GLBT fans were formally acknowledged via scoreboard and public-address announcements. "I wouldn't say it's our biggest fan base, because our biggest fan base is families and kids," Mosness says. "But it's a huge population, and it's a market here in the Bay Area."
There's evidence that it's a market particularly loyal to women's basketball, regardless of where games are played and at what level. Even before star players Sue Wicks and Sheryl Swoopes came out earlier this decade, certain WNBA teams were marketing directly to lesbians through ads in gay publications. In March, Greensboro (N.C.) News & Record staff writer Robert Bell noted the prevalence of lesbian couples and groups at the Atlantic Coast Conference women's basketball tournament, as well as its surrounding pep rallies and bar scene.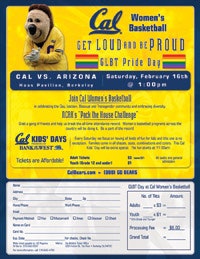 "There's a certain segment of the lesbian community who are wonderful sports fans," says Pat Griffin, director of the Women's Sports Foundation's GLBT education campaign and author of Strong Women, Deep Closets: Lesbians and Homophobia in Sports. "They support women's college basketball, the WNBA, the LPGA. Good fans."
But are they good enough fans to come to games without being formally courted, or are the marketers of women's college basketball missing an opportunity? "I think that they potentially are missing an opportunity," says Susannah Dolance, a sociology professor at Century College in Minnesota who wrote her dissertation on the WNBA's cautious relationship with its lesbian fan base. "They may not see it that way, because lesbians come to the games anyway. Certainly, the WNBA fans I interviewed see themselves as the ones who are always there, the ones whom the league can count on. I assume that to some degree colleges see it that way, too."
Overt outreach to the GLBT community may carry certain perceived risks for individual schools and entire conferences selling a sport on the promise of family friendliness. "Our marketing efforts have been consistent for many years and are really driven toward all fans who want to watch what we think is the best college basketball in the country," ACC associate commissioner Nora Lynn Finch told the News & Record via e-mail. "We continue to [target] youth groups, in order to cultivate the young fan."
Of cultivating the gay fan, Cyd Ziegler, cofounder of www.outsports.com says, "It's not always a conscious decision to not do it; they might just have not even thought of it. And to do it, you have to have a belief that you're going to make money from it. People in Iowa City probably don't think that they're going to get a lot of money from marketing to lesbians. How do they know there's not going to be backlash? People have things to think about before they just jump in and do it."
Griffin, for one, believes that GLBT pride can play in the heartland. "Even in conservative communities, the university environment is often a little bit more open," she says. "Connecticut and Tennessee maybe don't have the kind of reputation that the Bay Area has, but they are very tolerant and people do live openly. They do attract fans, but I think that they could do a better job of making fans feel appreciated and getting them more involved with the teams in selling season tickets and those kinds of things."
At colleges and universities other than Tennessee and Connecticut, the only programs to surpass five figures in average per-game attendance year after year, women's basketball ticket sales are - in most cases - woeful. This season, 210 out of 340 Division I programs failed to average 1,000 fans per game. The situation is so dire within the 23-school California State University system that Long Beach Press-Telegram columnist Bob Keisser asked in a March 10 piece, "Is it time to drop women's hoops?"
"If we're really talking about financial common sense," Keisser wrote, "women's basketball is the one sport with the kind of expense-to-revenue ratio that would make execs at the wobbling Citibank flinch."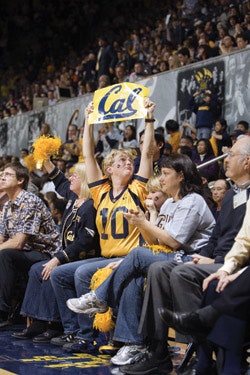 Cal ranked 57th nationally in attendance in 2008-09, averaging 2,285 fans over a 15-game home schedule. GLBT Pride Day attracted 2,541 fans to a Sunday matinee against 11-9 USC, making it the Bears' fourth-highest-attended game of the season. The inaugural Pride Day drew Cal's third-largest crowd of the 2007-08 season, as 2,759 fans came to see 9-16 Arizona play on a Saturday afternoon. Promo codes attached to discounted tickets told Mosness that 300 GLBT fans "that we know of" attended Pride Day's debut. "I would guess that's not a coincidence," says Zeigler. "I would guess that if you market to the gay and lesbian community you could, depending on where you are, easily sell 500 tickets."
As for backlash, Mosness reports none. In fact, response was overwhelmingly positive. "Somehow word got out that we did this," she says, "and all of a sudden we started getting e-mails and phone calls from coaches and random people all over the country saying how cool it was."
"One of the things about the LGBT community, at least in my experience, is people really notice when corporate entities market to gay and lesbian people," says Griffin, who helped get the word out about Cal through her LGBT Sport Blog ("I'm an L, so I put the 'L' first," she says). "They notice when they are included, and that makes a difference."
Dolance agrees. "I certainly don't represent everyone - but many people in the gay community appreciate honesty," she says. "I would recommend getting the message across that, 'We know you're a really core audience. We respect that, we appreciate it and we really want you to be here.'"
Mosness wants more people to show up at Haas Pavilion for future GLBT Pride Days, and Cal women's basketball games in general. "I think we'll try to just expand this particular day, as far as growing the numbers every year," she says. "Once we get them here, we're hoping that they come back for more, because they had such an incredible time - even if it's not for GLBT day."
And that prospect shouldn't concern anyone in particular, according to Griffin. "It's always been my observation that once people are in the stands and they're all wearing the team colors and cheering for the team, sexual orientation doesn't matter. What matters is being fans," she says. "Colleges have so much more to gain by marketing to lesbian fans than they have to lose."