Girls on the Run teaches children about self-esteem and personal interaction as it prepares them for a 5K run - and life.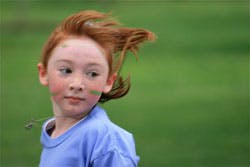 A photo of Abigail Rafter participating in the Girls on the Run program
Participants in the Girls on the Run program cover a lot more ground than the 3.1 miles it takes to reach the finish line in a 5K race. Girls in grades three through six who sign up for the 12-week program at multiple locations in Davidson County, Tenn., receive female coaching in areas ranging from positive body image to the perils of gossip. Each of two weekly hour-long sessions includes a snack, a life lesson, gamesand - of course - running. At the end of the program, the group runs a 5K together.
"At Girls on the Run, I get to run with all my friends, and I get more time to hang out with them doing something I love," Abigail Rafter (pictured), who has participated in the program since its inception in 2007, told The Tennessean. Rafter has since run in 10 5Ks - typically placing third or fourth, according to her mother - as well as a kids' triathlon. But where a runner finishes in a race is not emphasized in Girls on the Run. "No one feels bad because she came in second or third. The winner is not celebrated," Lori Rafter told the paper. "This program has given Abigail the opportunity to learn compassion, and how to support others."
The cost of the program is $150 per child, and slots are available on a first-come, first-served basis. However, administrators at each host location - whether a school or community center - are encouraged to identify individuals they think would benefit.
"Girls on the Run provides a safe and fun place for a young girl to learn about being physically and emotionally healthy, and to connect and get along with others," added program coach Jennifer Kimball. "It also allows girls to determine their own goals and values, apart from what's 'cool.'"