Technological advances have allowed for racing events that are all but devoid of human error.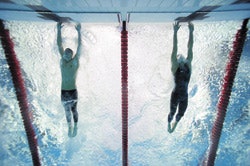 For many, the enduring image of the 2008 Summer Olympics in Beijing is the underwater photograph - taken by Sports Illustrated's Heinz Kluetmeier - of swimmers Michael Phelps and Milorad Cavic at the conclusion of the 100-meter butterfly. The frame clearly shows the fingers on Phelps's right hand slightly bent as they transferred the 6.6 pounds of pressure necessary for an Omega touch pad to recognize that the American had finished the race, and done so one one-hundredth of a second ahead of his Serbian contemporary, thus securing for Phelps the seventh of his unprecedented eight gold medals at the Games.
For officials working the event, it was a camera positioned directly above the pool's edge that expeditiously confirmed the blink-and-you-missed-it result. Even Cavic's coach backed off a post-race appeal upon seeing the backup visual evidence. Moreover, Omega reportedly reviewed the swimmers' times beyond the second decimal place, though the record will forever show that Phelps swam the event in 50.58 seconds to Cavic's 50.59 - figures that reflect the shortcomings of pool builders more so than Swiss watchmakers, according to the company. "Omega touch pads and starting blocks are part of an integrated timing system capable of recording times to the nearest one one-thousandth of a second," reads Omega's web site. "However, because it is not possible to build swimming pools in which each lane is guaranteed to be precisely the same length, Olympic and world records are still recorded to the nearest one one-hundredth of a second."
Perhaps the ability to finesse facility construction will at some point catch up to state-of-the-art sports timing, but don't hold your breath. Technological advances have made the timing of races in any number of sports all but devoid of human error, and some feel the best of times in timing is yet to come.
Whereas swimming is the only sport in which participants literally "hit the wall" upon completing a race, dry-land timing must account for individuals as they cross a line. For many events, state-of-the-art timing takes the form of radio frequency identification technology. RFID is accomplished using transponder chips carried by race participants (either strapped around an ankle, laced to a shoe or affixed to a bicycle fork). The chips are electronically signaled to broadcast their own static alphanumeric code and a timestamp to receivers at designated timelines - the start and finish lines of a race, as well as at any desired split timing points in between. The information is then relayed to computer servers, where it is matched to the race entrant's personal identification and processed using race management software for display and distribution.
RFID chips fall into two general categories: active and passive. The battery-powered active chip is the more accurate of the two, taking its broadcast cues from an 18-gauge wire loop stretched across each timeline. This makes it better able to handle high-speed events such as bicycle races (in which case the wire is positioned roughly 18 inches short of the timeline to broadcast its info as the front tire's edge crosses the actual line). "You can actually define a finish line with an active chip," says Mac Read, president of Milliseconds Sports Timing in Salt Lake City. "With a reasonable amount of confidence, you know that the time is going to be accurate and the bike that crosses the finish line first is the one that's going to be read first."
The entire reading process takes, in fact, mere milliseconds. However, unlike the active chip, the passive chip's information may be read anywhere within 3- to 10-foot-wide mats laid across the timeline - enough room for error, potentially, to equate to a runner's full stride or two and a switch in placing between runners in the middle of the pack. "For most events it works out that it really doesn't matter," Read says. "It's possible for the read to occur later in that depth of area, but I would say probably 97 percent of the time the read occurs right as you enter." (A third method of data collection involves chips mounted in racers' bibs and read by sensors located within timeline arches, but its use has been limited in the United States.)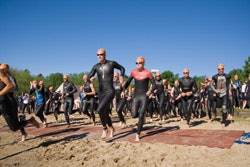 Passive chips have also carried a reputation as being more susceptible to interference from sound systems, radios and metal in the ground, but improvements in their reliability in recent years have impressed Read, whose firm handles the 7,000-participant Ogden Marathon. "We're actually looking at moving back to a passive chip for one of our larger races, and using the active chip in the events where it makes more sense - for bike races and some triathlons," he says.
Heavily populated distance runs in particular lend themselves to passive chips. Timing accuracy to the second decimal place is not critical for an event, such as a marathon, that spans hours, and the cost of the chip relative to its active counterpart ($3 versus $100 or more) makes them virtually disposable, freeing race management from the burden of having to collect perhaps tens of thousands of chips at a race's conclusion. Some event organizers have invested slightly more per unit into souvenir chips bearing the name of the race or its sponsor, thus turning the timing device into a keepsake for participants. Recycling of chips is also gaining in popularity. Athletes can take the chip assigned at one event and reuse it in subsequent races that employ the same timing system.
RFID technology is not without limitations, however. For the much shorter races and consistently tighter finishes common in track and field, high-speed photography is the technology of choice. To pinpoint precisely when a runner's upper torso breaks the plane of the finish line in the 100 meters, for example, a high-resolution camera captures dozens of extremely thin photographic frames per second. "It doesn't work like a traditional camera," explains Sean Gavigan, president of Milwaukee-based PrimeTime Event & Race Management. "It actually takes little time-stamped slivers, and it will tell us exactly, down to the ten-thousandth of a second, when the chest of that track and field athlete crossed the finish line."
Gavigan sees a day when bib-mounted chips will work in concert with cameras to more easily identify sprinters and assign them their times. The two technologies already enjoy a complementary relationship at the American Birkebeiner, North America's largest cross-country ski race at 7,000 participants and an event that presents PrimeTime with some unique challenges. Not only must RFID timeline sensors be buried in snow at points throughout the 51-kilometer race between Cable and Hayward, Wis., a chip may be affixed to an athlete's right ankle, from where it is read a fraction of a second after the left one actually crosses the line. The chip-supplied time stamp is enough to satisfy most recreational participants, who are concerned first and foremost with finishing the race. For elite skiers among the top-50 or so finishers, the camera takes precedence. "We can identify the tip of a boot, which in cross country skiing is what signifies the participant being finished," Gavigan says. "In that case, we integrate the chip identification with our camera system to identify which athlete is finishing, and we can narrow down to the exact point where the tip of the boot crossed the finish line to assign him or her an actual time."
Though a camera ultimately confirmed who had won last year's Phelps-Cavic butterfly battle, touch pads had gotten it right in the first place. It was a small reminder of why they have served as swim timing's standard-bearer for more than four decades. Years ago, Mick Nelson, club facilities development director for USA Swimming, was admittedly intrigued by laser-beam technology being introduced to aquatics, but says that in the end it couldn't outperform touch pads and it "sort of went away." "Right now, we basically want someone to touch a wall so that we have control over the length of the course," Nelson adds. "We are really specific about our dimensions. We cannot be even a thousandth of an inch short on a course, so I think right now we're limited to the touch pad."
Nelson does see advantages to using certain touch pads over others, though. Touch pads extend only as high as the gutter in most competition pools in the United States, allowing water to flow over the top of the pad. The result, Nelson contends, is a faster pool. By comparison, international touch pads extend significantly higher. "That does two things," Nelson says. "Number one, in their defense, it allows your hand to go pretty much anywhere under the starting block and still hit the touch pad; you can't put your hand into the gutter. But the disadvantage to that, and it is a large disadvantage, is that waves bounce off those touch pads, and the only place that water has to go is back into the face of the swimmer. It gives us much rougher water, especially in the sprints."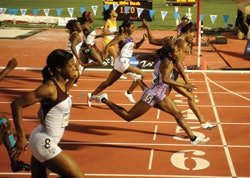 Touch pads remain the primary arbiter of results at most swimming events, from the Olympic Games on down to swim club dual meets. "At USA Swimming, if your times are going to go forward to qualify you for, say, a junior national competition, or any meet that has a qualification time, touch pads are required," Nelson says. "That way, we're not at the mercy of the human reflexes of somebody pushing a button."
That said, multiple layers of human-reflex timing still exist in support of touch pads. These include manual clock-stopping buttons pressed by lane timers, as well as traditional stopwatches. (Camera backup is typically reserved for Olympic and world championship competition.) One improvement on the stopwatch concept to emerge in recent years is a wireless system of handheld devices synchronized to activate in unison with the starter's signal but stop individually with the manual push of a button by a lane timer. The time from each lane is then sent automatically to the meet-management computer and stored if needed, eliminating the risk of human data-entry error.
Perhaps the biggest advancements to hit aquatics timing since the touch pad can be found in today's starting blocks. Manufacturers have outfitted individual platforms with speakers, so that each swimmer hears the timekeeper's signals at precisely the same instant, as well as light cues, so swimmers who can't hear at all are not disadvantaged. In addition, several models of platforms integrate takeoff sensors with existing touch pad technology to ensure that a swimmer hasn't left his or her mark before a relay teammate touches the wall - a far more accurate system than poolside judges eyeing the exchanges taking place in as many as four lanes at a time. "You're talking about tenths or hundredths of a second, so it's very difficult for the human eye to see when that kid in the water actually hits the touch pad," says Paul Vugteveen, timing sales representative for Brookings, S.D.-based Daktronics. "When we were in the testing stages of our design, we had some video evidence of our system measuring it accurately and human judges measuring it very inaccurately."
In addition to disqualifying relay exchanges, takeoff sensors also detect false starts by measuring the interval between the starter's signal and the swimmer's response. "If the time measured is less than the minimum time required by humans to react to the start signal, the swimmer has 'jumped the gun,' and the timekeeper uses an acoustic signal to indicate a false start," according to Omega's web site. Because a close race can be won or lost at the starting blocks, reaction times can be instantly relayed to a scoreboard as "value-added fan information," says Vugteveen. "That's something that fans and athletes really like to see," adds Colorado Timing Systems marketing director Tina Wallen. "A lot of teams use relay-judging platforms for training. You actually track your start-reaction times, and get faster and faster off the block."
The sharing of start-reaction times, split times and finish times has gotten much quicker, too. Timing data can be posted using real-time scoreboard updates, live web streaming, text messaging, kiosk printouts or any combination thereof. Ultimate ordering of race finishers at large events will likely have to wait, however, particularly if participants started the course in staggered waves or if they are to be ranked by age or other affinity grouping. "Time information isn't hard to turn around, but placing information can change literally until the last finisher crosses the line," Gavigan says. "I have seen it, even this summer, where the second-to-last finisher in a triathlon ended up being the overall winner, based on where he started in relation to the other participants."
Timing a sporting event is a daunting task, and not inexpensive. Investment in RFID chips alone amounted to three quarters of a million dollars at this year's Birkebeiner, according to Gavigan, who adds that timing a high school track meet with state-of-the-art technology could easily run $15,000. "It's definitely an industry where you get what you pay for," he says. "You may be able to get up and running with that, but some of the advances and options out there are what really make it easier to be accurate and to run systems smoothly." This is why PrimeTime, Milliseconds and the two dozen or so other independent sports timing firms in the United States sometimes rent hardware from each other in anticipation of a big event.
In the end, it's worth it. "There are certain events out there that are still going by eight people with stopwatches watching for that smoke" from the starter's pistol, Gavigan says. "It's not completely dead yet. But a lot of the officials we deal with on a regular basis have been doing this for 20 or 30 years. They always like to comment on how much nicer it is now than it was in the past."