Students at two high schools get their kicks from mixed martial arts programs.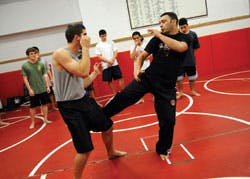 Brian Carroll had the reaction you might expect when, upon becoming athletic director at Winchester (Mass.) High School two years ago, he inherited a mixed martial arts club program that involves bare-fisted punching, grappling and kicking. "I was very leery of it," he admits. "I knew of no other schools that were doing it at the time."
But Carroll, a 1985 Winchester grad, made it a point to attend as many practices as he could. Today, despite still knowing of no other schools offering MMA as an organized sport, he advocates state-level sanctioning of the activity. "We're five years away from seeing this as a varsity sport," he predicts.
The idea may not be as crazy as it sounds. MMA - which borrows from techniques found in Greco-Roman wrestling, kickboxing, karate, judo and Brazilian jiu-jitsu, and which once was derided as "human cockfighting" by U.S. Sen. John McCain - began its American emergence in the 1990s, gradually becoming a legal, albeit violent, activity in at least 38 states. In recent years, it has been the focus of popular video games, enjoyed sellout crowds at arenas around the country and attracted pay-per-view audiences rivaling those for boxing's biggest events.
Dana White, president of the Ultimate Fighting Championship® - a Las Vegas-based organization that is considered the world's largest promoter of no-holds-barred MMA - recently told sports-radio host Dan Patrick that he thinks MMA eventually will become an official sport at both the Olympic and collegiate levels. "I don't know if it'll happen while I'm alive, but I guarantee it's definitely going to be an Olympic sport," he said, adding that the NCAA is likely to adopt MMA before the International Olympic Committee does.
"We're trying to build confidence, just as we do in any sport," says Carroll, defending Winchester's MMA club, which was begun four years ago by a former student. Marcelo Siqueira, a black belt in jiu-jitsu and owner of the Brazilian Martial Arts Center in Somerville, coaches the 18 to 24 male participants, who practice kicking and punching with pads but are not allowed to hit each other. Many of them are wrestlers, but some likely would not be involved in high school sports were it not for MMA. "We want these kids to feel good about themselves," Carroll says. "We're teaching them discipline, and we're improving their physical conditioning. But here's the best part: They're really becoming tight as teammates. Some of these kids didn't have anything before this program. Now they're part of something."
"There's nothing wrong with teaching kids to defend themselves, not in today's world," adds Terry Richardson, principal of Miller (Mo.) High School, which offered MMA as a physical-education class during a month-long summer school session in June. The daily program (which took place in the school's gymnasium and was overseen by Spanish teacher Jered Gibbs, an MMA fighter with a black belt in hapkido and a blue belt in jiu-jitsu) did not allow students to punch each other and attracted about 50 boys and a few girls in grades seven through 12; that's one-sixth of the entire student body at Miller's middle and high schools. Richardson compares the program to wrestling in P.E. class. "We can't allow ground-and-pound to go on in a school setting," he says, adding that nonetheless "the kids were enthusiastic about it and really enjoyed it, because it was something different. It's a popular sport right now with teens; it's the new boxing."
It's also safer than many people think. MMA's only casualty in sanctioned competition came in 2007, after 35-year-old Sam Vasquez was hospitalized after being knocked out by a barrage of punches from 21-year-old Vince Libardi during a Renegades Extreme Fighting event at Houston's Toyota Center. He died about six weeks later.
Both Carroll and Richardson report that no one has been injured through their MMA efforts. "MMA is always going to be controversial. But there are a lot of things that can be done safely. We made it as good as it could be without anyone getting hurt," Richardson says. Miller parents signed a waiver letting their kids participate in the summer program, just as they do for an after-school karate club. That said, the future of the MMA program remains unclear. "If we get feedback from the school board that two or three members are really concerned, we're not going to push it. We're not looking for a controversial issue that might endanger our jobs. But we had the opportunity, and it was a good way to get the kids active. They were worn out after every session."
Winchester's MMA club meets three times a week during the fall and spring sports seasons for two hours each in Winchester's wrestling room. There are no meets, but all practices are open to the public. Several participants also attend MMA classes at area facilities for additional instruction and competition. Not surprisingly, the school's involvement in the sport has been getting national attention in recent months, and not always the good kind. "This is simply insane," posted one online commenter about a story that appeared in The New York Times. "Whoever approved this isn't an educator, they're a wannabe fight promoter and should be looking for another job." Another commenter called Winchester's MMA program "a tragedy waiting to happen." Still, the overwhelming majority of the article's 112 comments were positive.
"Everyone's going to have their opinion," Carroll says, steadfast in his belief that the school has set proper boundaries for the sport. "There's a woman in Michigan who thinks I'm the devil for offering this."
Although the National Federation of State High School Associations does not track club sports and is unaware of any other schools with an MMA program, assistant director John Gillis recognizes the sport's increasing popularity and even goes so far as to compare it to another interscholastic activity that once seemed unlikely. "Back in 1995, Minnesota did something that may have seemed crazy at the time and had the first girls' state ice hockey tournament," he says. "Back then, that was a radical concept. But now there are girls' ice hockey state championships in seven or eight states. Who would have thought that 15 years ago? This might be next; you just never know."
Carroll has fielded phone calls from school administrators around the country who want more details about how Winchester is making MMA work. Whether those conversations will lead to more interscholastic MMA programs is anybody's guess. "We wouldn't even schedule an event with another school until we had full trust in that coach and that program," Carroll says.
And if MMA doesn't catch on at the prep level? "We're still in it for the long haul," he says. "We have 24 kids who are enthusiastic about the sport. We can't control the pace that the sport moves at the high school level, but we can control what we provide for our athletes and the experience we give them."