Prep swimming moves forward following the ban of controversial high-tech suits.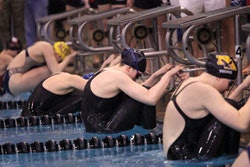 The 2008-09 boys' and girls' high school swimming seasons reflected what was happening at every level of competition during the past 16 months: Records fell with alarming frequency. Twenty world marks were established at the 2008 Olympics, and 43 during the 2009 World Championships in Rome. Meanwhile, SwimmingWorldMagazine.com reported that at least 70 NCAA records were broken.
High school swimmers set 10 national marks in 2008-09, "which is a lot," according to Becky Oakes, the assistant director of the National Federation of State High School Associations who oversees swimming and diving. While typically only two or three national records fall every year, Minot (N.D.) High School's Dagny Knutson set three on her own at the 2008 North Dakota girls' state swimming and diving championships. At that meet, she wore a Speedo LZR Racer, one of a popular and controversial new breed of sleek (and pricey) full-body, low-drag and water-repellant swimsuits coated in neoprene or polyurethane for added buoyancy. Knutson took approximately two-and-a-half seconds off both the 200-yard and 500-yard freestyle marks - in the process, unseating five-time Olympic medalist Janet Evans, who had held the national public school record in the 500 free since 1988.
Following the lead of FINA, swimming's international governing body, both the NFHS and the NCAA banned so-called "speed suits" last summer because of the unfair advantage they created. The NCAA also intends to provide pre-2009 records on heat sheets at the 2010 Championships as a point of reference, even though all new records set in 2009 will stand. USA Swimming outlawed the suits beginning Oct. 1, and FINA's rule changes take effect Jan. 1. Michael Phelps, who endorsed the LZR Racer and won eight gold medals in Beijing and five in Rome, recently told Bloomberg News, "Some records may not get broken ever again."
Suits for men must now not extend above the navel or below the knee; women's suits may not cover the neck or extend past the shoulders or below the knee. Also, material can only be textile fabric, defined by FINA as materials consisting of "natural and/or synthetic, individual or non-consolidated yarns used to constitute a fabric by weaving, knitting and/or braiding." Additionally, any material added to the surface of the textile fabric may not seal the original open mesh structure of that fabric.
Under new high school rules in place this fall, Knutson had not topped her personal best times as of this writing, but she did establish several new pool records in North Dakota and Wyoming. As Oakes says, "She's the caliber of swimmer who is going to set some records, regardless of what she's wearing."
While it's highly unusual for a high school rule change to undergo immediate implementation, the National Federation's swift action was met by widespread approval. "It's a victory for the sport in general," Arvel McElvoy, Olathe (Kan.) South High School swimming coach and president-elect of the National Interscholastic Swim Coaches Association of America, told The Kansas City Star. "It puts everybody on an even playing field, too. With the suits costing $300, $400, $500, some kids can afford them and some can't. The sport should be all about the athlete and not the equipment they are wearing."
The NFHS did not keep track of how many high school swimmers wore the high-tech suits. But Joel Stager, a professor at Indiana University's Counsilman Center for the Science of Swimming, notes that approximately one out of every two boys and girls participating in the Indiana 2009 state championships finals in February wore suits made with "neoprene-like" fabrics.
"Going into this, we underestimated the number of swimmers who would expend the funds to purchase those suits," Oakes says, adding that members of the federation's Swimming and Diving Rules Committee were concerned about student-athletes who felt at a disadvantage if they were not wearing them. "It was one of those things where technology got a little ahead of the sport, and it just didn't mesh real well. Uniforms are, for all intents and purposes, uniforms, and they don't really impact the outcome. But these suits crossed that line and had a tremendous impact on performance."
Time will tell if the number of new national swimming records takes a dive during the 2009-10 prep seasons. But early reports indicate that finish times continue to improve, even as swimmers return to more traditional attire. In Illinois, for example, Downers Grove North High School junior Haley Sims broke her own meet records in three individual events earlier this fall after setting all previous marks in 2008 wearing one of the now-banned suits. "I feel like I have enough strength and my technique is good enough to carry me through without too much of a difference," she told MySuburbanLife.com, adding that she has mixed feelings about the rule change. "I'm a little upset. I really liked those suits. They just feel so good when you're in the water."
Sims, like everyone else, is adjusting to the changes. Despite some initial challenges - teams scrambled late last summer to determine the legality of specific suits - Oakes says the transition has gone smoothly. "The rule change was received well and in a cooperative spirit," she says. "People want to do what's right for the sport. I can't think of any sport where any one issue has brought an entire sports community together like the suits did."
The plan is to keep speed suits out of high school swimming at least through the academic year and then re-evaluate the rule next spring - although a change isn't likely unless FINA modifies its stance. "The first big step was to get away from the high-tech suits," Oakes says. "The change in the style of the suit puts the onus back on the swimmer, and may the best swimmer win."