Under the March 21 headline "UT Relieves Bruce Pearl of Duties," the University of Tennessee athletics web site offered a 79-word announcement regarding the departure of the Volunteers' men's basketball coach.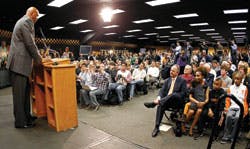 Under the March 21 headline "UT Relieves Bruce Pearl of Duties," the University of Tennessee athletics web site offered a 79-word announcement regarding the departure of the Volunteers' men's basketball coach. Statements by UT chancellor Jimmy Cheek and director of athletics Mike Hamilton were attached as pdf files, but the announcement made clear that "there is no planned media availability for Dr. Cheek, Hamilton or Pearl on this matter."
So came the unceremonious end to a once-celebrated hire.
How an athletic department communicates a coaching change varies by circumstance. The announcement of a successful coach leaving for greener pastures likely won't be treated the same as a retirement, and dismissals can differ most of all. The day Pearl was fired, women's basketball coach Lisa Stone was let go by the University of Wisconsin, which released a statement from Stone thanking the UW administration for her eight years in Madison. "This program has meant the world to me, and I have put my heart and soul into it," Stone's statement read. "It has been an honor to be the head coach for the Wisconsin Badgers."
Which direction a school takes in those situations "depends on how amicable the divorce is," says Randy Burnside, assistant athletic director for media relations at Marshall University, where he has dealt with more than a dozen coaching changes, including six in football and men's and women's basketball. According to Burnside, the role communications staff members play in closing one chapter and opening another is critical to a smooth transition, and perhaps even the long-term success of the new coach.
"I don't believe there's a more important aspect to our job than our ability to build relationships," Burnside says. "Through it all you have to understand that your loyalty lies with your school. I know when we build those relationships with our coaches, we can become pretty close to them. That's good. We need to have strong relationships with coaches. But at the end of the day, we have to do what's best for our institution."
In late March, with the basketball coaching carousel spinning at full speed, Burnside and other athletics media relations professionals assembled to discuss "Navigating Coaching Changes from the Communications Perspective," part of the continuing education outreach of the College Sports Information Directors of America.
A major focus of the hour-long discussion was assimilating the replacement coach to his or her new surroundings. "As soon as you can, you want to get in front of the new coach and basically give him or her the lay of the land," Burnside says. "Every media market is different, every institution is different, and I think for the most part the SID knows your school just about better than anyone else on campus."
New coaches should have the ear of the communications staff in terms of the coach's personal job expectations. At the same time, the staff's expectations and those of various constituent groups should be shared with the coach. Support from top administrators in this relationship-building effort is invaluable, but not always guaranteed, Burnside adds. Sometimes the bigger the hire, the bigger the stage for the athletic director, forcing other athletic department players into the wings. "It's really good to have a strong athletic director who understands this and involves the SID early on," he says. "But I do know in some cases that doesn't always happen."
When dealing with new coaches who bring experience from other institutions, communications staff should be assertive but flexible. "Some coaches coming in want to make their mark. They don't want to necessarily do everything that's been done before," says Jennifer Rodrigues, assistant AD for media relations at the University of Memphis, which replaced its men's basketball and football coaches during the past 25 months of her 14-year tenure. "It's very important to try to get their ideas on the front end, which also may mean talking to some of the schools where they've worked just to get a feel for what they have done."
First-time head coaches can pose particular transition challenges. Says Burnside, "I can't tell you how many times I've heard from our new coaches, 'I had no idea everything that went into this job,' or, 'I didn't understand all of the responsibilities I had with radio and television,' or, 'I didn't understand I would be out there fundraising for the university as much as I am.'"
Even an assistant coach who is promoted to head coach from within should be treated like one hired from outside the university, says Roy Pickerill, sports information director at Division II Kentucky Wesleyan University. "Basically, it's like bringing in a brand new coach," Pickerill says. "I don't assume anything - that he knows this policy, that policy, this procedure, that procedure."
Pickerill strongly believes in taking the extra step of escorting new hires to media outlets for a meet-and-greet in advance of their introductory press conference. Chris Attwood, whose hiring as sports information director at Division III Elms College in Massachusetts last year coincided with the hiring of four coaches (including three first-time head coaches), outlines in-season and out-of-season protocols for each new coach, something he considers "very necessary in terms of getting everybody on the same page."
If this is beginning to sound like micromanaging, consider the 20/20 hindsight of Burnside, who once dealt with a coach who felt he had been burned by the media in a previous job, and consequently never built solid relationships while at Marshall. "In retrospect, we should have worked with him more on that," Burnside says. "It started him off on a bad foot in a lot of ways. That probably hampered him over his time here, because he was never able to quite recover from that."
These days, athletics communications professionals must deal not only with coaching changes, but with changing media. Less than a week removed from Pearl's dismissal came news of Tennessee's latest hire - Cuonzo Martin from Missouri State. The ensuing mainstream media coverage was so positive that an embattled Hamilton saw fit to re-tweet the glowing takes of Sports Illustrated's Seth Davis and ESPN's Dick Vitale, among others.
When asked how common it is for an athletic director to utilize social media in such a way, Burnside says, "I know, personally, that my athletic director would not be using social media to that degree, but I don't think it's necessarily a bad thing if the director of athletics wants to communicate to constituency groups that way. He's making a hire, and of course he's going to want to put the best face on it and promote it. More power to him."
But any school that handles coaching announcements and introductory interviews exclusively through its own online media channels runs the risk of alienating mainstream beat writers and reporters. "We value our relationships with the four TV stations that we deal with and the three daily papers that cover us regularly, because they do have other options," Burnside says. "We want those pages to have Marshall in them, so we're going to do everything we can to help."
Burnside also takes pride in the fact that he has managed to maintain relationships with coaches even after their Marshall days are behind them. "Maybe I've been lucky, but I keep up relationships with most of our former coaches," he says. "You never know when your paths are going to cross again, and how valuable that can be to you in your career and in their careers. This business is filled with a lot of crazy quirks that can happen. At the end of the day, it's all about the relationship building and who you know, how you got there. I think as long as you keep up that positive relationship, good things will happen."