Rick Creehan has been here before. Not here, exactly. When he started out in higher education in 1984, it was as the baseball coach at Allegheny College - a relatively well-known school, where he was given a relatively straightforward charge of producing winning baseball teams.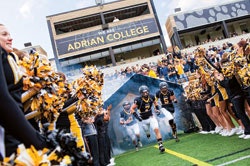 He served as athletic director at Allegheny and subsequently at Washington & Jefferson College, another relatively well-known liberal arts college, and then shifted to administration in 2005 (as executive vice president) at lesser-known Adrian College.
Now he's at the smallest and most obscure stop on his small-college tour; last June, Creehan was named president of Alderson-Broaddus College in Philippi, W.Va. But all the same, he's being counted on to achieve what Allegheny, W&J and Adrian all did with his help - use the construction of sports and recreation facilities to help boost college enrollment.
Jeffrey Docking, meanwhile - Creehan's boss as vice president at W&J and president at Adrian - oversees a transformed Adrian College campus, which is expanding its academic programs and facilities using the money generated by its investment in sports and recreation programs and facilities.
"Our philosophical starting point was to get into the minds of 17-year-olds," Creehan says of what he and Docking have variably termed their "enrollment growth," "admissions growth" or "affinity based" model that has boosted the fortunes of their institutions. "At Old Navy and Abercrombie & Fitch, everything - the colors, the styles, the music playing in the stores - has been tested and marketed with regard to what is appealing to a 17-year-old. Well, our consumer is the same age. How do they think, how do they react, what are they basing their buying decisions on? Sports and recreation facilities support the strategic plan and the whole model. It has worked everywhere I've been."
Docking, whose first move after becoming president at Adrian was to hire Creehan away from W&J, concedes that Alderson-Broaddus' lack of name recognition represents a potential impediment, but says he wouldn't bet against his former colleague. After all, the two arrived at an Adrian College campus that was in similarly dire straits. "Enrollment at Adrian had been falling steadily for 10 years, and in the spring of 2006 we were down to 840 students," Docking says. "We had a budget that was hemorrhaging money to the tune of $1.2 million a year. We had dandelions everywhere on campus; we had leaky roofs. We had students who were not, I think, academically strong enough to be successful at a small private liberal arts college. It was not a good scenario. And it's not just this place; this scenario of small privates being in trouble is germane to the situation in America, especially when schools are charging kids up to $50,000 a year to go to school.
"There are small schools closing their doors because they can't make the numbers work. Rick Creehan's school had about 500 kids last year. He's got to do something, or it's going to be game over."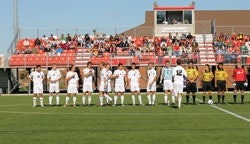 The "something" will be adding new sports programs, which will require an investment in new facilities but also - critically - the student-athletes to fill out team rosters and utilize the new facilities. This was the crux of the plan that Creehan and Docking put in place at Adrian. Certainly, it was not unique - the campus sports and recreation building boom is credited with boosting the fortunes of countless institutions over the past 20 years - but the magnitude of the plan's success at Adrian has been startling.
In six years, enrollment has doubled to 1,670 students, the operating budget more than doubled to $55 million, an athletic program that was among the worst in the Michigan Intercollegiate Athletic Association is seeing success in a number of sports, and fundraising has exploded, a trend capped in December by the single largest gift ($20 million) in the school's history. Also, U.S. News & World Report ranked Adrian as a Regional Top Baccalaureate College in the Midwest in its 2012 edition of America's Best Colleges, the fourth consecutive edition to honor the school (in 2009 and again in 2010, Adrian was named the "#1 Up-and-Coming School in the Midwest").
Creehan had been thinking about this sort of potential as a young AD at Allegheny, when he began tinkering with the concept of "admissions yield," as he called it. (He gained notoriety there by holding coaches accountable for how many inquiries, applications, acceptances and tuition deposits they generated for the college as they recruited athletes.) Under Creehan's watch, Allegheny opened the David V. Wise Sport and Fitness Center in 1997, which included a 200-meter track, an aquatics center, a fitness center and a performance arena that was used for rec programs as well as to host intercollegiate athletic events. Administrators there had already recognized the need for updated facilities, he says, and the Wise Center was credited with helping reverse back-to-back declining years of enrollment (Allegheny now has a student body of 2,100, up from around 1,600).
Arriving at Washington & Jefferson in 2002, Creehan found a like-minded administrator in Docking, who while serving as dean of student affairs helped found W&J's men's ice hockey club team in 1998 and for a time served as its coach. A former player and lifelong proponent of the sport, Docking had by then been pressing for the construction of an on-campus ice venue for four years, arguing that the facility could be a boon to the college and surrounding community at a time of booming national interest in hockey. Although he was unable to convince the school's president or board of trustees of that project's value, he and Creehan, his new athletic director, oversaw the partial implementation of their enrollment-growth model, which involved the creation of four new athletic programs - men's and women's lacrosse, field hockey and water polo - as a means to boost enrollment, which had "flatlined at 315 incoming students," Creehan says.
The additions to the outdoor athletics program were the impetus behind Ross Memorial Park and Alexandre Stadium, which was completed in 2004. At the time the largest continuous synthetic turf field ever built, the venue accommodated men's and women's soccer, men's and women's lacrosse and baseball. Its debut followed the 2001 renovations of Swanson Tennis Courts and the 2001 and 2003 renovations to Cameron Stadium (home of the football, track and field, and women's field hockey teams), and the early 2004 renovation of Brooks Park (home of the women's softball team). Along with the completion in 2002 of the Swanson Wellness Center, the flurry of upgrades to the athletic program was credited with reviving enrollment (the 2003 freshman class numbered 469).
"Rick and I were able to put part of this plan in place at W&J, and we had seen how the plan could work," Docking says. "The problem was that I wasn't the president there, and neither was Rick, so we couldn't convince the administration to put the entire plan in place. When I got the presidency at Adrian, one of the things I said to myself and to Rick was, 'I'm the decision-maker. We're going to put this entire plan in place.'"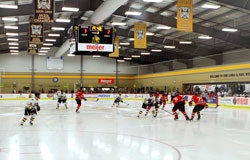 They had to do something. Docking says that the things presidents usually do in the desperate circumstances Adrian found itself in 2005 - increase advertising and send out more direct mail, casting as wide a net as possible to get more applicants - isn't likely to work if the school is seen as being in crisis and has few selling points. Still, Docking was worried that his prescription for what ailed Adrian would be viewed with more than a little distrust by the board of trustees - not to mention the hiring committee.
"What I told them in my interviews was that they had a big problem, and that was enrollment, and they needed somebody who could grow enrollment," Docking says. "I was a little obtuse about how I was going to grow enrollment, because I knew this plan was very different and somewhat radical by higher education standards, and I was afraid if I said this is how we were going to do it, I would not get the job. I just told them I had a plan, and that I felt confident the plan would work."
Adrian hired Docking in February 2005. In the time between his hiring and when he officially started in July, he drew up an action plan, soliciting input from Creehan. They knew that 17-year-olds were drawn to athletics and recreation. "My read on them," Docking says, "was that the first thing they were concerned about was the academic quality and reputation of the institution, whether it had the academic program they were interested in. But then they quickly dropped down to what else they can do besides go to class, study and pull grades. A lot of kids want to be able to continue to pursue something that they were absolutely passionate about in high school. If we could appeal to those kids, we would be able to get an awful lot of applicants who wouldn't give us a look without those programs."
That a building binge fueled by donations and borrowed cash would attract students to Adrian was something that, at first, the board would have to take on faith. Able to point to their success at W&J, Docking and Creehan won immediate approval for construction of a $5.5 million multipurpose stadium that would bring Adrian's football team back on campus from a nearby municipally owned field.
"It was a whirlwind," says Creehan. "We were running at warp speed from the day I was hired. We had committees on campus meeting with architects, other meetings with city officials to get permits, at the same time we were interviewing potential construction management firms and engineers. I would not recommend this to anyone, but we needed to get the building built. It was critical to the college to get started, because we had a whole series of venues we wanted built, and we needed to demonstrate momentum to the marketplace - that Adrian was ready to engage in the market."
As this was happening, three months before the stadium's January 2006 groundbreaking - fast-tracked, it was able to open in time for the September 2006 football opener - Docking was spelling out the full plan for the board of trustees.
"I thought, 'How many kids does Adrian need to keep the lights on, to mow lawns, to pay salaries?' " he says. "I knew at that time that I was going to make between $16,000 to $18,000 on every kid, given that there are no athletic scholarships. I figured we were going to need 1,400 kids to make this work."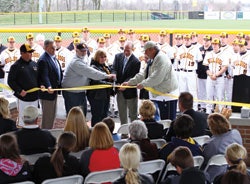 From there, it was a matter of selecting programs that could be up and running quickly. Armed with admissions department data estimating that around 120 students would enroll each year just by virtue of the school's existence in Adrian, Mich., as well as data confirming a certain amount of attrition as students transfer, drop or flunk out, Docking settled on a target of 400 freshmen each fall. They knew they'd get 120 kids by doing nothing - now, how would they get the other 280?
Docking told the trustees, "I've got a plan that's going to find these 280 kids every year, but it's not going to be 'cross your fingers and hope they arrive.' " They asked how much money he was going to need. Docking told them $30 million. He promised to raise half, but even still, this was a group that had never borrowed more than $5 million at any one time, Docking remembers. Asked for an example of what else he would build, Docking said, "An ice rink."
Docking says the board chair turned to the woman next to him and said, "Who's going to tell the new guy we're not going to build an ice arena at this college?"
"I said, 'We have to. This is cold-weather country up here; there is not a whole lot going on between Halloween and the spring thaw in April,'" he continues. "'Secondly, we have the Red Wings, a dynamic organization, an hour and a half down the road, and there are tons of kids who play hockey up here. There aren't enough places for them to play. If you build an ice rink and tell kids they can play hockey at Adrian, I'm telling you, they'll come out of the woodwork.'"
Docking had finally gotten his rink. Shovels went in the ground as the stadium was nearing completion.
Arrington Community Ice Arena opened in September 2007, and it followed the plan Docking had envisioned for W&J's never-built rink. Its $6.5 million construction cost was funded by a $2.75 million gift from a trustee, other alumni donations and local government entities, and as its name suggests, it is open to the community during the times that the new Adrian College sports programs aren't using it.
It would be hard to overstate what the rink has meant to the school's fortunes. Docking's original equation put things bluntly: "We're going to bring in 30 kids to play men's hockey, 30 kids to play women's hockey, 30 kids to play club hockey, 30 kids to do women's synchronized skating, 30 kids to play on a second club team - that's 150 kids who will come to Adrian who would not have come here without that rink." That was the same recipe used to add men's and women's lacrosse - Docking figured at the time that each player on a 12-person roster would pay Adrian $26,000 a year in tuition and room and board, meaning that an $80,000 annual outlay to a lacrosse team would produce $312,000 in revenues - as well as a marching band.
The "Renaissance" campaign ended up encompassing a new tennis complex, a stadium dedicated to track and field, a practice complex for football, lacrosse and soccer, and a baseball stadium, as well as related spaces such as a building housing indoor batting cages. The existing women's softball stadium, meanwhile, was renovated. (Apparently not enough, however. In September, Adrian administrators agreed to make changes to the college's sports program, the culmination of a three-year investigation, which followed a complaint filed by the college's former assistant athletic director and head softball coach, finding the school in violation of 11 gender-equity rules. Adrian will add at least one more women's sport, install lights at the softball field and build a women's locker room in its multipurpose stadium, as well as make changes with regard to coaches' compensation, recruiting budgets, athletic scheduling and equipment purchasing.)
The increase from 16 sports to 24 was not without its hiccups. Field hockey failed to gain a foothold after the newly installed coach, hamstrung by Michigan's lack of sanctioned high school programs, was unable to lure field hockey players from established eastern locales. Its place in the women's program was taken by bowling - bolstered by the 225 Michigan high schools with varsity or club-level bowling teams and a new bowling center constructed just down the road from campus.
The school is currently in the midst of "Renaissance II," which targets academic programs (plans for adding a symphony are being drawn up) and facilities, including renovations and expansions of buildings devoted to the science, business and visual arts departments, and construction and/or renovation of space devoted to the performing arts. A new music building opened in August 2010. As Docking and Creehan had promised, the surge in enrollment made all this possible. "I said to the faculty, 'Look, we're going to be putting a lot of money into sports and co-curriculars, and it's going to appear to you that academics doesn't matter. It does matter, but first you've got to let me grow enrollment,'" Docking says.
Could it have worked the other way around? Docking says no.
"No kid ever wakes up in Ann Arbor and says, 'I want to go to Adrian College because I read in the newspaper that they just added music practice rooms,' " he says. "But there are a lot of kids in high school who want to play in a marching band, only they might not be able to at Michigan State or Michigan or wherever, because it's just too competitive."
Asked if the "admissions yield" model could have worked by fast-tracking a science building, Creehan agrees: No. The difference is in the way colleges recruit, or don't recruit, students.
"The problem is that science professors don't typically sit at their desk night after night making recruiting calls to future scientists," Creehan says. "But it's in coaches' DNA that they're going to make recruiting calls at night. It's just not in the culture of academia. And it's not going to be in the foreseeable future."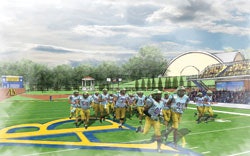 College admissions departments speak in terms of their "pool of applicants," and they typically cast a large net. The fishing metaphor eventually breaks down, because after the people holding the net select their catch, the fish have their say, too - the school might get to keep a quarter of the freshmen it has admitted. Coaches fish on a much smaller scale, with a pole as well as a net, and when they're judged by how well they have done in recruiting, it's typically by way of a secondary metric: Their win-loss record.
Not so at Adrian. Years after "accountability" became a mantra under Creehan at Allegheny College, Creehan and Docking built it into Adrian's model from the start. When Docking made his rink pitch in October 2005 - "It's not going to be 'cross your fingers and hope they arrive' " - he went on to tell the trustees, " 'We're going to know they're coming, and if they don't come, we're going to know who is responsible and accountable, and who's going to get fired because they didn't get the job done.'"
"What has changed at the small-college level is how active the coaches are in the enrollment process," Creehan says. "They have in essence become an extension of the admissions office." Accordingly, all coaches are given a number, and (for example) all printed applications of the type handed out to prospective students are coded so completed applications can be tracked. If the designated number isn't reached, heads can roll. Docking says several coaches have been fired for this reason, but he maintains that the majority of coaches approach their jobs with such fire that reaching the number isn't a major worry.
"Because hockey coaches and marching band directors are so passionate, they bring in more than you ask them to," he says. "The marching band director has got 112 kids now. We thought we were going to stop at 80, but he didn't want to stop at 80. He would have a band of 200 if he could build it."
Docking concedes that success with sports programs can create an infrastructure issue - a larger student population would require (and has required) more residence and dining halls, and could cut into the personal attention that is one of the selling points of small private schools - but he is unapologetic about Adrian's focus on the bottom line. "The long and the short of it is that the band director has to bring in kids - that's how we're paying for his salary and all the other things that are going on around here, including the stadium we had to build for them to play in," Docking says.
Frank Hribar, Adrian's vice president of enrollment, can attest to sports' unique ability to broaden a college's (if you will) fishing hole. "Our Division III football team competes primarily in Michigan, Indiana and Ohio, but hockey takes us to Wisconsin and Minnesota and into larger institutions - our club hockey team had a game last fall against Arizona State - and through lacrosse we're seeing students from the East and West Coasts," Hribar says. "Varsity and club sports broaden our institutional profile and geographical scope. There's name recognition, awareness of who we are, through our sports program in areas we had not been able to reach before."
In his last years at Adrian, Creehan's job responsibilities had grown well beyond sports, to dealing with other construction necessitated by the successful expansion of enrollment. He led the acquisition of three apartment complexes that were converted into residential housing, and supervised the construction of the college's newest residential facility and the restoration of a dorm that had been mothballed since 1979. Now, in his first year at A-B, it's back to sports. Alderson-Broaddus needs to grow enrollment, and fast. Last fall, Creehan announced that football, men's and women's lacrosse, women's tennis and men's volleyball will begin play in 2012. The college intends to add a marching band, a color guard, and cheerleading and dance programs in 2013. Groundbreaking on a new outdoor multisport complex will take place in April, although Creehan says that, as of early January, the college had only raised enough money to pay for the turf and lights. More funds will have to be raised to build a new residential village to accommodate the growth of enrollment that Creehan anticipates - from 500 to 1,000 - which he says will take four years to achieve. To succeed, he has to raise funds from an alumni base that largely didn't count sports among their fond memories of A-B.
Will Creehan succeed? And what will it mean to Adrian and Allegheny if all small colleges go down this same path? Docking says, "My feeling is that even though other schools can replicate this, and have, my competition isn't other small private liberal arts colleges. If Siena Heights and Alderson-Broaddus and I are fighting over half a dozen kids that may go here or may go there because we all have lacrosse, then we're all in trouble. I see my competition as Michigan State and Michigan, schools with 20,000 to 40,000 students. If I can get 25 kids every year to come here that were going to go to the big schools but know they're not going to be able to do things at those schools that they can do here, then I make my class. Only 8 percent of the kids who go to college choose this type of school - that's the part of the pie I need to grow. I think that by doing what we did, all these small private colleges can benefit."
"Not every institution needs sports to compete," Creehan says. "But when you're rural and residential, and you're trying to figure out what's going to attract kids there, you have to have something to draw them. I know that whatever Adrian College was doing prior to our arrival wasn't working."