Bruce Kirsh has been associated with Franklin Pierce University for more than four decades as a student-athlete, coach and administrator.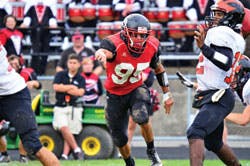 Bruce Kirsh has been associated with Franklin Pierce University for more than four decades as a student-athlete, coach and administrator. For at least the past 30 years, calls on the longtime athletic director to launch a football program had been ringing in his ears. "There was always a core of male students on campus who wanted to know why we didn't have football," Kirsh says. "Some of them continued to push it as alums. But it was only in the past year or so that I really started entertaining the thought, because I felt like we had enough financial challenges funding the sports we had."
That changed when Franklin Pierce, an NCAA Division II school in rural Rindge, N.H., received a substantial gift toward the construction of a 10,000-square-foot field house addition featuring athletic training and rehab facilities. The athletic department's contributions to overall enrollment were reevaluated, and the decision was made to add men's and women's track and field, women's ice hockey and sprint football programs, which combined are expected to increase this fall's freshman class by 100 students. Of 1,400 students attending Franklin Pierce in 2012-13, as many as 500 will be student-athletes. "Next year, we'll offer 24 intercollegiate sports," Kirsh says. "But until you offer football, something's missing."
At Franklin Pierce, the void is being filled by a team half the size in number of a typical NCAA football roster, and with players not even two-thirds the size of a typical Division I offensive lineman. In sprint football, the lone deviation from standard NCAA playing rules is that student-athletes carry a maximum weight of 172 pounds and a minimum body-fat percentage of 5 percent during weigh-ins conducted four days before games.
It's the Collegiate Sprint Football League at large that's witnessing a growth spurt of late. Three teams have joined the CSFL since 2008, when Mansfield University turned to sprint football as an economical and expeditious alternative to its Division II program, which was dismantled to much shock and consternation after the 2006 season. Up to that point, the league had since 1957 carried five members - Penn and Princeton (which each established sprint football programs in 1934), Cornell, Army and Navy. Mansfield, Post University and Franklin Pierce further represent a departure from league norms in that each is a Division II school with no traditional football program operating concurrently.
To be able to rub elbows with the CSFL establishment has been a selling point for the startups. Steve McCloskey, director of athletic operations at Mansfield, recalls a meeting with then-president Maravene Loeschke, who was visibly distraught after rejecting the five-year fundraising proposal presented to her by a room full of hulking former Mountaineer linemen desperate to resurrect Division II football at the school. "I just said, 'What if I was to tell you that there is a football league out there that would allow us to start playing football within a year, that costs 80 percent less than Division II football, that's better for gender equity and that would have us playing Princeton for homecoming?'" McCloskey says. "She took her head out of her hands, looked at me and said, 'We can play Princeton?' Even those football players could sense that this was it, that this was that one thing that met everything she said it had to meet. It had to be affordable, and there had to be the opportunity to do it well."
"You are the company you keep," says Doug DeBiase, director of athletic communications at Franklin Pierce, which turns all of 50 next year. "To be in some way associated with those schools, I think, helps to enhance and bolster the Franklin Pierce name."
First-year teams are eased into the league with schedules that do not include Army or Navy, regarded as the CSFL's most athletic teams. McCloskey saw to that when negotiating Mansfield's inaugural schedule in 2008, and the policy stuck. Coaches are allowed to recruit off-campus for a program's first two seasons and to hold five spring practices between seasons one and two. After that, only 16 preseason practices are allowed and all recruiting is done via phone, mail and e-mail. Prospects can visit campus, but their on-field exploits are evaluated using only video. "Not a lot of kids from the state of New Hampshire play college football," DeBiase says. "Maybe it's because of their size. This is an opportunity for them to stay close to family and friends and get to play for another four years."
But can sprint football hold fans' interest? "I think there is some apprehension, because they've never seen it," Kirsh says. "They say, 'Oh, so it's not real football.' And I say, 'No, it's real football, just as you would see on TV, but played by men who have weight restrictions.' Some are convinced by that; others want to see it. I think when they see it, it will satisfy them."
"The simple answer to the question is yes - I think it can, I think it does," says Cornell associate athletic director Steve Erber, who as acting CSFL commissioner has presided over the recent expansion. For proof, look no further than Mansfield, which consistently leads the league in attendance, drawing anywhere from 2,500 to 3,000 fans per game, according to McCloskey. Home games feature all of the trappings of traditional football - tailgaters, face-painters, cheerleaders and The Pride of Pennsylvania Marching Band. "Teams want to come here," McCloskey says, noting that opponents are often as inspired by the crowd size and pageantry as are the host Mountaineers. "It's kind of a catch-22 atmosphere, because usually you want your home fans to psych up your team. But we're able to create an atmosphere that celebrates Mansfield four times during the course of the year right here on that field. That's what sprint football brings to the university."
It could be that sprint football has reached its own maximum stature. When Franklin Pierce begins facing all CSFL teams in 2013, it will allow for a seven-game round robin to determine a league champion. "Our bylaws call for a maximum of seven games," Erber says, "so that actually creates a perfect scenario."
That is not to say that other schools aren't interested in the concept. Rochester Institute of Technology began pondering a team last fall, and Erber occasionally fields calls, often from students, about starting up a sprint football program. "My first response is that our sprint football league, the CSFL, requires member schools to sponsor sprint football as a varsity sport. So, if you want to be in the CSFL, the first thing you need to do is speak with your athletic director about starting the program. Often, the students think this can be a club sport," Erber says. "There are an awful lot of schools and colleges that do sponsor football teams, but not of the sprint variety, and it takes a reasonable commitment to start another football team with 65 guys on the roster."
More daunting still, a coordinated effort among multiple schools would be required to create an entirely new conference. Erber, for one, would welcome it. "There's no reason there couldn't be a West Coast sprint football league and a Midwest sprint football league," he says. "To my way of thinking, it makes a heck of a lot of sense - mostly for schools that don't have football but would like a football presence on their campus, and maybe for schools that currently have football and are finding that they're really struggling to afford it. It's a terrific model for intercollegiate athletics, and a lot more like what intercollegiate athletics should be than what it has morphed into. ESPN doesn't run the Collegiate Sprint Football League."