John Paul huddled with his players after they had just defeated Michigan State in last year's club lacrosse regular-season finale. Paul, a University of Michigan alum and former athletics administrator who over 14 years built arguably the most successful club lacrosse program in the nation, had an announcement to make.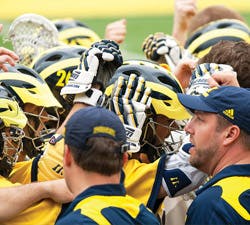 John Paul huddled with his players after they had just defeated Michigan State in last year's club lacrosse regular-season finale. Paul, a University of Michigan alum and former athletics administrator who over 14 years built arguably the most successful club lacrosse program in the nation, had an announcement to make. The Wolverines were making the jump to Division I, beginning with the 2012 season.
Shocked silence.
Fast-forward 12 months, and the shock lingers. The team, which lost one game in 59 while capturing three consecutive club lacrosse national championships between 2008 and 2010, tasted victory only once this season, but its Division I presence has nonetheless sent reverberations throughout collegiate lacrosse. No BCS school had launched a varsity men's lacrosse program since Notre Dame did so in 1981. "A lot of people are calling us the biggest story in the game in 30 years," Paul says, "which is nice of them to put a little bit more pressure on our backs."
Whether the Michigan story inspires other football-playing schools to make the leap to Division I lacrosse remains to be seen, but the sport appears to be trending toward ever-greater expansion - if not an explosion. "For a large, prominent public institution like the University of Michigan to make that decision, to figure out a way to add a varsity men's lacrosse team, I think, certainly gives hope to some others," says Paul Krome, associate director of marketing and public relations for US Lacrosse, the sport's national governing body. "The Michigan brand carries great weight in the college athletics world. Well, now we get to see that brand in men's lacrosse."
Evidence points to a promising future for the college game - which, despite the existence of two professional leagues, is the highest-profile level of lacrosse played today, with 49 games carried by ESPN this season, up to four Ivy League men's games televised by NBC Sports Network beginning next season, and a Division I men's title game that has averaged more than 40,000 spectators since moving to NFL stadiums in 2003, placing it among the NCAA's top three championship events in terms of attendance.
Michigan was one of 16 colleges and universities (but the only Division I school) to add men's lacrosse this season, according to US Lacrosse. Women's programs were added at 14 schools. Next year, another 18 men's and 29 women's programs are scheduled to begin play. The so-called "fastest sport on two feet" enjoys particular traction at the Division III level, with 22 men's and 21 women's teams to be added between this year and next, fed by healthy participation numbers at the youth and high school levels. Youth lacrosse, the primary focus of US Lacrosse's advocacy, saw participation jump 11.3 percent among boys and girls from 2010 to 2011, while high school lacrosse participation grew by 8 percent. Collegiate lacrosse has grown steadily every year since 2006, from 26,651 men's and women's players to 33,929 in 2011, making it the NCAA's fastest-growing sport.
"When a young person picks up the stick, there's almost a love affair that develops," Krome says. "Kids enjoy playing and they want to continue their playing careers as long as it's realistic for them. So, at least part of the growth at the college level can be attributed to just an expansion of the player pool."
Schools stand to gain, as well. Division III's Baldwin-Wallace College will play varsity men's and women's lacrosse beginning in 2014. "It is a natural for us, not only from the standpoint of diversifying the options for students, but as a trend for growing admission," athletic department spokesperson Kevin Ruple told The Plain Dealer of Cleveland in April. "With the growing depletion of the number of students in northeast Ohio, we have got to reach out to other areas of the country when marketing the institution."
Still, the sport remains a tougher sell among Division I schools, particularly those competing in football's BCS. "At the big-time football level, adding lacrosse isn't needed in terms of really changing the school's profile that drastically," says Michigan's Paul. "At some of these schools that don't have big-time football, adding lacrosse does change their profile. They get access to the lacrosse demographic. They get to play some big-name schools that maybe they don't play in other sports. Maybe they get more opportunities to be on television. Maybe they can reach out to areas of the country in which they aren't traditionally strong. It really can create a lot of holistic benefits for them. But when you have big-time football at this level, all of those things already exist a thousandfold from what you're going to get from adding lacrosse. I think a lot of lacrosse people don't necessarily understand that because they're not around Big Ten, SEC, Pac-12 football that often."
That said, no one expects another 30 years to pass before the next BCS school adds men's lacrosse. Syracuse, a school with 10 Division I men's lacrosse national championships to its credit, competed in the Big East Conference this season, but the school's decision last year to join the Atlantic Coast Conference could lead to expansion of the current four-team ACC lacrosse league, which already boasts some of the nation's most prominent men's lacrosse programs in Duke, Maryland, North Carolina and Virginia. The prospect of at least a six-team ACC lacrosse conference, whose champion would thus receive an automatic NCAA tournament bid, may serve as enough incentive for a non-lacrosse-playing ACC member to come on board. "You can just understand why a school like a Florida State or a Virginia Tech would like to be a part of that," Virginia coach Dom Starsia told USA Today in September. "You're immediately involved in a conference where you're going to get the top programs in the country coming to your campus."
Paul predicts quicker Division I expansion in the West, where the women's game is already taking off. The University of Colorado announced in February that it will field a women's lacrosse team beginning in 2014, joining Cal, Oregon, Stanford and USC as Pac-12 schools offering the sport in a conference that doesn't yet sponsor it. Further evidence that schools are willing to invest in the women's game can be found at the University of Florida, which decided to add women's lacrosse in 2007, then opened a $14.3 million women's lacrosse facility two years later.
Some might argue that Title IX is holding up Division I expansion of the men's game, but Paul, who has worked in athletics development, isn't buying it. "I think it's more about our economy now, and the fact that despite the growth of the sport, not a lot of athletic departments are in a position to add anything," he says. "They're trying to figure out how they can support the sports they have."
It reportedly took a mere six months for Michigan to raise the $5 million necessary to fund men's varsity lacrosse, as well as a women's team that will begin varsity competition next spring. A dedicated on-campus lacrosse facility is already in the works. Athletic director Dave Brandon saw the growth data and concluded that Michigan stood to benefit from the move right along with Division I lacrosse at large. "That sport will afford us the ability to travel to places the maize and blue have not typically gone," Brandon told a gathering of Detroit marketing and sales executives in August. "It will strengthen Michigan's brand."
Paul says it's "inevitable" that more schools will come around to that way of thinking. "I just don't think it will happen as quickly as everybody in lacrosse wants it to happen," he says. "They'll never give you this answer, but if you asked most athletic directors, candidly, 'Hey, if you got to start over and build your department from scratch, what sports would you have?' lacrosse would probably be on that list for a lot of them that don't have it right now. Times change. Interests change. And the time is right for lacrosse from a popularity perspective."