Is the NBA's Oklahoma franchise stealing the ticket-sales thunder from major college basketball programs in the state? Are Duke students less crazy about watching the Blue Devils at Cameron Indoor Stadium than they used to be?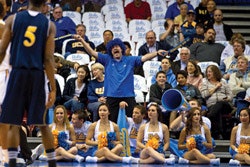 UN-PAC-ED UCLA played its 2011-12 home schedule off campus in front of a lot of empty seats, dragging already dismal conference attendance figures down even further. (© Josh Chapel/ZUMAPRESS.com)
Is the NBA's Oklahoma franchise stealing the ticket-sales thunder from major college basketball programs in the state? Are Duke students less crazy about watching the Blue Devils at Cameron Indoor Stadium than they used to be? Why are nearly half the programs from the Pac-12 Conference among the nation's top 10 in terms of average per-game attendance declines in recent years?
These are all questions that have garnered widespread attention this year. While the NCAA Division I men's basketball per-game attendance average was down only slightly this season (by 47 fans), a Chronicle of Higher Education analysis published in March found that about one in five programs has seen attendance drops of 20 percent or more over the past four seasons. "We are aware that there are regular-season attendance issues in certain places," says Xavier University athletic director Mike Bobinski, the NCAA Division I Men's Basketball Committee chair for 2012-13. "It's not everywhere, but clearly there are enough places that are struggling that it is an issue that we have talked about as a committee."
Bobinski anticipated attendance being a point of discussion at the committee's summer meeting June 24-29 in Park City, Utah. Unlike football, a sport in which national championship hopes can be dashed with a single regular-season defeat, the basketball regular season has suffered from a perception of increasing irrelevance. "One of the things that we have tried to do is to deliver the message that the regular season is critically important to what happens" in the postseason, Bobinski says. "To get into the NCAA men's basketball tournament you have to be either your league's automatic bid, and there are only 31 of those, or be one of the next 37 best at-large teams in the country. That's fairly scarce territory to be in, and what you do in the regular season determines whether or not you're going to be included in those groups. So we've sent that message as regularly and consistently as we possibly can."
Of the 10 men's basketball teams that witnessed the most fan attrition over the past four seasons, five are members of the Pac-12, where average crowds dropped from 7,808 in 2010-11 to 7,143 last season. The Mountain West witnessed twice as much single-year attrition (and the most in the nation at 1,322 fans lost per game) but still managed to fill 657 more seats per game than the Pac-12. "The product on the floor wasn't up to our performance expectations this year, and that didn't warrant the ticket sales that we're used to. We only had two teams in the NCAA tournament," says conference spokesperson Dave Hirsch. "But another big issue was UCLA did not play their home games on campus [due to the renovation of Pauley Pavilion], and they're one of our largest draws."
One program bucking the Pac-12 trend is Arizona, which ranked 19th nationally in attendance last year. Season tickets to Wildcat men's basketball have been sold out since 1988, and students pay on a per-game basis for the remaining 2,300 seats allotted to them. On-court success is one factor that separates Arizona from Arizona State (which saw the nation's biggest four-year attendance drop at 42 percent) and other conference rivals, but location may be even more important. "What makes us different from some of the other schools in our conference is that essentially we're the only game in town," says Richard Paige, associate media relations director for Arizona athletics. "Tucson is a college town. The closest pro sports venue to my home is in Phoenix, and that's 110 miles away."
The arrival of the NBA's Thunder in Oklahoma City is believed to be one contributor to what the Tulsa World in March termed an attendance "crisis" among the state's major college men's programs. In recent years, Oklahoma and Oklahoma State have both witnessed double-digit percentage declines in attendance, and Tulsa University's arena was more than half empty for most games last season. "People only have so much money to spend on basketball, so what game do you want to take your son to? Probably a Thunder game," former TU player Jason Parker told World sportswriter Bill Haisten. "I've been to three TU games this year, and I've been to three Thunder games. The Thunder games are always a great show, no matter where my seat is. That building is electric."
Bobinski believes that generating electricity in college arenas is critical, because disposable income among potential ticket-buyers isn't the only hurdle standing between them and the turnstiles. "Time seems to be as precious a commodity as anything today," he says. "We all need to look at the product that we're presenting, how we're presenting it, how we're positioning it, how we're pricing it. I think all those things are relevant factors in making sure that the environment is one that people walk away from saying, 'Well, that was a couple hours well spent.' "
That's made all the more difficult when a new generation of fans can access games, or mere highlights, on their handheld devices and still feel connected to their teams. Moreover, high-definition, big-screen televisions have made it that much easier to stay at home. In February, University of North Carolina coach Roy Williams shared an anecdote about a friend who turned down Tarheel tickets - and all the logistical considerations that come with them - in favor of the 14 postgame paces it takes him to get from his recliner to his bedroom.
"Every one of our games is on television, and you can watch on your iPad now," says UNC director of ticket operations Tim Sabo, whose department consults with student leadership when constantly tweaking allotment numbers and delivery policies to ensure the Dean Smith Center student section is filled. (Typically, 6,000 tickets are reserved for students, but sometimes as few as 3,000.) "I get it. You're a busy college student and you have other stuff going on. You can still watch the game on TV while doing something else."
Coaching turnover in UNC's Atlantic Coast Conference is blamed for at least part of the fan attrition in that historic basketball hotbed, which suffered the loss of 391 fans per game on average between 2010-11 and last season. Even Duke, with the stability of Mike Krzyzewski and a top-10 team, struggled at times to fill the 1,200-seat student section at Cameron Indoor Stadium for a fifth year in a row, prompting college basketball commentator Dick Vitale to tweet in January, "I have a theory about Duke situation. #1 Spoiled with winning. #2 Academic pressure. #3 Watch on TV in dorm."
An article appearing that month in the Duke Chronicle student newspaper stated that athletic department marketers were going to look deeper into student attrition this off-season, but that no changes to the game-day experience were imminent. "Every other school in the country is playing canned music during timeouts, doing cheesy promotions," Mike Forman, director of marketing and promotions for men's basketball, told the paper. "We try to stay away from that."
Be it enhanced game-day experiences or, as Bobinski simply suggests, better non-conference scheduling in an era when conference expansion no longer guarantees annual home-and-home series among league rivals, nothing - save winning basketball - guarantees an attrition reversal. Iowa State athletic director Jamie Pollard, who cites the digital generation as a leading reason that 2,500 student tickets for Cyclone men's basketball typically go unused each game, told USA Today in March, "I don't have a solution. But it's something we all have to be aware of, because when that demographic becomes the 40- to 60-year-old demographic, are they going to do what the current 40- to 60-year-old demographic does, which is buy tickets and make donations? I'm not certain we can say they will."
Adds Arizona's Paige, "You see empty seats at a tournament venue and you start to scratch your head and say, 'Whoa, what's going on there?' And I think it's really to the point where fans have gotten very used to the simple fact that they can see every game from their couch, as opposed to just one game - no matter how good the seat or in-game experience."
Bobinski maintains that the live experience is inherently superior. "We've all watched really good games on television, and they can be terrific to watch, for sure," he says. "But when you're at a great game, a high-energy game in person, it's still better. It's still different. It's still an experience that you can't replicate in the friendly confines of your home or a local establishment. Being there is still a special thing, and I think we need to tell that story and make sure that the event lives up to it."