Santa Monica's Palisades Park is one of the city's most popular green spaces. Perhaps a little too popular. Stretching along the California coast, the park is an excellent place for a jog or leisurely stroll or just to relax and enjoy the ocean view. ...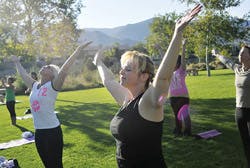 Santa Monica's Palisades Park is one of the city's most popular green spaces. Perhaps a little too popular. Stretching along the California coast, the park is an excellent place for a jog or leisurely stroll or just to relax and enjoy the ocean view. The scenery and open grassy spaces have also become a draw for outdoor boot camps, yoga and other group exercise classes, which in turn is drawing complaints from residents and users who feel these groups are taking over.
"The city council and staff members have heard a variety of concerns from residents about the proliferation of boot camp classes," says Santa Monica community and cultural services director Karen Ginsberg. While the issues are greatest at high-profile Palisades Park, the city has been dealing with complaints in other parks, as well. "We've had concerns about noise, private instructors profiting off the land, damage to turf and amenities, instructors taking over sections of the park, disturbing neighbors with yelling, whistles, bullhorns - all of that."
The situation is becoming all too familiar in parks across the country. While many cities and parks departments welcome the outlet to fitness provided by organized exercise classes, they also worry about the disproportionate amount of park space and resources these groups take up. To protect the rights of individual park users, as well as the parks themselves, more cities are putting in place policies to regulate commercial use of park space by fitness groups, a decision seen by some as counterintuitive to the purpose of parks and creating an unnecessary barrier to fitness. "We as a city remain committed to fitness and health, and it's really about striking a balance and making sure everyone has equal access," says Ginsberg.
In January 2012, the Parks and Recreation Department in Austin, Texas, instituted a policy to regulate use of its parks by personal and group trainers, the culmination of more than a year of planning and public meetings. As in Santa Monica, it started with complaints from local park users. "We still receive our fair share of complaints, but I believe it has gone down," says Enjole Armstrong, PARD's contract compliance specialist. But now that the department has a policy in place, users have an outlet to voice those complaints, and the department has the ability to step in and do something about them. "Our goal was to put in some kind of regulation, monitoring and enforcement," says Armstrong. "Before, they were just going out there and doing whatever they wanted."
Requiring permits allows PARD to spell out just what group exercise classes can and can't do, as well as where and when. The permits limit exercise classes to 34 of the city's approximately 250 parks, and only during open park hours. Parks were selected based on whether they offered enough space for classes to operate without interfering with other users, as well as other factors. "We didn't want to have parks open that presented a health or safety issue," says Armstrong. "We have parks with all concrete stairways and walkways that we felt were not safe for fitness-related use."
It's in fitness instructors' best interest not to do anything to put their clients in danger, though they might not show the same consideration for the environment. "We had a situation where stretchy bands were being attached to everything," says Santa Monica's Ginsberg. "Currently our ordinance prohibits attachments to trees, but it's silent on attachments to light posts, play equipment and things like that."
Attaching any equipment to trees, handrails or other park fixtures is prohibited in Austin's permit application, as well as bringing heavy-duty exercise equipment like tractor tires, ropes or cables into the park.
While some parks departments limit the number of permits available at each park, require permit holders to specify the exact times and dates they intend to use the parks or limit groups to certain areas, PARD's system only requires instructors to specify which parks they will be using over the course of a six-month period. It's part of the department's hands-off approach, and the relaxed oversight is reflected in the cost associated with the permit.
"Austin is a fit city," says Armstrong. "We didn't want to disband the activity; we wanted to work in collaboration and regulate it." As such, PARD's policy aimed to put as little hardship on businesses as possible. A six-month permit is $50, with instructors serving more than four clients per month required to pay 45 cents per day per client. "And this is all on the honor system," Armstrong adds, though the department also has the right to audit a permit holder's records if necessary.
By contrast, a six-month permit in Henderson, Nev., will cost an instructor $500. In Santa Monica, Ginsberg says, the task force is considering an annual fee in the area of $100, plus a 10 to 15 percent cut of gross receipts, similar to fees paid by private surf or tennis instructors using city-owned beaches or courts. "The City of Los Angeles requires $60 per hour," she says, listing other nearby communities that they've looked to for examples. "L.A. County Beaches and Harbors requires approval for any kind of camp or training, a $200 application fee, a $100 location fee and 15 percent of gross receipts."
Why have a fee in place at all? "On one hand, there are folks who say, 'Parks are not for profit, there shouldn't be any commercial activity in the parks at all,' " says Jeff Green, communications director for the Denver Department of Parks and Recreation, which is also in the process of redeveloping its permit system. "Then you've got the others who are city residents, they are taxpayers, and they run a business thinking, 'Hey, I pay taxes, my taxes should go to this.' But they're not using the park as a general taxpayer would. A couple walking through the park or an individual walking his dog won't produce the same wear and tear as a 30-, 40- or 50-member Gladiator class using the same piece of turf three times a week."
Denver DPR allows commercial use of parks with a permit, but the current system is tailored mostly to events - which upsets small-business owners. The shortcoming came to light last fall when a complaint was filed about an exercise group comprised of moms with strollers using park trails. The fitness instructor leading the classes was informed she needed a permit, but none of the permits the department offered fit her situation. "It wasn't like a volleyball league where we permit certain areas of the park for courts," says Green. "They don't have one set place that they stay. They use roads, trails, and various parts of the park. We did not have a permit or a fee structure in place for commercial use of the trails other than to say it's the equivalent of a 5K. That's a $1,500 permit. That's not going to work for a small business."
All commercial-use groups are seen as taking a larger toll on park resources than casual users, and the permit fees help compensate for that. "We want to ensure that if we need to go into those areas and do some rebuilding, regeneration, we can take on that added expense," says Green.
The formal agreement also affords some protected rights for commercial users. "If they show up and somebody else is using their spot without a permit, they can ask the other group to leave," says Green. In Austin, the permit also specifies that once a class has begun, the general public cannot interrupt it.
Despite initial criticisms, most fitness instructors eventually come around. "Many of them would welcome regulation and have said as much," says Ginsberg of the Santa Monica trainers involved in the task force discussions. They understand that the city is not trying to deter exercisers but looking out for the best interests of all park users.
"Our goal is to make the parks accessible," says Green. "We're not trying to limit activity, and we certainly want to promote active lifestyles."