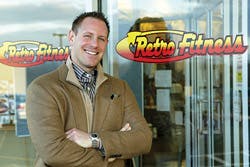 Retro Fitness, a franchise offering a state-of-the-art workout experience in a checkerboard-and-hair-band atmosphere, has thrived despite an economic recession to the tune of 90-plus clubs, more than 300,000 members and more than 1,200 employees. Concerned the company he founded in 2004 might get too big before he could assess its performance at the micromanagement level, Eric Casaburi decided this year to appear on the CBS reality show Undercover Boss to see if his vision of top-notch customer service was in fact being executed by frontline staff. A heavily disguised Casaburi visited six Retro Fitness locations under the ruse that he was in a contest with a chance to win his own health club. As he was shown how to conduct tours and mix smoothies, the incognito CEO found both inspiration (the emotional life stories of several employees prompted Casaburi to ultimately distribute some $250,000 among them) and exasperation (one foul-mouthed employee would lose her job during the show's "reveal" segment). After the episode aired April 26 to an audience of nearly 9 million, Paul Steinbach caught up with Casaburi to find out what he truly learned.
Q: In light of this experience, what advice do you have for peer club owners?
A: In this industry, we always say we're all about our people. Everything else is just metal and electronics, when you think about it. Are your people embracing your company like you are? Are they taking ownership in it? When you hear an employee using the words "my gym" or "my club," you have an employee who's truly dedicated to your cause. I heard a lot of that when I was in the clubs, and it made me feel really good. It reinforced how important it was for us to convey the message, "Take ownership of what you're doing." And when they do, the results are exponentially greater. Sometimes it gets a little lost how critical that is when you're looking only at operations manuals.
Q: Were you prepared to see someone get fired as a result of your Undercover Boss appearance?
A: To me, if you find a bad egg in the batch, it's good because you get to learn about it and make a correction. I had no problem with that happening, because quite frankly it just shows that we are a company that has high standards and we would never stand for any employee with substandard behavior. The corrective action was taken, and America got to see that. We want the best for our members, and we'll do what it takes to make sure that happens.
Q: Is it safe to say there's no looking back for Retro Fitness?
A: I was speaking to a group of new potential franchisees, and of course Undercover Boss came up. I told them the experience was amazing, and it was so great to still see that these people love the brand - they love the job. I said it in the show and I'll say it again now: Life is entirely too short to not do something you absolutely love. And when you have people who believe that and embrace that, I assure you, everyone wins.