Ohio University students traversing campus in the fall can't help but notice the posters and flyers promoting the Bobcats' next home football game. Sidewalk chalk and a graffiti wall reinforce the message. Student Facebook pages and Twitter feeds are likewise plastered with daily reminders and paid advertising during game week.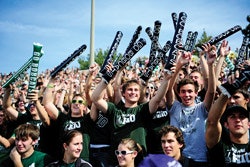 THE IN CROWD

Bucking a trend witnessed by other schools, student attendance at Ohio University football games is up 85 percent since 2008. (Photos courtesy of Ohio University)


Since the time Drake Bolon was an Ohio MBA student in 2008-09, student attendance at football games has increased 85 percent. As the athletic department's current director of marketing, Bolon now presides over the methodologies used to maintain interest in Bobcat football. "There's never an excuse for a student not to know when a game is," he says. "Something I heard when I first was starting out was that students didn't know when the game was, and I hear that from our peers in the Midwest Athletic Conference and other schools across the country. That's really step one. We make sure that's darn near impossible."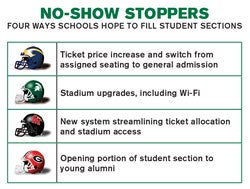 STUDENT APATHY An increasing number of athletic departments are pondering the steps necessary to keep their own student fan bases engaged amid a growing trend of apathy. More students are coming to games late or leaving early - if they're coming at all.
Among major conferences, the Southeastern and the Big Ten have been particularly active in seeking solutions.
The University of Alabama, despite garnering national championships in three of the past four years, has seen the percentage of student tickets actually used by students hover between 68.4 and 71.8 percent per season during that span, placing student apathy among the biggest concerns facing athletic director Bill Battle. "It's important to me. It's certainly important to our players and coaches that our students are engaged," Battle told The Crimson White student newspaper in April. "I don't know what the answer is, but I think we better start figuring out all the questions and engage the students to try to do that."
---


250+ Exhibitors & 190 Educational Sessions | abshow.com.
---
Georgia officials have become so bothered by holes in Sanford Stadium's 17,910-seat student section, where average per-game turnout has been 11,800, that they are now opening more than 2,000 seats to recent graduates, who will pay $40 per ticket compared to the $5 student price. However, young alumni will not be subjected to the general public seat license fee the first year and only half the license amount ($250) the second year. "We need to fill the stadium," athletic director Greg McGarity told the athletic board in February. "It doesn't look good to have empty seats there."
It has become an unwelcome tradition at South Carolina for students to leave games at halftime, prompting coach Steve Spurrier last November to publicly implore students to act like they're part of a winning program and stay to the end of the Gamecocks' home finale. The team won the game to go 7-0 at Williams-Brice Stadium, "but we still had that mass exit," USC alum and current student ticket coordinator Adrienne White says. "I can't pinpoint what it is."
Everything from the party scene in Columbia to the pull of social media may be at play, and South Carolina has so far considered providing students with free bottled water per their request on particularly hot game days, as well as other giveaways available only during the second half. As the only public school in the SEC to admit students to games free of charge, South Carolina is also contemplating charging for tickets in the hopes of attaching value to attendance.
B1G IDEAS The Big Ten's University of Michigan, which led the nation in overall attendance in 2012 with home crowds averaging 112,252, is raising student ticket prices 23 percent and replacing assigned seating with a first-come-first-served format in its 22,000-seat student section in the hopes of combating a student no-show rate last season of 25 percent and a late-arrival rate of 50 percent. The athletic department studied what other schools are charging students and determined that Michigan's prices were perhaps too low. "Maybe one of the reasons students aren't showing up is because they feel like they haven't made enough of a significant investment in the ticket," athletic director Dave Brandon said in defending the plan.
Thousands of students signed separate online petitions protesting the changes, but at least one thinks general admission seating makes sense. "It's a good way to force people to be there early," graduating senior Josh Krause, a late-arriver himself, told AnnArbor.com.
For his part, head football coach Brady Hoke offered free doughnuts to students who show up on time for noon kickoffs.
Student attendance is a top priority at Minnesota, too, where AD Norwood Teague called students "the centerpiece of the fan experience." A study by the university's Carlson School of Management found that students want a gathering place before games, and an entire parking lot near the stadium will now be dedicated to students.
After installing two video boards and a new sound system last year, Michigan State is looking at investing $2 million into a Wi-Fi system to allow greater fan interaction. "One of our biggest no-show rates in football was the Iowa game," athletic director Mark Hollis told ESPN.com in May. "And I'd go out and walk the streets and start talking to kids, 'Why didn't you go?' And they said, 'We couldn't text because it was raining.' They couldn't have their phones out. That kind of hit me pretty hard."
Conference newcomer Maryland, where overall football attendance has dropped by 16,000 fans per game in recent years, is implementing a new ticketing system that will allow students to receive tickets via email and access games with their smart phones instead of traditional ticket printouts. An athletics spokesperson told AB that the upgrade wasn't spurred by student attendance concerns, but there's evidence the switch from an antiquated system is already paying dividends. "I missed a lot of games because the whole process was such a nightmare," Justin Garcia, a freshman government and politics major, told The Diamondback student newspaper in May. "I just didn't want to go through it."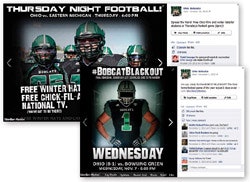 PLACE TO BE Last season, as Ohio was rolling toward a 9-4 record and a fourth straight bowl appearance, an average of 5,575 students packed the student section per home game - meaning more than a quarter of the fans in Peden Stadium each week were students. Winning - Ohio has posted at least eight victories in each of the past four seasons - is no doubt the leading factor in the football attendance surge, and the fact that games are free to students doesn't hurt, either. But the school is not taking anything for granted.
During his grad student days, Bolon was on the team that conceived of Bobcat Student Park, an area adjacent to the stadium where students have gathered before games beginning in 2009, eaten for free (some 5,000 units of food prepared by the likes of D.P. Dough, Chipotle and Chick-fil-A are donated each game day) and been eligible to receive giveaways such as flags, hats and scarves. Since returning to Athens as director of athletics marketing, Bolon has pushed the Facebook and Twitter messaging to Ohio's student audience, regardless of whether they are athletic department friends or followers, through paid promotions of upcoming home games, garnering upwards of 200 clicks per 12,000 unique impressions.
It's working. Roughly 16,000 of the 20,000 graduate and undergraduate students at the school attended at least one Bobcat football game in 2012.
"A couple years ago, there were probably a lot of students who had never even been to a football game here on campus. I don't think that's so much the case anymore," says Bolon, adding that the product on the field has made his job easier. "Getting students there is half the battle, but they have to enjoy their time. The fact that our team is competing for championships, competing for bowl games, in the national conversation having been in the top 25, students feel like it's the place to be. It's getting to be a more of a big-time atmosphere. If you just get them in the door, odds are they're going to come back."