Last week, The New York Times ran an article, "Plodders Have a Place, but Is It in a Marathon?" As marathons and long-distance events become more ubiquitous, finishing times are getting slower, which has sparked a debate in the running community as to whether slower runners and walkers, known as plodders, should be able to compete in marathons. The elite runners resent the 11-minute-per-mile joggers clogging the streets, using up resources and sharing a piece of the glory.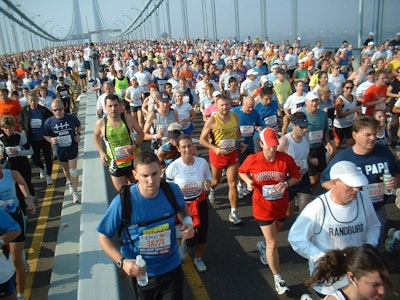 I bet some of these plodders are the players in school who were relegated to watching the game from the sidelines while their coach played the star athletes. Now, years later into adulthood, they find the same childish politics at work: only the strongest and fittest get to play. Sure, from a logistics standpoint there needs to be cutoff times to allow for aid stations, support staff and road closures, but the two-percent-body-fat speedsters need to remember one thing: The slower and less-gifted athletes are what makes the sport great.
In just about every endurance event I've seen, the last runner to cross the finish line receives as much, if not more, crowd support than the winner. Many of these slower athletes complete the race despite having physical limitations and inspire others to get off the couch and lead a healthier lifestyle. They are good for the sport and good for society.
So plodders, lace up, unite and rejoice! What you lack in speed, grace and finesse, you exceed in spirit and determination.