A new report from the Sporting Goods Manufacturers Association indicates that older adults are the "backbone" of the fitness industry. "From 1987 to 2007, the number of health club members in the United States, aged 55 and older, increased by more than 500 percent - from 1.6 million to 9.9 million," says SGMA president Tom Cove. "In 2009, one in four health club members in the U.S. were at least 55 years old. During that same 20-year time period, the number of health club members aged 18 to 34 rose by just 52 percent - from 9 million to 13.7 million. Without the support of America's seniors, the fitness industry would be in rough shape."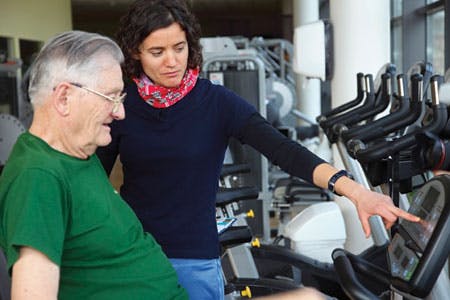 1209_seniorfit_2.jpg
The significance of older participants to the success of the fitness industry is just one of the findings in SGMA's annual falls as the age of health club members skews older.
Other conclusions from the SGMA report include:
• Health club members enjoy networking with other professionals and, in some cases, use fitness facilities to relieve the stress associated with unemployment. They also tend to consider themselves more fit than people who work out at home.
• While the International Health & Racquet Sports Association estimates that 45.3 million people in the United States belonged to health clubs in 2009, SGMA research indicates that number is expected to increase by 6.2 percent this year.
• People are 3.3 times more likely to take part in team sports if they participate in school-supported physical-education classes. The likelihood of someone taking part in cycling, running/jogging, water sports and other outdoor activities also increases with P.E. classes.