The Morale Entertainment Foundation, a company that organizes entertainment for military troops in the United States and abroad, is looking for a sports floor manufacturer to supply a surface for the deck of the USS Carl Vinson aircraft carrier. The floor will be used for an on-deck college basketball game between the University of North Carolina and Michigan State University on Veterans Day.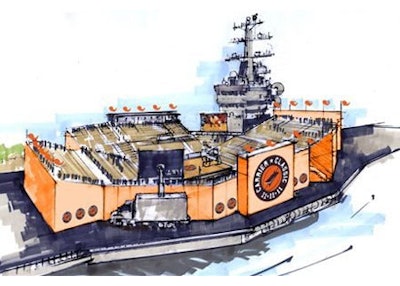 Dubbed the Carrier Classic and slated to air on ESPN, the game could be in jeopardy if the USS Carl Vinson - the carrier that buried Osama bin Laden at sea in May - is called into action again. Outdoor basketball contests are tricky since neither the hardwood nor the players take well to rainfall. Just in case, a contingency floor will be placed in a hangar deck inside the carrier, according to AB sister publication Hardwood Floors.
Morale is soliciting bids for the floor, a process that should be completed by mid-July, according to the company's Michael Whalen. For more information on the bidding process, Whalen can be reached at whaaahhh@aol.com or 770/973-9023.