Youngsters from the Village of Evendale (Ohio) sign up for the recreation department's youth sports programs to learn a variety of sports skills and have fun participating in games with their friends and teammates. But they also gain a greater appreciation of good sportsmanship, thanks to the efforts of staff and volunteers. "We believe that we are making a difference in the lives of our youths by instilling good sportsmanship behavior and teaching all participants the skills they need to advance," says Kristen Maiden, program supervisor for Evendale Recreation. "That, in turn, will impact the rest of their lives."
The Village of Evendale Recreation Department is a 2011 recipient of the Excellence in Youth Sports Award. Developed by the National Alliance for Youth Sports and Athletic Business, the award recognizes five youth sports programs each year that are doing superior jobs of conducting diverse activities with a focus on providing safe and positive experiences for all participants, including children, parents and coaches. "Winning the award was a group effort," Maiden acknowledges, crediting the cooperation of parents, coaches and administrators.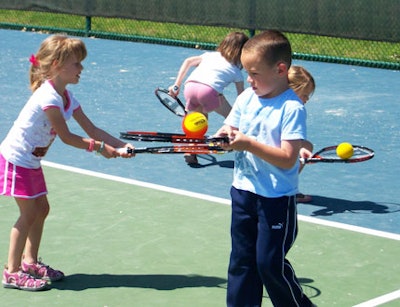 Evendale Recreation's goal is to teach kids teamwork, respect and how to play by the rules. Simply put, Evendale is about sportsmanship.
In order to make that goal a reality, volunteer coaches and parents need to greatly influence the youth sports experience, so the department uses programs offered by NAYS to help educate them about their roles. Parents complete training through the Parents Association for Youth Sports, which provides information needed to resolve conflict and communicate clearly with children and coaches. They also must sign the Parents Code of Ethics - although, initially, some were less than receptive to that. After the training, however, they understood the value that parent education brings. "Parents are vital to our program," Maiden says. "Having them buy into our program has been a huge compliment."
Volunteer coaches at Evendale Recreation are educated on their responsibilities and roles through another NAYS program, the National Youth Sports Coaches Association, which covers such topics as psychology of coaching youth sports, communication, child abuse, injury prevention, nutrition and hydration. And just like parents, coaches also must sign a Code of Ethics. "They are reminded that when they wear our coaches' shirts, they are representing our community through their behaviors and sportsmanship," Maiden says.
That extra effort pays off: Twice within the past six years, the Ohio Parks and Recreation Association has recognized Evendale Recreation coaches as its Ohio Coach of the Year.
Additionally, Evendale Recreation uses "Rate Your Coach" to assess coaching skills and participates in the NAYS Measure Up! for Better Youth Sports national coach evaluation study, and staff members monitor practices and games involving outside organizations using the village's facilities.
The five winners of the 2011 Excellence in Youth Sports Awards, sponsored by the National Alliance for Youth Sports and Athletic Business magazine, are being announced in this space during the week of Nov. 14. The awards will be presented to program administrators at the Athletic Business Conference & Expo in Orlando, Fla., on Friday, Dec. 2.