For the youth sports staff at Germany's Kaiserslautern Military Community Youth Sports and Fitness Program, winning the 2011 Excellence in Youth Sports Award is the result of perseverance. "We have been trying for five years to win this prestigious award, and we finally did it," says Allen Fleming, youth sports director at KMC. In 2010, the program received Honorable Mention recognition for the award that is presented annually by the National Alliance for Youth Sports and Athletic Business. It recognizes five youth sports programs across the country that are doing superior jobs of conducting diverse activities with a focus on providing safe and positive experiences for all participants, including children, parents and coaches.
KMC annually boasts participation of more than 6,000 children, ages 3 to 15. As one of the largest youth sports programs in the Air Force, it also serves the U.S. Army, Department of Defense civilians and members of the NATO community.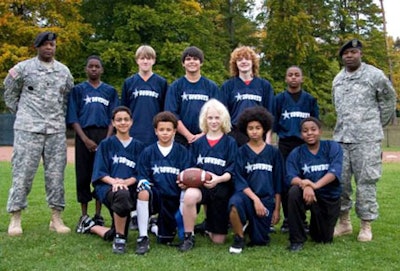 Through cooperation with other military installations, KMC is able to offer its youth participants opportunities to join other installations like Spangdahlem Air Base and U.S. Army Garrison Baumholder - allowing teams to enjoy the benefits of a larger combined youth sports program. According to Fleming, this cooperation among bases provides interactions that kids would otherwise never experience.
Since 2008, KMC has collaborated with Fussball Club Kaiserslautern, a local professional soccer team, and this partnership has broadened German/American relations for KMC's youth sports program. For example, each year team members and KMC hold a soccer camp, with this year's event accommodating more than 160 children of deployed military personnel.
KMC makes extra efforts to meet the needs of kids in families of deployed personnel by offering online registration - a simple option that allows parents who are away from their children to remain active in their kids' lives. The staff also produces the "KMC Youth Sports News and Deployed Family Newsletter," an electronic document that keeps deployed servicemen and women connected to their families.
Additionally, the NAYS Start Smart program, developed for parents to help their children accomplish basic tasks that build motor skills and fundamental sports skills, fills a programming need for the installation's youngest participants. "Start Smart offers an activity that gets parents directly involved in their child's development," Fleming says. "Inadvertently, it gives spouses of deployed personnel a kind of support group to converse with."
In 2012, KMC plans to expand its new special-needs sports program, called KMC KIDS (Kids in Developmental Sports). Created for children ages 5 to 15, this program teaches participants the basic skills necessary to participate in sports. Youth sports staff members also plan to hold specialty camps for sports like flag football, basketball and girls' volleyball.
The five winners of the 2011 Excellence in Youth Sports Awards, sponsored by the National Alliance for Youth Sports and Athletic Business magazine, are being announced in this space during the week of Nov. 14. The awards will be presented to program administrators at the Athletic Business Conference & Expo in Orlando, Fla., on Friday, Dec. 2.