Despite only having a staff of two, the youth sports program at Marine Corps Community Services Cherry Point (N.C.) is striving to change the current youth sports landscape into a more child-friendly environment that stresses exercise, discipline, teamwork and sportsmanship. "We are passionate about having a hand in making those changes," said David Guthrie, youth sports director at MCCS Cherry Point Youth Sports. "We know that change has to start at home."
The pillars of this youth sports program - one of the recipients of the 2011 Excellence in Youth Sports Awards, presented by the National Alliance for Youth Sports and Athletic Business - are built on teaching fundamentals, equal playing time and sportsmanship. A win-at-all costs attitude is strongly de-emphasized.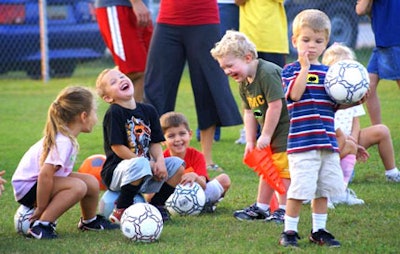 According to Guthrie, one of the greatest challenges in running such a program comes when MCCS teams participate in league action outside of the Marine Corps community. "There are almost always sportsmanship issues during those games," he said.
One solution may lie in making those outside leagues aware of the education programs available to them. "In order to deal with the issues associated with teams that are not ours, our goal for this coming year is to work with their parent organizations and encourage them to require parent training, such as PAYS," Guthrie says. The Parents Association for Youth Sports is a NAYS program designed to give parents the information they need to resolve conflict and communicate clearly with their child and coaches. "At the very least, we want to insist that they require their parents to sign a code of ethics pledge," he adds.
Parents at Cherry Point are required to attend a PAYS orientation that emphasizes sportsmanship and their role in the youth sports program. "Our parents support what we are trying to do wholeheartedly, which makes our jobs so much easier," Guthrie says.
In addition, Cherry Point also requires its coaches to complete training through the National Youth Sports Coaches Association (NYSCA). "Together with coaches who are good role models, parents are an effective tool for us as we strive to promote good sportsmanship," Guthrie explains.
Like all military bases, Cherry Point is in a special position to properly train a generation of youths, volunteers and parents about what constitutes an appropriate youth sports environment. "Because our patrons are military folks and will be traveling to many other locations around the country and the world, they become 'missionaries' for the proper way to do things in youth sports," Guthrie says.
The Excellence in Youth Sports Award recognizes five youth sports programs every year for doing superior jobs of conducting diverse activities with a focus on providing safe and positive experiences for all participants - including children, parents and coaches. "I have been in the youth sports field - both professionally and as a volunteer - for more than 40 years, and to be recognized with such a prestigious award, obviously, there was a lot of excitement and joy," Guthrie says. "What an honor it is to have other professionals affirm what we are trying to do here with our programs."
The five winners of the 2011 Excellence in Youth Sports Awards, sponsored by the National Alliance for Youth Sports and Athletic Business magazine, are being announced in this space during the week of Nov. 14. The awards will be presented to program administrators at the Athletic Business Conference & Expo in Orlando, Fla., on Friday, Dec. 2.