Mecklenburg (N.C.) County Park and Recreation takes a holistic approach to youth sports, using the power of sports as a vehicle to teach their participants life skills. Rather than just providing leagues for children, the department's programming focuses on character building, fitness, nutrition and health to help develop the whole child.
"As youth sports administrators, we shoulder the responsibility of educating the parents and youth of our community not only about the sports, but also about the individual elements that enable them to reap the full benefits of our youth sports program experience," says Bryan Joyner, recreation coordinator/supervisor of youth sports development for Mecklenburg County Park and Recreation.
Childhood should be a carefree period in life, but it can also be a time when issues like bullying and low self-esteem hit hardest. Add to that today's social and health concerns caused by childhood obesity.
"We have to show them the connections between having a healthy diet, leading an active lifestyle, feeling good, having a positive attitude, sportsmanship and self-esteem - and then tie these things into our program implementation," says Joyner. "It's imperative that we approach youth sports with a very broad methodology and provide parents with information and resources to reinforce this holistic approach at home."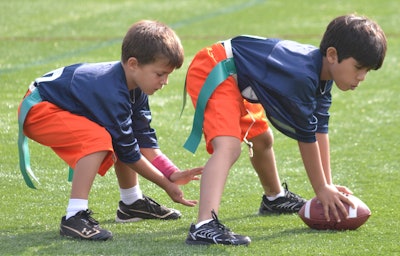 The recreation staff and volunteer coaches understand that they are able to have a positive influence on the youngsters in the program. "We are in a unique position of having their attention and respect as role models. That is something their parents and teachers may have to work a little harder for," says Joyner. "Many of our volunteer coaches work with the parents to establish academic standards and goals, as well as emphasize the importance of character traits like courage, respect, responsibility, discipline, leadership and commitment. The overall goal is to give the children something they can take with them when they leave the field and lead their everyday lives."
Sportsmanship is embedded into Mecklenburg County's youth sports philosophy and is a key life skill promoted to participants through various means, such as the parent and coach code of ethics signs prominently displayed at every sports field in the county and, perhaps most important, the expectations placed on volunteer coaches and sports parents during games and practices. Says Joyner, "We believe that educating the individuals who are hands on with the kids is the biggest way to promote sportsmanship."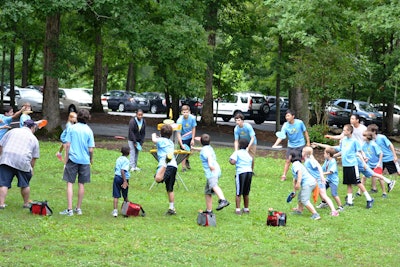 In order to reach as many children as possible, Mecklenburg County partners with local organizations to offer non-team sports, in addition to traditional sports like baseball, basketball, soccer and flag football. These partnerships help it to reach an additional 3,000 participants who are interested in non-team sports like boxing, golf, tennis lessons, track and field and cross-country training. Like Mecklenburg County, these organizations place emphasis on the whole child, focusing on character development and academic progress while learning sports skills and long-term healthy habits through fun, safe sport participation.
For example, a partnership with the Charlotte Boxing Academy, a nonprofit organization, provides young men and women the opportunity to learn amateur boxing in a safe environment. The Academy works with at-risk youth and closely monitor the academics and behavior of their participants. Another organization, Cross-Country for Youth, pairs an introduction to cross-country training with character building concepts for overall development. "These organizations provide specific expertise and unique skill sets that we may not have been able to provide alone," says Joyner. "With these partnerships, we are able to diversify our opportunities for the youth of Mecklenburg County."
Mecklenburg collaborated with like-minded organizations to create one of the first youth disc golf leagues in the country. Disc golf leagues, historically, have been organized for adults; however, when the recreation staff at Mecklenburg started to notice more and more children coming out to the course to play they realized an opportunity to continue meeting the community's needs. "Part of our departmental strategic planning goals include increasing program opportunities for youth and teens, increasing lifetime sports opportunities and programming in natural areas," explained Joyner. "We saw the need for a youth disc golf league, and it fit perfectly with our goals."
The department teamed up with the Charlotte Disc Golf Club, one of the largest clubs in the country, and Innova Disc Golf, a manufacturer of disc golf equipment, to begin the initial planning of a youth disc golf league. "We had a supportive group of people who were passionate about growing the sport and educating youth. From there, everything just fell into place," Joyner says.
The first season of youth disc golf at Mecklenburg County was offered in the spring of this year and had 33 participants between the ages of 6-18. The program has received nothing but positive feedback from parents and children and will offer the sport again next year. "They appreciate that we have recognized that not every kid plays traditional sports," Joyner says. "Non-traditional sports are growing and evolving at an enormous rate and we have to be willing to embrace them as youth sports administrators."
Story written by Linda Alberts, public relations coordinator for the National Alliance for Youth Sports.


The five winners of the 2013 Excellence in Youth Sports Awards, sponsored by the National Alliance for Youth Sports andAthletic Businessmagazine, are being announced in this space over the next five days. The awards will be presented to program administrators at the Athletic Business Conference & Expo in San Diego on Friday, Nov. 22.