The youth sports offerings at Tinker Air Force Base in Oklahoma are based on a simple yet powerful phrase: leave no child out.
These words are the basis of the decisions made and activities offered to the nearly 800 children enrolled in Tinker Youth Programs. From the youngest participants of youth sports, to the child "veteran" who may have a few seasons under their belt, and even the adults that want to be a part of the community's youth sports scene, there's an opportunity for everyone.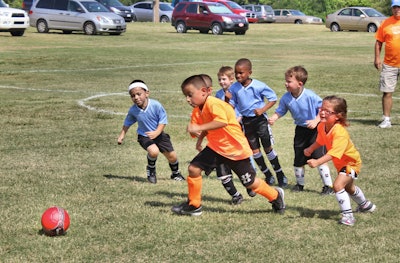 "Our programs are designed to ensure that each and every child has a program to participate in regardless of age or skill level," says Jason Blackwell, sports director for Tinker Youth Programs. "Our program provides a wide range of diverse sports and fitness opportunities for youth ages 3-18 by helping them to develop life-long physical fitness skills and to mature emotionally and socially. We offer every youth a safe, clean and healthy environment that encourages not only winning, but also to instill the values of fair play and sportsmanship."
Through coach training, even volunteer coaches get a solid start in their involvement in youth sports. Each coach goes through training by the National Youth Sports Coaches Association (NYSCA), an education program of the National Alliance for Youth Sports.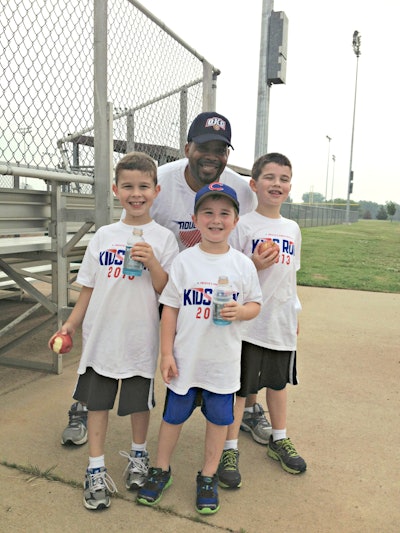 The staff at Tinker Youth Programs has found that more mothers than ever are stepping up to take the reins as volunteer coaches. "We are breaking down gender barriers and biases by changing the norm of who can coach certain sports," says Blackwell. "By providing an equal balance between male and female coaches, we found it amazing how many mothers stepped up and wanted to coach once they realized that there weren't restrictions to coaching sports."
Blackwell thinks that NYSCA training helped encourage more mothers to volunteer as coaches. He says moms buy in to the NYSCA message of creating fun and safe youth sports environments and promoting inclusion of all children of any age and skill level into sports. "The mothers of our youth program now believe it's part of their responsibility to teach the importance of safety, the fundamentals of the game and sportsmanship to all children," he says. "We feel it's important for our youth to see their mothers in roles that promote fitness, sportsmanship and healthy lifestyles."
Tinker Youth Programs realizes that not all children want to compete on a team, but that doesn't mean they can't receive the same benefits as those on traditional sports teams. "We cornered the market on traditional sports," says Blackwell. "So we challenged ourselves to think outside the box and tap into non-traditional activities to reach youth that are more interested in personal challenges and goal setting versus team competition."
The program worked with local businesses to develop the Off the Fields camp, which offers an adventure-based recreational experience to children each summer. The kids learn kayaking skills like how to control their kayak in different currents and how to paddle stroke, as well as boat and water safety; rock climbing basics and how to safely climb with a partner; they also take part in a ropes course, an activity commonly used to build the values of teamwork, communication and trust. "We've been offering this camp for three years now and its popularity continues to grow," Blackwell says. The last offering saw more than 160 youngsters participate. Another unique and popular activity offered at Tinker Youth Programs is Fit Fridays. Every Friday after school, children head to the base youth center for a variety of physical fitness challenges, games and other activities that help them move and learn about their bodies in a fun, positive way. "This activity became extremely popular with the youth, and it's a challenge for the staff to create new, fun and exciting activities each week," Blackwell says. "The youth look forward to the fitness activities, interacting with the staff and learning about the components of physical fitness."
Even more than teaching children how to make fitness an ongoing part of a healthy lifestyle, the activities at Tinker Youth Programs offer consistency for the children in a military family. "Military families are known for their resiliency due to the constant challenges they face and youth sports provides a positive distraction for youth when families are facing deployments and separations for each other," says Blackwell.
The friendships developed during Fit Friday activities or the other activities offered by Tinker Youth Programs, like games, practices and picnics, give members of the community - all going through, or having had experienced, similar situations - an opportunity to spend quality time together.
Story written by Linda Alberts, public relations coordinator for the National Alliance for Youth Sports.


The five winners of the 2013 Excellence in Youth Sports Awards, sponsored by the National Alliance for Youth Sports andAthletic Businessmagazine, are being announced in this space over the next five days. The awards will be presented to program administrators at the Athletic Business Conference & Expo in San Diego on Friday, Nov. 22.