You don't have to be a football fan to know that concussions have been in the news a lot lately. And if you're an AB reader, you know head injuries are unfortunately a topic we have to cover way too often. Just this week we've reported deaths of two youth football players who died following head injuries.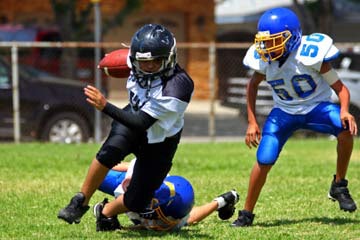 Naturally, parents are concerned. So it probably doesn't come as a big surprise that participation in youth football is declining.
According to ESPN's "Outside the Lines," Pop Warner, the nation's largest youth football program saw participation drop by 9.5 percent between 2010-12. From ESPN:
Pop Warner lost 23,612 players, thought to be the largest two-year decline since the organization began keeping statistics decades ago. Consistent annual growth led to a record 248,899 players participating in Pop Warner in 2010; that figure fell to 225,287 by the 2012 season.
Pop Warner officials said they believe several factors played a role in the decline, including the trend of youngsters focusing on one sport. But the organization's chief medical officer, Dr. Julian Bailes, cited concerns about head injuries as "the No. 1 cause."
Meanwhile, USA Football, a national governing body which is partially funded by the NFL, saw participation among players ages 6 to 14 fell from 3 million to 2.8 million in 2011, a 6.7 percent decline.
In 2012, Pop Warner took measures to increase safety. The organization cut back on the amount of tackling permitted during practice. This year, the organization teamed up with the NFL to endorse "Heads Up" football, designed to teach proper tackling technique and minimize head contact. Pop Warner is expected to introduce even more rule changes in the near future.