Club sports were once revered nationwide by high schools for helping enhance the young athlete and preparing him or her for the more competitive high school environment. But various factors have played a role in transforming club sports from high school athletics supporter to slayer, forcing one high school athletic director to admit, "I think we might see a time when high school sports don't exist and club sports completely replace it."
---


250+ Exhibitors & 190 Educational Sessions | abshow.com.
---
While unlikely, that statement symbolizes the pressure athletic directors are facing as an increasing number of high school athletes focus on one sport year-round with the hope that they will be more marketable to college coaches and/or professional scouts. While hurting a variety of sports, bigger issues loom that could have a much more devastating impact on the future of high school athletics. "Club has its place. The problem we have with club is when their season overlaps our season," says Tim Flannery, director of coach education for the National Federation of State High School Associations. "Then it's a problem for the parents, the kids and the programs."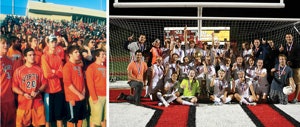 PRO CHOICE
No sport has been hit harder by this overlap than soccer. In California, some high school soccer coaches cannot schedule weekend tournaments because their players will opt to play for their club teams on the weekend instead. And in Florida, high school athletes participating in year-round soccer may elect to play for their club teams rather than compete in the high school sport that runs parallel to the club season. "At some point, the kids have to decide what their priority is," says Scott Parks, athletic director at Seminole Ridge (Fla.) High School. A recent mandate by U.S. Soccer, however, has taken away the athlete's right to choose.
U.S. Soccer is restricting any athlete training at one of its academies from participating in high school sports, a move that doesn't come as a surprise to Flannery. "They have struggled in the past 20 years to come up with a program that is going to lead the U.S. to a final for the World Cup. Every time they have a World Cup and the U.S. doesn't do well, they change their whole approach," he says.
Jim Konrad, athletic director at Naperville (Ill.) North High School, is a supporter of U.S. Soccer. A former high school and club soccer star himself, Konrad wants national soccer to be as successful as possible but is discouraged by the approach it is currently taking with its academies. "I wish they would've left that up to the families and kids to make that decision," he says. "I hate that U.S. Soccer is forcing kids to choose."
And playing club sports exclusively is a choice that is understandably difficult to turn down. Parents are desperate for their children to earn college scholarships as tuition continues to soar, and they are being told that the best way to receive that scholarship offer is to remove their child from the high school athletic environment — a suggestion Konrad scoffs at. "If you are a good athlete, the college coaches are going to find you."
But this is a problem that extends beyond just U.S. Soccer. Konrad is now dealing with local club teams that are dissuading their players from setting one foot on a high school soccer field in order to continue their development as a top athlete. The reality, Konrad warns, is that these club teams aren't necessarily looking out for these kids' best interests. Rather, they are looking to line their own pockets.
"These clubs do a wonderful job handing us very good athletes that have been trained by good coaches," Konrad says. "I just wish it was truly about the kid and not about making money." Based on season, clubs can charge families as much as $2,000, and depending on how early these families have committed their children to club sports, they could end up spending north of $30,000 on their child's soccer education, according to Konrad. "There is pressure on these club kids that aren't top-tier players. These parents have poured in all this money, and they're expecting a payoff," he adds.
The sacrifice isn't just financial. For these kids that choose club over high school, they are also sacrificing unforgettable high school experiences for a future that is far from secure. Konrad has played in both environments and points out that, while high school games can be played in front of hundreds of friends, families and classmates, club games are typically played on early Sunday mornings in front of a small group of family. "Nothing compares to playing in high school. At club, there isn't that intensity. Club coaches say it's a better game, but I think that's a fallacy. At some level, it's not as challenging," he says.
Flannery, a former high school athletic director in the Cleveland area, agrees. "We'd have 300 or 400 people at every game. You don't get that in club," he says. "Those are memories that will last forever, and kids should be allowed to experience both."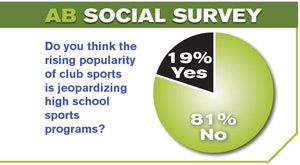 THE COMING STORM
While soccer remains the sport most affected by club, there are other sports at risk, as well. "If volleyball ever takes that turn, I could see that happening, and happening quick," says Konrad. "Volleyball clubs are so dominant now. If they ever decided to go year-round, that could really squeeze our high schools." He is already feeling the effect of the club volleyball scene when it comes to his girls' basketball team. "Girls' basketball is probably the sport that has taken the biggest hit due to club volleyball. We have far less numbers out than we had in the '80s and '90s because club volleyball has grown to become so big."
Another sport becoming big is 7-on-7 football. At Tarpon Springs (Fla.) High School, football players focus on football year-round, and 7-on-7 showcase tournaments are a big part of what many high schools in Florida are doing. But Tarpon head coach Ron Hawn sees these types of leagues permeating the junior high scene in the near future. "Youth 7-on-7 football may not be big yet, but I don't think we're very far away from it really taking off."
Konrad agrees. "The next wave we're starting to see is football," he says. "We've heard whispers of year-round football and folks wanting to start a club football program. Our coaches came to me concerned about how this might impact them."
Despite the rapid proliferation of club sports, participation at the high school level remains strong. According to Flannery, overall numbers have continued to increase for the past 20 years. And though football numbers have seen a slight dip, that is attributed to the concussion issue. "Participation is still there, and part of that is because we have a lot more sports to offer in high school than at the club level," he says. "But there are challenges, and club is one of those challenges."
---
Youth Movement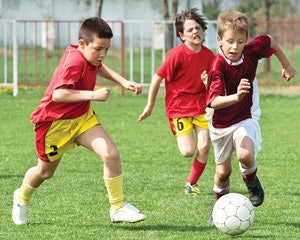 Club sports are praised for developing young talent, but NFHS director of coach education Tim Flannery believes these teams are working with children far too early — at ages as young as six. "In this country, we have had the race to start kids younger and younger. We are trying to identify talent way too early, particularly in boys that are late to mature," says Flannery, noting that many of the top soccer-playing countries do not have their children participate in structured soccer programs until they reach the age of 12 or 13. "Seventy percent of kids quit sports by the time they are 13, and the reason is these kids can't handle the pressure of the next level."
Flannery also expresses disappointment over the number of kids who are cut at a young age, never picking up sport again. "These kids are being told they aren't good enough at 12 or 13. Then they go to high school and grow six inches and put on 30 pounds, but because they are being cut at such a young age, they haven't kept up with their athletic endeavors," he says. "We're not doing kids any favors, and it's going to take us a generation to sort it out."
In the United States, "sorting it out" means adopting a new phased-in approach that has been a model for other countries. In this approach, pre-teen athletes focus strictly on movement and don't introduce competition until they are 12 or 13. This not only will keep children engaged in sport longer, but it will also prevent early age injuries that are causing panicked parents to remove their children from athletic programs. "There are more injuries in sports these days," Flannery admits. "Parents don't want their kids getting hurt, so they will take them out and not let them play." — D.V.M.
---
This article originally appeared in the January 2014 issue of Athletic Business under the headline, "School's Out."