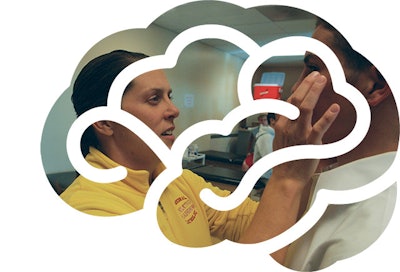 Spring Hill (Kan.) High School senior Nathan Stiles had just scored a 65-yard touchdown when he began grasping his helmet and screaming that his head hurt. He collapsed near his team's sideline and died just days before his 18th birthday. He died of a brain hemorrhage, which doctors determined was caused by a concussion one month earlier. His autopsy revealed Stiles had chronic traumatic encephalopathy, or CTE, a degenerative brain disease commonly associated with retired football players and boxers.
Stiles' death in 2010 forced officials in Kansas and Missouri to examine what steps could be taken to better protect high school athletes in the future. Experts noted a glaring weakness: The absence of athletic trainers. According to the 2011 Interscholastic Youth Sports Brain Injury Prevention Report, 60 percent of the Missouri schools surveyed indicated they did not have a certified athletic trainer, and of those teams that did, only 6 percent indicated they have personnel present during practice when many concussions occur.
The identification and management of concussions has improved. In Massachusetts, it was reported that students suffered more than 4,400 concussions or other head injuries while playing sports in 2012, up 1,000 from the previous year as indicated by surveys collected under the state's 2010 concussion law. The increase in numbers speaks to both better identification and reporting.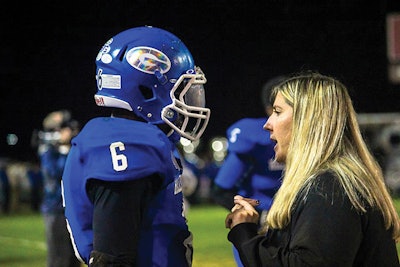 "People in the athletic training profession are becoming aware that they have to be more accountable and document everything," says Larry Cooper, chair of the National Athletic Trainers Association's Secondary School Athletic Trainers Committee and an athletic director for more then 33 years. "People are more aware of the signs and symptoms of concussions now, so they are more forthcoming with their information."
NATA research indicates that the use of certified athletic trainers at high schools is on the rise. As recently as a few years ago, NATA estimated that approximately 40 percent of high schools in the U.S. had at least one certified athletic trainer on staff, but today that number is more than 50 percent. While encouraging, the number still reflects a lack of resources on the high school level to invest in one of the most important figures in athlete safety.
Tamara McLeod is a professor in the athletic training program at A.T. Still University in Mesa, Ariz. An athletic trainer for more than 15 years, McLeod specializes in pediatric and adolescent sports-related concussions. "I understand there are a lot of reasons why a school may not have an athletic trainer, but school administrators and coaches have to evaluate if they want to have all of these sports going on without someone who has been properly trained to manage emergencies and other injuries," she says. "Would you drop your kid off at a public swimming pool if there were no lifeguards?"
OFF BASE
The days of high school athletic trainers being perceived as simply ankle tapers and water cooler monitors should be over. Today's athletic trainer is facing greater demands and pressures as youth-related sports injuries and deaths have been thrust into the spotlight. While heat-related illnesses and deaths and sudden cardiac issues have become a priority for athletic trainers, concussions are clearly the top concern.
"Concussions have always been there, but now kids are recognizing that it's okay to admit they are hurting, and there's more awareness. People know what to look for," says Dale Grooms, head athletic trainer at New Trier High School in Winnetka, Ill., a school with approximately 3,000 athletic participants.
The rise in concussion-related injuries and deaths has sparked a media storm that has forced coaches and administrators to be more cautious about an athlete's health compared to previous years. Once an injury has occurred, that athlete goes through a series of tests. Despite concerns among medical experts regarding the accuracy of these tests, many schools rely heavily on the results of the tests to return a player to action.

McLeod has baseline-tested between 10,000 and 15,000 high school students as part of her research and has seen this type of test misused all too frequently. "What worries me with baseline testing is that 30 to 40 athletes are taken into a computer lab and asked to sit in front of a computer. There are numerous external distractions, and individuals are not paying attention to the instructions, and that's going to lead to baseline tests that aren't valid," she says.
Grooms acknowledges that there have been many times when his athletes have admitted to misreading or misunderstanding the test. While schools and administrators can put too much weight into those baseline tests, most athletic trainers and experts recognize it is just one tool in the toolbox.
Dr. Harry Kerasidis is a Maryland-based neurologist who recognized that, as well, when he was contacted by his local high school to help create a concussion management protocol in the absence of athletic trainers. "Maryland passed a law two years ago saying teams had to comply with these laws, but they have no idea how to comply. That's how I got started, creating plans for this school that I recognized would be really valuable for other schools."
He launched XLNTbrain LLC recently to promote a new type of multi-faceted concussion management program that takes into account emotional reactivity and response, something baseline testing, which focuses solely on memory and thinking, currently lacks. The program includes preseason baseline neuro-cognitive testing; instructional videos for athletes, coaches and parents; medical professional training and certification; a sideline smartphone app; post-concussion neuro-cognitive testing; concussion progress trackers; a gradual return-to-play program; as well as individual state law compliancy information.
"One of the biggest issues in sports-related concussions is the conflict of interests. Everybody wants to return the athlete to play, but there has to be a huge cultural shift to prioritize the health of the brain over return to game play," Kerasidis says.
PLAY DATE
The pressure athletic trainers receive from coaches and parents to return a player to action after a concussion remains a big obstacle. "Returning from a concussion is hard for people to understand, because it's not a visible injury. That's the issue," says Cooper. But the presence of an athletic trainer greatly diminishes the risk of a player returning to action too soon. As McLeod notes, "Athletic trainers are health care providers, so their primary concern is looking out for the best interest of the student-athlete."
Returning athletes to action before they have fully recovered can leave them susceptible to second-impact syndrome, which is caused when an individual with a concussion is hit again before he or she has had time to fully recover. Athletic trainers play that critical third-party role in assessing when an athlete truly is ready to return to play without any influence or pressure from coaches, parents and athletes. "The intensity of the game can sometimes cloud decision-making, both athlete and coach, and that's where the value of the athletic trainer comes in," says Grooms. "It's nice to have that person who can act objectively on behalf of the student, the athlete, the coach and the school."
Budget restrictions have hindered many schools from having a certified athletic trainer on staff — something NATA is working vigorously to change. Besides educating secondary schools on the importance of athletic trainers, NATA is working with insurance companies to reimburse for services. But ultimately, high schools must find a way to have a certified athletic trainer of their own if they want to truly protect their student-athletes.
Says Armstrong, "We have to get to a point where it's not a luxury to have an athletic trainer, it's a necessity."
---
This article originally appeared in the February 2014 issue of Athletic Business under the headline, "Brain Trust."