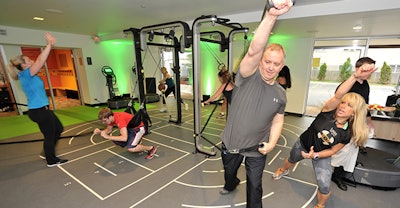 It is safe to say that necessity is the mother of reinvention these days in the health club industry. The rise of in-home fitness options and low-priced health clubs are certainly factors in fitness chains reinventing themselves and how they attract/retain members, but for the Midtown Athletic Club, neither played a role in its $1 million renovation this year. Rather, it was an industry trend driving its new approach and layout.
On Saturday, I attended an open house at the Midtown Athletic Club in Oak Park, Ill., where members of the community were invited to experience the club's reinvention, or in this case, rebirth. With more and more gym members nationwide investing in small group fitness and performance training classes, Midtown made the decision to move most of its fitness equipment downstairs or scale back altogether — its main floor went from 36 pieces of cardio equipment to 16 — opening up its main floor for family-related activities and one unique training experience: the Technogym Omnia functional training system.
You've likely never seen Omnia at your club since Midtown is the only North American chain to feature the jungle gym-type apparatus. When I walked through the front doors, I was greeted by six members rotating between stations. One of the women in the group told me that she does an Omnia class two times per week and loves it. A few others commented this was their first time doing it, but expressed similar comments for the fun, but challenging workout. A typical session can last 45 minutes with as many as 12 in a group. The classes continue to grow in popularity, due in part to Midtown's commitment to small group fitness programming. Prior to the "rebirth," Midtown had 20 programs. Now, they have 52.

So what else is Midtown doing to attract families versus the individual user?
One option that shone bright on a beautiful Saturday was the Pavigym Flooring System. Users of all ages can interact with the wall-mounted symbols and lights in a fun, active way. The system is iPad controllable with blinking LED lights under the numbers, directing users through fun and unique workouts. Midtown has both vertical and horizontal options installed on its main floor. When I was there, I witnessed half a dozen children between the ages of 5-10 running to touch the lighted number, then sprinting to the floor so another one can get up to touch another illuminated number pad. As one employee put it, the kids are doing a workout without even realizing that they are. And it wasn't just the kids. Many adults enjoyed the system, including Chicago Bears offensive lineman Kyle Long, who was there meeting fans along with teammate Craig Steltz.
What are you doing at your club to capitalize on the small group fitness and performance training boom?