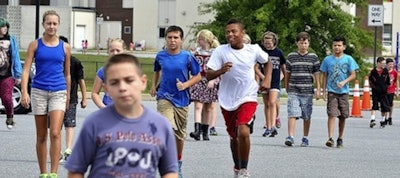 Monkey bars? Slides? Swings? Not anymore.
For one recess a day, kids in grades 4 through 6 at Pennsylvania intermediate schools Shallow Brook and Spring Forge participate in a "fitness recess."
The program, which began a few years ago at Spring Forge and has now expanded to Shallow Brook, involves students walking or jogging anywhere from six laps to a mile around an outlined oval in the school parking lot. Every time a student completes the loop, they collect orange or green rubber bracelets, which are redeemable for prizes like buttons, t-shirts or plaques.
RELATED: In Georgia, Concerns Rise as P.E. and Recess Times Fall
Some students thought the recess, which occurs over the lunch hour, was difficult to adjust to at first, citing the shortness of the track and the heat as main reasons for disapproval. Other kids simply wanted to play on the playground instead of run laps.
But for most, the fitness recess is a hit. Sixth graders Denver Good and Gannon Schwalm, for example, love it. "I think it's really fun, and it should encourage people to stay fit," Schwalm told the York Dispatch.
RELATED: Georgia's 'Power Up for 30' Aims to Get Kids Moving
Like some of the students, parent Lori Versace was hesitant at first; she was concerned that the program would take traditional recess away from the kids. But the schools offer another 15 minute free recess each day as part of their positive behavior program, a stipulation that won Versace — and eventually her daughter Alexandra — over.
"Within three days, she loved it," she said.