The Dyess Youth Sports program at Dyess Air Force Base in Texas makes sure there is never a dull moment for the children and families it serves. Between seasonal sports like baseball, basketball, soccer and cheerleading; instructional classes for kajukembo, tennis and tumbling; summer camps; and other special events, there is always an activity to promote a healthy lifestyle and provide fun for the children.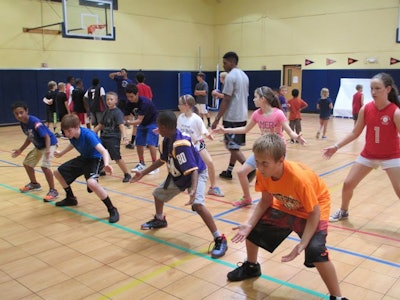 "Success is viewed as progress, not performance," says Samantha Gregory, youth sports and fitness director at Dyess Youth Sports. "Our goal is to teach all participants the fundamentals of a variety of sports while placing an emphasis on fun and sportsmanship."
Parents and volunteer coaches are the most influential group to promote sportsmanship — among themselves and the players. The youth sports program staff emphasizes the program's focus on fun and teaching sports in addition to appropriate behavior in the sports environment during parent orientation and coach training.
Coaches discuss sportsmanship with their teams and provide examples of what good and bad sportsmanship look like and parents are expected to model good sportsmanship too, like applauding for any child who scores during a game. Coaches also complete a coach education course offered by the National Alliance for Youth Sports. The National Youth Sports Coaches Association provides coaches a thorough education on topics like the psychology of coaching youth sports, communication, injury prevention and nutrition and hydration. Coaches also sign the NYSCA Coaches Code of Ethics, pledging to demonstrate sportsmanship and fair play, providing safe playing situations and using appropriate coaching techniques. 
"Training our coaches is something our program takes great pride in because we like to ensure coaches feel prepared and confident to be able to coach youth regardless of their experience in sports," says Gregory. "We believe that coach education is extremely important because it enhances their knowledge of our program and philosophy, and emphasizes how important their job is as a coach."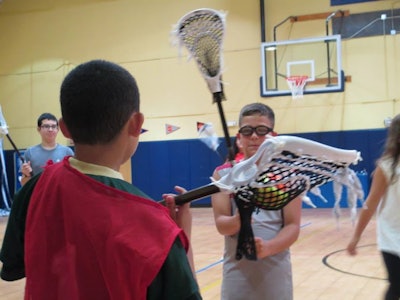 Coaches receive additional training for a myriad of other topics, including CPR and first aid, emergency procedures and evacuation plans, hydration and skin protection, child abuse and neglect, substance abuse, transportation guidelines and more.
Gregory says that the program's priorities in youth sports are safety, fun and teaching sports skills. "Training our coaches in these priorities ensures that our season will run smoothly and that all coaches are merely an extension of our staff."
The staff at Dyess Youth Sports is always looking for new ideas of programs and activities to implement for their participants. "We often research what type of programs other military bases offer," Gregory says. "We also like to obtain feedback from parents and youth on new activities."
This open line of communication between parents and program staff led to the first offering of Start Smart sports earlier this year. Several questions from parents about why the program didn't offer sports for children younger than five years old, in addition to children in their current programming struggling with basic motor skills, led the staff to Start Smart. Created by NAYS, Start Smart eases children into organized youth sports in a way that supports age appropriate motor skill development while getting children familiar with basic sports movements, such as throwing, catching and kicking. 
"We are also trying to build up our program to have more participant involvement and we thought the best way to achieve this would be to start our programs at a younger age to develop those skills so they will continue in our sports at an older age," Gregory says. "Parents and staff are truly enjoying Start Smart because they have been looking for activities to do with their younger children on base. This program enriches a child's first experience in sports because they enjoy the extra bonding time with their parents, they love that there is no competition, and most importantly – it's fun!"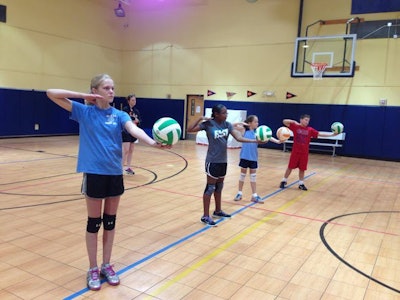 Dyess Youth Sports plans to offer several more new programs in the near future, including Ready, Set, Run!, Bubble Bump Soccer and Quidditch.
Dyess Youth Sports is one of five youth sports programs to be named the 2014 Excellence in Youth Sports Award winners. 
"Winning the Excellence in Youth Sports award means that we are viewed as a prestigious program that offers a wide array of activities for all youth, regardless of athletic ability," Gregory said. "It also means that someone else sees our program has value and that encourages us to work harder to ensure we maintain this high level of performance and quality programming. We hope that our participants, parents and staff will be proud to say they are a part of an award-winning program!" 
Developed by the National Alliance for Youth Sports and Athletic Business magazine, the award recognizes programs that are doing superior jobs of conducting diverse activities with a focus on providing safe and positive experiences for all participants, including children, parents and coaches. The five winners of the 2014 Excellence in Youth Sports Awards, sponsored by the National Alliance for Youth Sports and Athletic Business magazine, are being announced in this space over the next five days. The awards will be presented to program administrators at the Athletic Business Conference & Expo in Orlando on Friday, Nov. 14.
---
Story written by Linda Alberts, public relations coordinator for the National Alliance for Youth Sports.