Although the Fort Eustis Youth Sports & Fitness Program (Va.) at the Joint Base Langley-Eustis has faced challenges over the years, the program has continued to offer top-notch youth sports programming to fit the needs of the children and families it serves.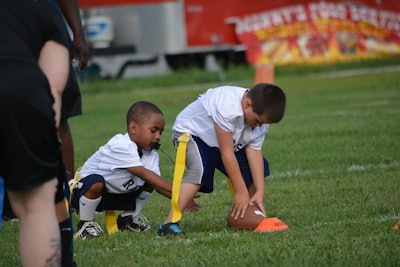 Fort Eustis serves children ages five to 16 and currently offers traditional team sports like basketball, soccer, baseball, t-ball, flag football, cheerleading and volleyball, as well as tennis and various summer camps and clinics. For younger participants, the base offers Start Smart sports for soccer, baseball and tennis. Developed by the National Alliance for Youth Sports (NAYS), Start Smart introduces children as young as three to sports in a safe and fun atmosphere, while encouraging self-esteem and proper motor skill development.
"The military has continued to cut the budget, but we have offered diverse programs to keep the community interested," says Michell Jones, youth sports and fitness director at Fort Eustis. With continued budget cuts and a small staff, Fort Eustis pays close attention to allocating its time and budget wisely. "We came up with the new programs by surveying the customers to see what activities they would like to be offered. If a program is not showing signs of success, we do not spend much time or money in advertising it, or manpower."
The approach of focusing on what their customers do or don't want is paying off for Fort Eustis as their programs continue to grow. "Our programs continue to grow because we give our customers what they desire," Jones says. "We get their feedback and effectively advertise our programs using our website, along with Facebook."
With their customers' feedback, Fort Eustis has implemented a fall running club and Start Smart Baseball and plans to add bowling and Start Smart Golf in the future. Paying attention to community feedback has been valuable in creating a positive and fun youth sports environment for the children. In fact, it led to the program's latest initiative to promote sportsmanship – and empathy – by offering officials training to their volunteer coaches.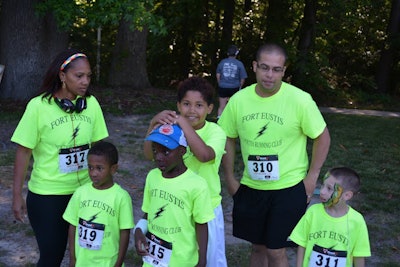 "The coaches were concerned and inquisitive about some of the calls that were being made," explains Jones. "As a result, we decided to offer officials training to all coaches who were interested."
Coaches are already required to complete training through the National Youth Sports Coaches Association (NYSCA), offered by NAYS. NYSCA training prepares coaches for their role in youth sports with information about teaching and communication, working with parents and keeping children safe through injury prevention and proper hydration and nutrition.
However, the officials training, which Fort Eustis is started offering this year for free, provides coaches an opportunity to expand their knowledge from an official's point of view. The officials training is optional; however, the staff highly encourages their coaches to take advantage of these trainings offered for baseball, basketball and soccer.
"The feedback was great, especially from the new coaches that attended the officials training," Jones says. "The coaches were really impressed with getting their hands on this knowledge. It is important for coaches to understand and respect the rules of the officials for the sake of the youth. It fosters, and teaches, respect to those who are watching. If the coaches argue with every call that is being made by the officials, then the youth will model the same behavior."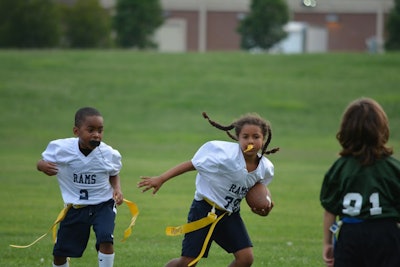 Emphasizing good sportsmanship to coaches encourages them to teach good sportsmanship to their players. Coaches are expected to seize teachable moments to promote fair play and develop social consciousness about values and respect. From small gestures like a handshake before and after games to heroic efforts like putting the team before self, the staff at Fort Eustis believes that opportunities to practice good sportsmanship are in abundance in youth sports.
JBLE Fort Eustis Youth Sports & Fitness Program is one of five youth sports programs to be named the 2014 Excellence in Youth Sports award winners.
"It is a blessing for the staff and community to be named an Excellence Award winner," Jones says. "It shows that the staff and community are dedicated to the program. We are always striving to offer a positive and safe program for the youth. It is the highest honor for our youth program to win the award after three consecutive years of being an honorable mention. It is like winning the Super Bowl for youth sports."
Developed by the National Alliance for Youth Sports and Athletic Business magazine, the award recognizes programs that are doing superior jobs of conducting diverse activities with a focus on providing safe and positive experiences for all participants, including children, parents and coaches.The five winners of the 2014 Excellence in Youth Sports Award are being announced in this space over the next five days. The awards will be presented to program administrators at the Athletic Business Conference & Expo in Orlando on Friday, Nov. 14.
---
Story written by Linda Alberts, public relations coordinator for the National Alliance for Youth Sports.