The U.S. Marine base MCAS Miramar Youth Sports Program in San Diego, Calif., provides the children and families of its community with a place to learn fundamental and advanced skills in a variety of sports, and a place to stay healthy and active while meeting new friends.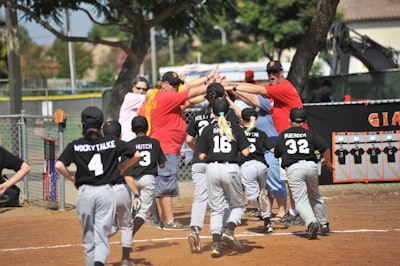 These goals are great components for creating happy childhoods with memories, but for military families, they serve an additional purpose. According to an Army study conducted by research professor Leonard Wong of the U.S. Army War College, the main factor mitigating deployment stress was a child's participation in activities, such as youth sports, followed by a strong family foundation. He cites that activities like youth sports serve as a distraction to the negative feelings associated with a deployment. 
Through youth sports, military families are able to connect with others who are going through the same experience and build a support system while members of their families are away, says Jones. "Our youth sports program strives to provide a variety of sports in a fun atmosphere so that families can enjoy themselves and participate in heal
"Our staff takes great pride in serving military families," says Sheron Jones, youth sports director at MCAS Miramar Youth Sports Program. "This motivates us to provide world class customer service to our families and take initiative to assist them, especially during a parent's deployment."

Miramar Youth Sports offers a variety of activities for children from ages three to 17, such as basketball, soccer, flag football, baseball, t-ball, coach pitch baseball, tennis, First Tee Golf, Start Smart sports for soccer and baseball, as well as various camps and special events to help players further develop their skills.thy activities."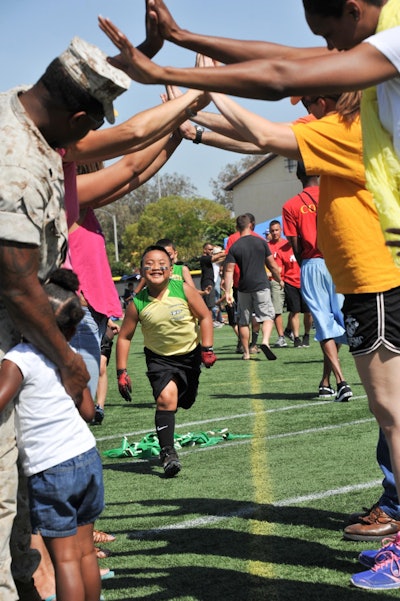 When a child ages out of the youth sports program, or no longer wants to play recreational sports, they can still stay involved through Miramar Youth Sports' junior coach program. These former participants become a viable pool of volunteers to help keep participation levels high on base. Jones estimates that they are able to keep at least 10 percent of their former participants active in the program through the junior coach program.
As part of the program, teens between the ages of 16 and 18 are paired with an experienced adult coach who mentors them in aspects of being a coach. Junior coaches may help to run practices, develop and implement drills or assist the coach in creating a plan for upcoming games, positioning players and team objectives. 
Junior coaches have the same requisites as adult coaches, including training through the National Youth Sports Coaches Association, and completing the additional NYSCA trainings for bullying, concussion and child abuse prevention. NYSCA training, offered by the National Alliance for Youth Sports, was designed to sensitize volunteer coaches to their responsibilities and hold them accountable to a strict Code of Conduct defined by the NYSCA Coaches' Code of Ethics Pledge.  
"By volunteering as a junior coach, these teens learn responsibility and accountability, which helps them become a leader in their community," Jones says. "They also serve as peer mentors to the players on the team given their close proximity in age."
Miramar Youth Sports strives to ensure everyone has a place in its program. The base offers Kids in Developmental Sports (KIDS) to fulfill the need of children with special needs, such as autism, deafness and Asperger's Syndrome, who want to participate and benefit from playing sports. 
Families were hesitant to sign their child up for traditional sports programs because of the inclusion concerns and the coach being able to meet their needs. KIDS was designed so that parents could be at ease with their child participating in sports while building a bond, not only with their child but also with other families that share the same struggles and obstacles. 
Coaches go through an additional training to prepare them for working with children with special needs, says Jones. "The special needs training allows the coaches to have a better understanding of children with special needs and to ensure the children are learning sports skills within their abilities in a fun environment. The training on special needs assists coaches in understanding different behaviors of children and why the child is acting a certain way, and gives the coaches knowledge to assist the children in an appropriate manner."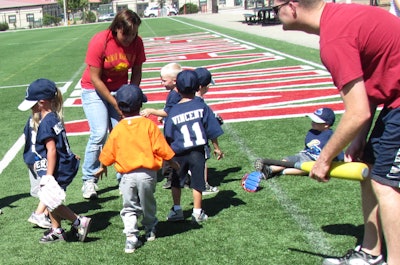 In addition to a wealth of resources for coach education, Miramar Youth Sports also supports their coaches through the team parent program. Volunteer parents step up to fill this role and lead the team's administrative duties, like acting as a communications liaison between the coach and other parents, creating and setting up team spirit activities, developing the snack schedule, coordinating details for team photos and – most importantly – promoting and ensuring good sportsmanship during games and practices.
"Team parents are a very important part of our program," Jones says. "By the team parent taking on these responsibilities, it allows for the coach to focus on the coaching aspect of the sport and ensuring the children's needs are met."
MCAS Miramar Youth Sports Program is one of five youth sports programs to be named the 2014 Excellence in Youth Sports award winners. The program also received this prestigious designation in 2010. 
"Being a two-time Excellence Award winner is a great honor for our Child, Youth and Teen Center and our community," Jones says. "It is very humbling. This award reassures our staff that what we are doing truly matters and we are making an impact every day on the families and children we serve." 
Developed by the National Alliance for Youth Sports and Athletic Business magazine, the award recognizes programs that are doing superior jobs of conducting diverse activities with a focus on providing safe and positive experiences for all participants, including children, parents and coaches.The five winners of the 2014 Excellence in Youth Sports Award are being announced in this space over the next five days. The awards will be presented to program administrators at the Athletic Business Conference & Expo in Orlando on Friday, Nov. 14.  
---
Story written by Linda Alberts, public relations coordinator for the National Alliance for Youth Sports.