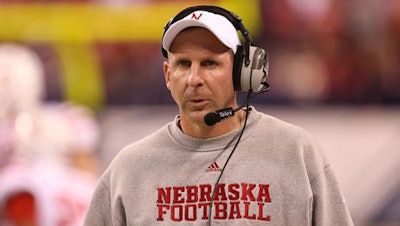 Though he compiled a 67-27 record in seven seasons as Nebraska's head football coach, Bo Pelini was let go by the university's athletic director on Sunday.
Pelini won at least nine games in every season at Nebraska — including a 9-3 record this season — but to the chagrin of Husker fans, his teams consistently came up short when it mattered most.
Since 2008, the Cornhuskers have gone 8-17 against AP-ranked teams, have been winless in conference title games and haven't appeared in a BCS Bowl game. Perhaps the Cornhuskers' most notable performance this year came in a loss to Big Ten West foe, Wisconsin. Nebraska surrendered 408 rushing yards in three quarters to the Badgers' Melvin Gordon, an FBS record at the time.

"We weren't good enough in the games that mattered," athletic director Shawn Eichorst said in a press conference on Sunday. 
Since Pelini's firing, prospects Kendall Bussey, Mirko Jukovic and Stanley Morgan have all decommitted from Nebraska, and a number of current players have taken to Twitter to vent:
Most wins by any coach in the last seven years in college football... What just happened man

— Sam Foltz (@samfoltz27) November 30, 2014
He's the reason we came here

— Bane (@NathanGerry) November 30, 2014
Name one person who wants to come into this type of environment. Great choice Nebraska

— Cole Pensick (@CPensick62) November 30, 2014
Bout to lose a lot of recruits that were coming here to play for coach Bo

— Josh Mitchell (@J_Mitch05) November 30, 2014
Pelini replaced Bill Callahan as Nebraska's coach prior to the start of the 2008 season. Callahan went 27-22 (15-17 in the Big 12) in four seasons before being fired. Assistant Barney Cotton will serve as the interim coach in Nebraska's bowl game.