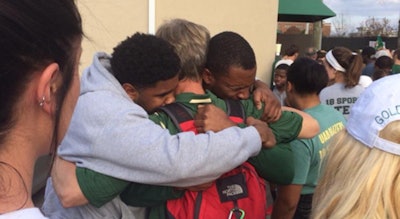 The University of Alabama at Birmingham officially killed its football program on Tuesday. The ensuing scene on the school's campus was one of chaos and heartbreak — students protesting, the band playing, tears flowing and a school president being berated by devastated players and booed by fans. Death is never easy to accept.
UAB announced the decision shortly after school president Ray Watts met with Blazers players and coaches. The decision comes after a campus-wide study conducted by a consulting firm over the past year deemed that in the current collegiate environment, football was no longer financially viable.
"The fiscal realities we face — both from an operating and a capital investment standpoint — are starker than ever and demand that we take decisive action for the greater good of the athletic department at UAB," Watts said in a statement released by the university. "As we look at the evolving landscape of NCAA football, we see expenses only continuing to increase. When considering a model that best protects the financial future and prominence of the athletic department, football is simply not sustainable."
The school's bowling and rifle teams will also be cut. UAB is the first major college football program to be shut down since Pacific eliminated the sport in 1995. At the time, Pacific cited a $400,000 shortfall as the reason to eliminate football. In UAB's case, there are serious financial reasons, but also political motives depending on whom you ask.


Financial Reasons
UAB produced a 16-page strategic report on Tuesday that estimated the school would need to invest at least $49 million over the next five years to keep football competitive. The Blazers currently compete in Conference USA and have since 1995 when the conference formed, although that will be in limbo without a football program.
The school said it already subsidizes $20 million of the roughly $30 million annual athletic department operating budget. Costs are expected to rise in college athletics, while the report predicts UAB's athletics revenues are not. The strategic report estimated athletic department costs would rise to $38.5 million by 2019, while revenue is expected to grow by less than $1 million.
Consultant Bill Carr, who produced the report, predicts a cumulative net deficit at $25.3 million over the next five years. Without football, Carr predicts a five-year net revenue of $2 million and a savings of $27.3 million over five years without football.
In addition, UAB determined it needed at least $22.2 million in new football facilities to remain competitive. They listed an outdoor practice field, multisport indoor practice facility and a football administration building on their wishlist. The school also doesn't have an on-campus football stadium.
"We've always run a deficit and we've always added a little more thinking that would make the difference," Watts said.


Lots of UAB supporters in tears outside football building as band plays and students chant. pic.twitter.com/J11ObtIg8w

— Jon Solomon (@JonSolomonCBS) December 2, 2014
Raw Emotion
The move to eliminate football comes at an especially difficult time, considering the Blazers are in the midst of one of their better seasons in recent history. UAB posted a 6-6 record this season under first-year head coach Bill Clark. Clark, who came to UAB after leaving FCS national championship contender Jacksonville State, has the Blazers bowl eligible for the first time in 10 years. The previous two coaches combined for a 23-61 record. Average attendance doubled this year as the Blazers averaged more than 20,000 fans per game.
On campus, students gathered for a third straight day to show their support for the program. Meanwhile, Watts' address to the football team was recorded on video and shows the pain the players are going through.
The most gut-wrenching part of the video comes around the 4:15 mark when tight end Tristan Henderson — a 26-year-old Army veteran who served in Iraq — openly questions Watts.
"My son asked me last night, 'Hey Daddy, what are they going to do to the program?,'" Henderson begins. "He looked me dead and my eye and asked me, 'What are they going to do?' My three-year old... what am I supposed to explain to him?
"You're telling me it's because the numbers didn't look right? The numbers didn't look right? And you go home and sleep in a comfortable, big-ass house?
"But it's OK. I turn 27-years old in a week. 27. There's 18-year-olds in here, 17-year-olds. What are they supposed to do? Some of these cats came from 3,000 miles away and came right here to be part of this. To be a part of all of this. But you say, 'numbers'? This man [Clark] walks to you, walked into your office and said, 'You've got to do it the right way for me to be here.' And you said you would. And now you just pull the plug? So you lied to the man's face?"
Watts' reception from the protesters after meeting the team was even worse. (Warning, there is vulgar language in the linked video.)
Student-athletes in the sports that have been eliminated will be able to choose whether to stay on scholarship at UAB and continue as students or transfer to another school to pursue athletics. The NCAA said players transferring from UAB will not be forced to sit out a season.
Jon Solomon of CBS Sports was on the UAB campus Tuesday and describes the reality the student-athletes are facing:
Dusty Davis, the team chaplain, hugged UAB players as they left the team meeting with Watts, sometimes two at a time. Moments after leading a prayer with UAB protesters, Davis described himself as "violently angry" at the circumstances.

"A lot of these kids won't get other opportunities," Davis said. "They might be able to drop down and play at other schools. A lot of these guys will be working fast food or back in their hometown living with mom or grandma. That's the cold reality."
Meanwhile, the coaches' contracts will be honored by the school.
Clark did not comment publicly Tuesday, but did release a statement saying he is "absolutely heartbroken for my players and my assistant coaches." He previously signed a release of claims against UAB that prevents him from challenging the decision.
Former UAB star Roddy White, now a standout with the Atlanta Falcons, even weighed in. "UAB gave me my first opportunity and the first chance to play football," White said. "From there, I made it here. It's been 10 years in the league, so UAB was like the stepping stone for me getting to where I am today."


Athletic Department in Limbo
The decision to eliminate football, as well as the bowling and rifle teams leaves the future of UAB's athletic department in question. Conference USA requires having a football team as part of being a member.
Watts says the school plans to present a plan that would convince the conference to keep them anyway.
"We stayed in Conference USA a couple years ago when all the shuffling was going on," Watts said. "We stayed loyal to our conference. We're one of the original members. So we paid our dues and expect to be heard fairly. We're going to contribute as much or more than any of the other institutions will contribute to Conference USA."
C-USA commissioner Britton Banowsky said in a statement the league is "disappointed with the decision to discontinue the sport of football at UAB, particularly because of its effect on the lives of the student-athletes and coaches that have worked so hard to restore the quality of the program. We don't fully understand the decision, nor agree with it, but do respect it and the authority of the UAB Administration to make it."
UAB athletic director Brian Mackin will now serve as special assistant to the president for athletics.
The school will also have to make some changes to stay eligible in Division I. Division I membership without a football team requires a minimum of 14 sports (eight women's and six men's). UAB is down to just five men's sports without football. In Carr's strategic report he suggested adding men's cross country and track and field so UAB could maintain Division I status.


Politics at Play?
The last sad note in this story is that some around the UAB program believe politics might have played a factor in the program's death. UAB is overseen by the University of Alabama System Board of Trustees. According to Solomon, "The very strong belief by UAB supporters is football got killed by powerful trustees with Crimson Tide ties, including Paul Bryant Jr., the son of the legendary Alabama football coach."
Watts disputes that. "Let me make it very clear: The board of trustees had no role in the strategic plan," he said.
Either way, it's the end of an era for UAB. The football team's final game will be its bowl game. We have a feeling much of the country will be rooting for them.